'Cursed' Cast: Who Stars in the New Netflix Show?
King Arthur may have been the subject of two huge box office flop movies in the 21st century, but Netflix is hoping to change that with Cursed. The new series tells the story from the perspective of Nimue, better known as the Lady of the Lake who gives Arthur his sword Excalibur. The cast of Cursed sees Katherine Langford of 13 Reasons Why play Niume, while Gustaf Skarsgård and Devon Terrell play Merlin and Arthur respectively.
Who is in the cast of Cursed on Netflix?
Katherine Langford as Nimue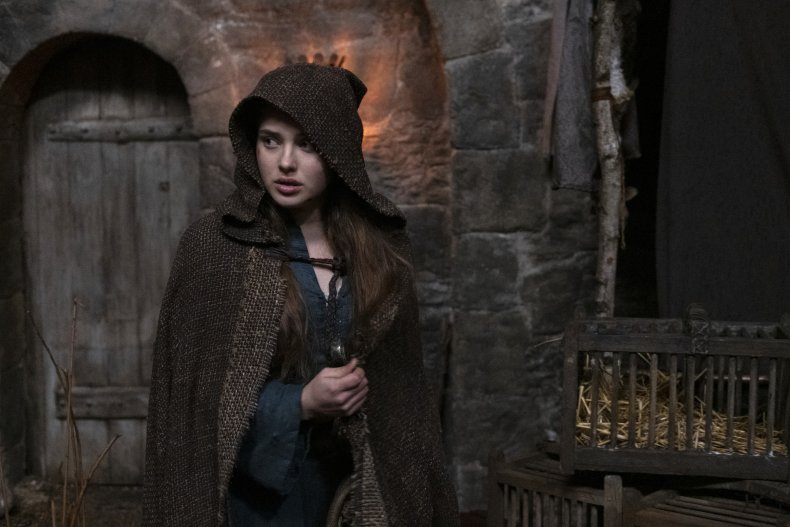 Leading the cast of the show as the one-time Lady of the Lake is Australian actor Katherine Langford, who broke out as Hannah Baker in Netflix's 13 Reasons Why and has since starred in movies like Knives Out and Love, Simon.
Speaking of her character to PopSugar, Langford said: "Nimue has a really epic journey. On one hand, she's going through this journey of great personal loss, of personal growth, and then also the greater challenge of overcoming adversity...She's a really hopeful beacon and also an interesting heroine in this world of Arthurian legend"
The Netflix synopsis for the show, meanwhile calls the character, "a teenage heroine with a mysterious gift who is destined to become the powerful (and tragic) Lady of the Lake."
Devon Terrell - Arthur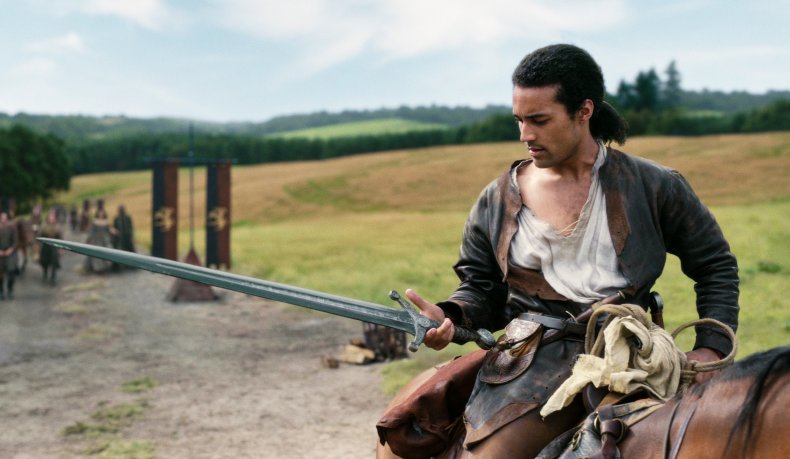 Though some productions of the Monty Python musical Spamalot have had people of color playing the legendary English king, Devon Terrell is the first person of color to take on the role on the screen. Terrell, born in California to an African-American father and Anglo-Indian mother and raised in Australia, debuted in the movie Barry, in which he played the young Barack Obama.
Speaking to Radio Times, he said of his new role: "We haven't seen a rendition of a person of color playing this role. So it was definitely something that, as soon as I got the audition I was excited, but I was tentative at moments like 'Do I even have a shot?'"
He also teased that this was a new version of the character: "We're not having to see the leader from day one. We're seeing him grow as a man. We're seeing him fall in love, his relationship with his family. So it's a very different story."
Gustaf Skarsgård - Merlin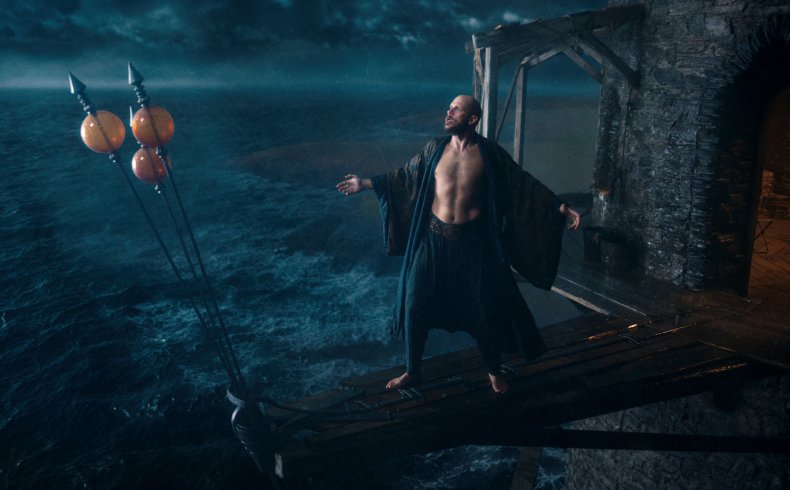 Arthur would be nothing without his trusty magician Merlin, who here is played by Swedish actor Gustaf Skarsgård of Vikings and Westworld. If his surname is familiar to you, that is because he is the brother of fellow actors Alexander and Bill Skarsgård, who are some of the eight children of Thor and Mamma Mia star Stellan Skarsgård.
The actor said of his role to Cleo: "There are aspects of Merlin that I have played before through eccentric, destructive, and intelligent characters. I haven't played a magical character that has lived for a few thousand years...Another difference is that Merlin is such a broad character with all these archetypal aspects."
Peter Mullan - Father Carden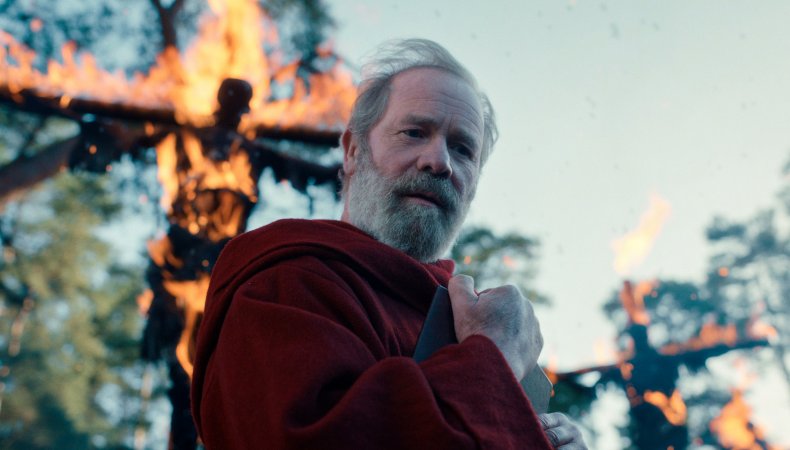 One of the villains in Cursed in Father Carden, an Evangelist and leader of the Red Paladins, whose aim is to rid the world of magic. The actor who plays him is Peter Mullan, well known for playing villains in Ozark, Tyrannosaur, and Trainspotting.
Lily Newmark - Pym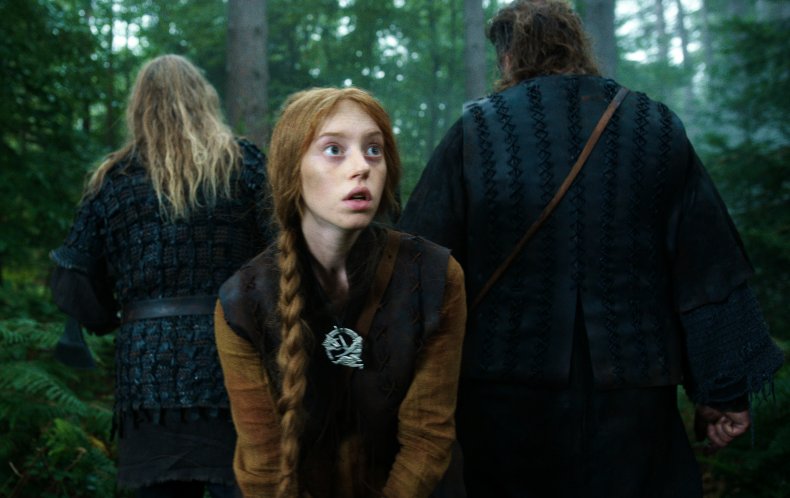 Nimue's sidekick in the Netflix show is the comic relief character of Pym, portrayed by Lily Newmark, recently seen in Solo: A Star Wars Story, Sex Education, and Temple. She said of her role to i News: "She's so full of beans and up for anything. I found her youthfulness relatable and the anxiety that comes along with that—she reminds me of when I was 17. She brings such a lightness to this story, which is often quite dark."
Shalom Brune-Franklin - Sister Igraine/Morgan Le Fay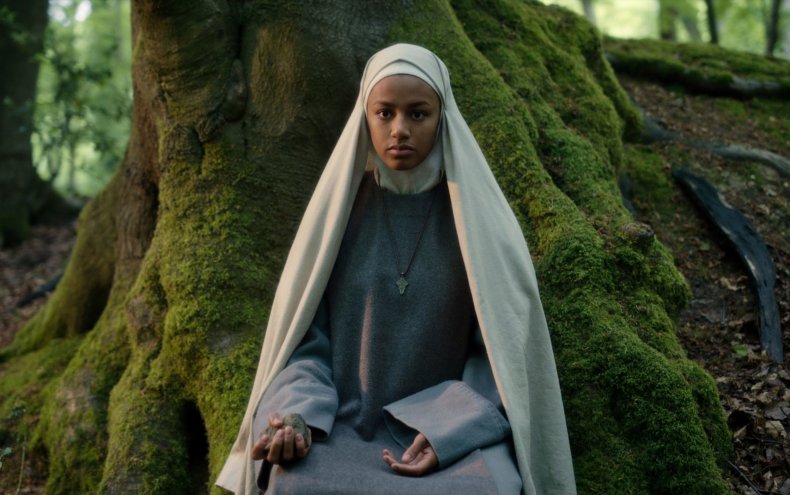 In Cursed, Our Girl's Shalom Brune-Franklin, who is soon to star in Season 6 of acclaimed British drama Line of Duty, plays a nun who may be linked to one of the most famous characters in the Arthurian legend.
Describing her character, the actor said: "Our version of the story is female-driven and very different...I grew up watching Xena: Warrior Princess and it reminds me of that. There are some amazing female characters and our take on [the character] is really refreshing...she's a tough freedom-fighter."
Daniel Sharman - The Weeping Monk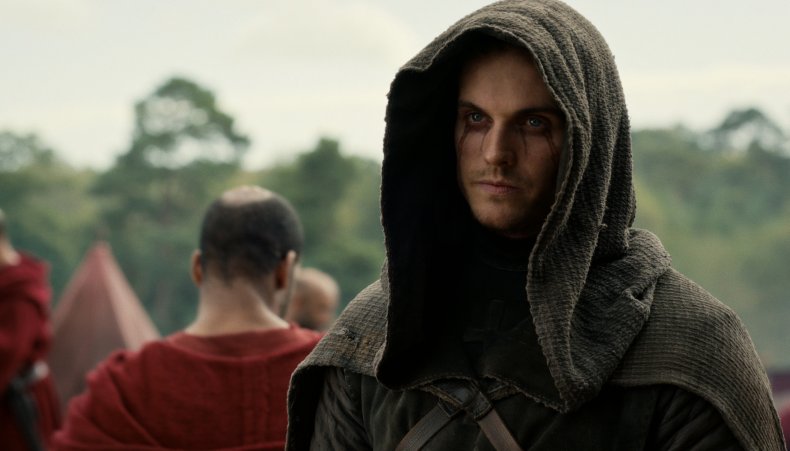 Fresh off of another Netflix show, Medici, Daniel Sharman plays a monk who hunts down Morgan for the Paladins. Speaking to NY Post, the Fear the Walking Dead star said that his monk, "has birthmarks under his eyes that later on reveal his past — and he's shrouded in a cloak under a hood — but he's a ruthless killer," he says. "He looks a bit like the Grim Reaper. You have to keep still, because his every movement shades your vision."
Sebastian Armesto - King Uther Pendragon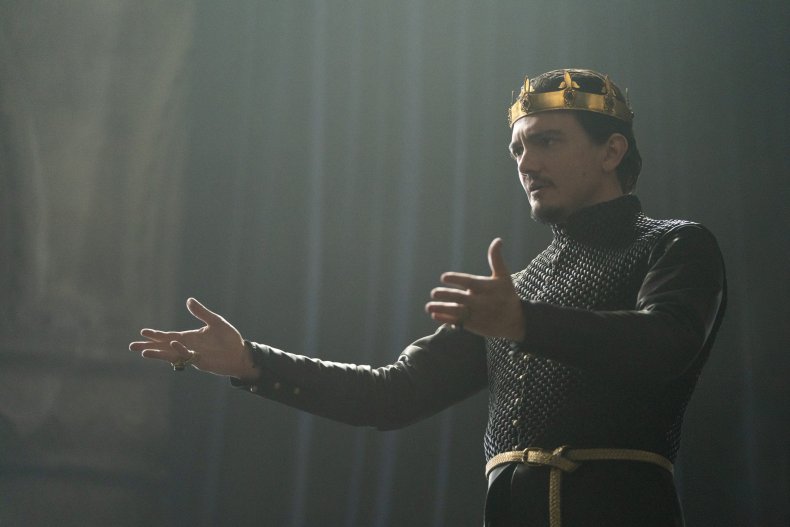 Though in the regular Arthurian legend Uther is Arthur's father, in Cursed they are separate, with Uther in league with the Paladins. Playing him is Harlots, The Terror, and Broadchurch star Sebastian Armesto.
Cursed is released on Friday, July 17 on Netflix.