'Cursed' on Netflix Ending Explained: How the Ending Sets Up Season 2
Cursed may be a brand new retelling of the legends of King Arthur, but a few traditional elements of the myth make themselves known at the end of the Netflix show. Nimue (played by Katherine Langford) finds herself plunged into a waterfall on the verge of death, perhaps setting her up as the Lady in the Lake, while two other characters are revealed to be Lancelot and Percival, who will go on to become Knights of the Round Table.
While some elements of the ending of Cursed will be familiar to fans of King Arthur, other elements of Episode 10 are very new. Merlin (Gustaf Skarsgard), for example, may well be being set up as a villain for Season 2, while the final moments also seem to be setting up a love triangle between Nimue, Arthur (Devon Terrell) and Red Spear (Bella Dayne).
What happened at the end of Cursed on Netflix?
In Cursed Episode 10, titled "The Sacrifice," Nimue finds herself plunged into a waterfall, pierced by two arrows shot at her by Sister Iris (Emily Coates). The show wants us to wonder whether she is dead, but this seems unlikely—after all, she has not been shot anywhere instantly fatal, she is the main character of the show, and she is destined to become the Lady of the Lake, suggesting she has some power over water.
Cursed Season 2 seems likely to start with how Nimue survives her fall, and there are two big theories about how she could survive. The shock of being plunged into the water, for example, may activate her aquatic powers, which could see her breathing underwater while the water heals her wounds.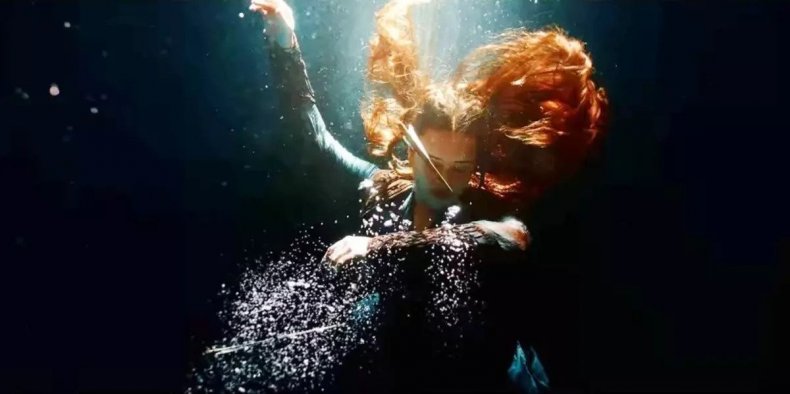 Another possibility is that Morgana's (Shalom Brune-Franklin) new role has something to do with Nimue's survival. At the end of Cursed, she kills The Widow (Zoe Waites), a mysterious figure who is the Cursed equivalent of the Grim Reaper, appearing when someone is close to death. In killing The Widow, she becomes the new harbinger of death, meaning that she can just refuse to take her ally Nimue into the afterlife, keeping her alive and on earth.
If and when Nimue survives her fall, she may have new villains to fight in Cursed Season 2. One of these is Merlin, who at the end of the show gets the Sword of Power back. The last time he had this sword he became mad with power and started to use it to commit atrocities, so the next season could see history repeating itself as he tries to get revenge on those who killed his daughter. Nimue will also surely try and get revenge on Iris for trying to kill her, though it remains to be seen what impact Iris' joining of the Trinity will have on this battle.
Luckily, Nimue may have an ally in her Season 2 battles. Gawain (Matt Stokoe) is shown as near death in the finale, so Nimue tries to use her magic to save him. It does not seem to have helped until grass begins to grow over his body. Though Nimue says that her magic cannot help those that close to death, this scene suggests she has underestimated her own power and can bring him back—which suggests she may also have the power to heal her own arrow wounds.
One fan theory has it that Gawain may be becoming the Green Knight, an Arthurian character which green skin and immortality that Gawain battles in the classic Sir Gawain and the Green Knight. If this is the case, Nimue may have a key, near-immortal ally.
As well as having more battles ahead, Nimue may also have some romantic troubles if there is a Cursed Season 2. After Arthur allies with the Red Spear against the Paladins and the rest of the Vikings, she reveals that her true name is Guinivere. As in the myths, Guinivere is Arthur's queen, there is likely to be some romantic sparks between them, which might cause trouble for the love between Nimue and Arthur.
Guinevere is not the only Arthurian character revealed in the finale of Cursed. The Weeping Monk (Daniel Sharman) is revealed to be Lancelot, suggesting that at some point he will join the side of good and Arthur. This process began at the end of Cursed when he rescues Squirrel (Billy Jenkins). Speaking of Squirrel, he is revealed to be Percival, another future member of the Round Table.
Netflix has not renewed Cursed for Season 2 yet, however, so we will find out in the upcoming months whether we are getting more of the fantasy show.
Cursed is streaming now on Netflix.