'Cursed' on Netflix: 5 Plotlines We Will See in Season 2
Cursed Season 2 may not have been ordered yet by Netflix, but with the show currently topping the streamer's charts, more of the fantasy show seems inevitable. Luckily, the finale of Cursed featured a number of major cliffhangers that give us a pretty good idea of what a potential Season 2 could look like for Nimue (played by Katherine Langford), Arthur (Devon Terrell) and the rest of the cast of the series.
5 plotlines we will see in Cursed Season 2
WARNING: The following contains spoilers for the current season finale of Cursed on Netflix.
Nimue's powers grow
The whole of the first season sees Nimue's learning to use her elemental magic, but what we have seen of the wolf blood witch's powers so far is just the "tip of the iceberg" according to an interview Langford gave with Elle.
She added: "There's a lot of talk about the sword this season, and I feel like it would be interesting to see just how deep Nimue's powers go and what kind of untapped power she has within."
In the finale, there are two big hints of the powers she will have in Season 2. First, she performs magic to try and heal Gawain (Matt Stokoe), despite her saying she did not have the power to do this earlier in the season. Secondly, she may have to heal herself after being shot by Sister Iris (Emily Coates). If her healing magic works on either of them, then this suggests a huge untapped reserve of power she has that will make her a formidable force in Season 2.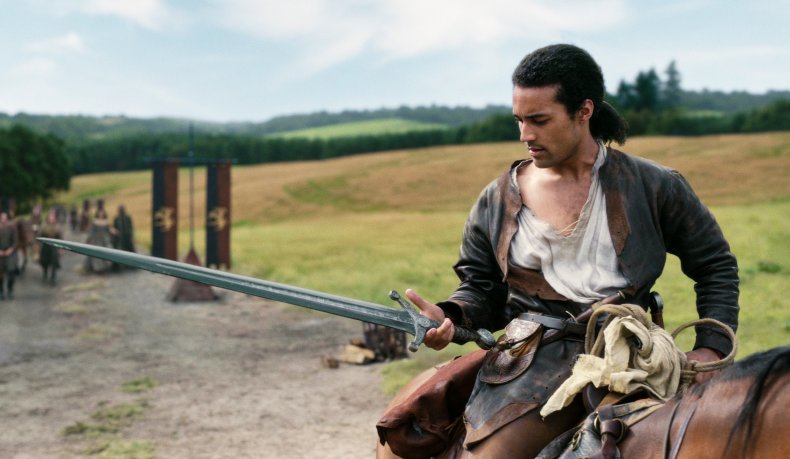 A Cursed love triangle
Nimue may be becoming a more powerful witch, but this will not protect her from heartbreak. Season 1 saw her develop a bond with Arthur, but the future king may have his head turned by Red Spear (Bella Dayne) in Season 2.
This fearsome warrior in the finale revealed herself to be Guinivere—the person who, in the original Arthurian myths, becomes Arthur's wife. This could mean that Cursed Season 2 has as much romantic drama as it does fantasy drama, as Arthur chooses between the two women.
The return of the Green Knight
In healing Gawain, Nimue may have given him some major powers of his own. In the finale, we see him near death before Nimue uses her powers to surround him in vines that appear to be transforming him.
It is notable that throughout Cursed, Gawain has been known as the Green Knight. This suggests that the Netflix show is combining two characters from Arthurian legend, the Knight of the Round Table Gawain and The Green Knight, a green-skinned, near-immortal warrior. When the vines surround Gawain, they could be turning him from the former into the latter.
Morgana Becomes The Widow
While Gawain may become a powerful ally for Arthur, a new villain may emerge when Morgana (Shalom Brune-Franklin) becomes The Widow, a veiled figure who comes to characters when death is near.
What this means for the character is unknown, but as she is destined to become the most powerful witch in the land, it could be good or bad. Speaking to Harper's Bazaar, Devon Terrell teased: "I think it sets up Morgana to be ... I don't know if she's going to be the biggest enemy that we face in the show, or if she's an ally. That's what's wonderful. Our last encounter was me trying to plead with my sister to become closer. Next thing I know, my sister's now become this all-conquering sorceress. So, it's a bit freaky."
More members of the Round Table
Though Cursed changes a lot about the traditional myths of King Arthur, by the end of the first season a number of familiar characters emerged. The Weeping Monk (Daniel Sharman) was revealed to be Arthur's closest ally Lancelot, while Squirrel (Billy Jenkins) was revealed to be another future Knight of the Round Table, Percival.
Between them and Gawain, the most famous Round Table Knights have already been introduced, there are a number of other well-known names who may be introduced in Season 2. Viewers should definitely expect to see Galahad emerge, for example, as well as Bedivere and Geraint.