Curtis Sliwa Tells Other Cities He'll Take Columbus Statues 'Off Your Hands' as NYC Mayor
Curtis Sliwa, a New York City mayoral hopeful, is asking other cities to send him their torn-down statues of Christopher Columbus.
The Republican candidate told reporters on Monday before Manhattan's Columbus Day parade that he wanted a monument of the Italian explorer displayed in Staten Island, according to the New York Post.
"I want to reach out to Trenton or Newark, those cities that have put their Columbus statues on mothballs, so Bridgeport or New Heaven, and say, 'Hey, as mayor, give us that statue.' You're not doing anything with it," Sliwa said. "All it's got is cobwebs and mothballs in warehouses, and you're paying for it. We'll take it off your hands."
Approximately 40 monuments to Columbus have been removed in recent years, according to an analysis by The Washington Post and the Massachusetts Institute of Technology. But more than 130 statues of him still remain in public view.
Protests of Columbus mounted in 2020 amidst the growing backlash against perceived symbols of racial bias and imperialism. The 15th-century explorer has been denounced as a colonizer who enslaved, killed and forced assimilation of indigenous people.
Over the past several years, an increasing number of American states and cities have begun recognizing Indigenous Peoples' Day in addition to or instead of Columbus Day. President Joe Biden last week issued the first-ever presidential proclamation of Indigenous Peoples' Day, also to be celebrated on October 11.
Sliwa lauded his Italian roots on Monday, according to the New York Post, and offered several locations where a Columbus statue would fit best on Staten Island.
"I looked at the landscape in New York City—each borough has a statue or a bust to Christopher Columbus, but the most Italian-American of boroughs, Staten Island, which I sometimes referred to as 'Staten Italy,' has none," Sliwa told Newsweek.
He added, "In terms of the announcement that this is also a celebration of the Indigenous-American community, I don't have a problem with that at all. I think every community, if they want a celebration and a recognition around their contributions, their involvement and the American dream, they should have it."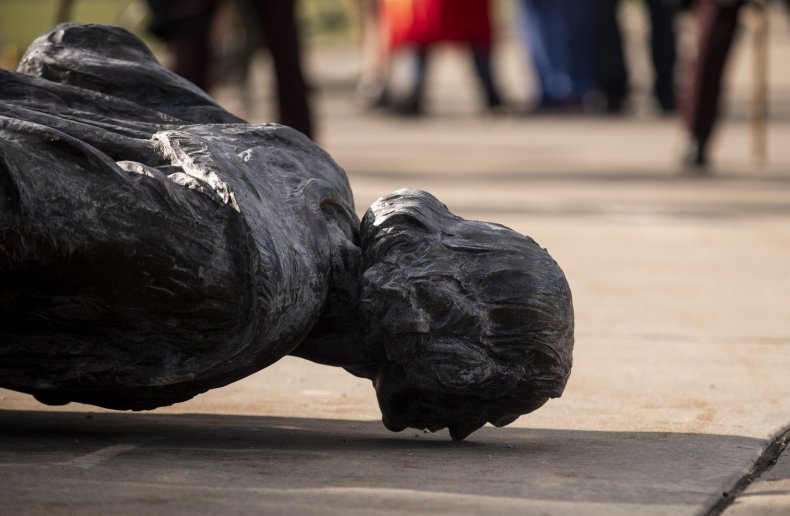 Sliwa entered the mayoral race in March. The 66-year-old was a local conservative radio talk-show host for decades and started the Guardian Angels, a volunteer anti-crime group.
The Republican said he was largely driven to run for mayor by anti-police rhetoric and the city's uptick in violent crime.
Sliwa is up against Democrat Eric Adams, the heavy favorite heading into the general election on November 2. Adams, a former police captain, won the crowded Democratic primary this summer.
Last week, Adams called Sliwa a "racist" and accused him of making a mockery of the mayoral race.
"We're going to have to endure the antics of a person that thinks that this is a circus for the next four weeks, and I'm going to tolerate it because that's the process, but can we take Curtis seriously based on his history in the city?" Adams said on New York public radio's The Brian Lehrer Show.
In response to Adams' comments, Sliwa told the New York Post, "This is always his fallback position when he has a disagreement with you: He calls people racist."
Update (10/12/2021, 11:00 a.m. ET): This story has been updated with comments from Curtis Sliwa.