Custom Book of Kitten's Trip to Grandma and Grandpa's Has Internet Bawling
A custom storybook about a kitten's visit with his "grandparents" has gone viral for the second time.
Ricky, a ginger and white cat who is now 3 years old, is owned by Izzie Grass. The picture book was compiled by Grass' mom in 2019 after his two-week stay. Its pages were first shared on TikTok in 2020 and have resurfaced this week on Twitter.
Grass and Ricky live in Rochester, New York, but the book about his trip—titled Ricky Goes to Gramma's and Grampa's—has melted hearts all over the world.
"My mother created the book and, in her own words, she made the book because 'that's what she does,'" Grass told Newsweek. "She is known for creating very sentimental gifts."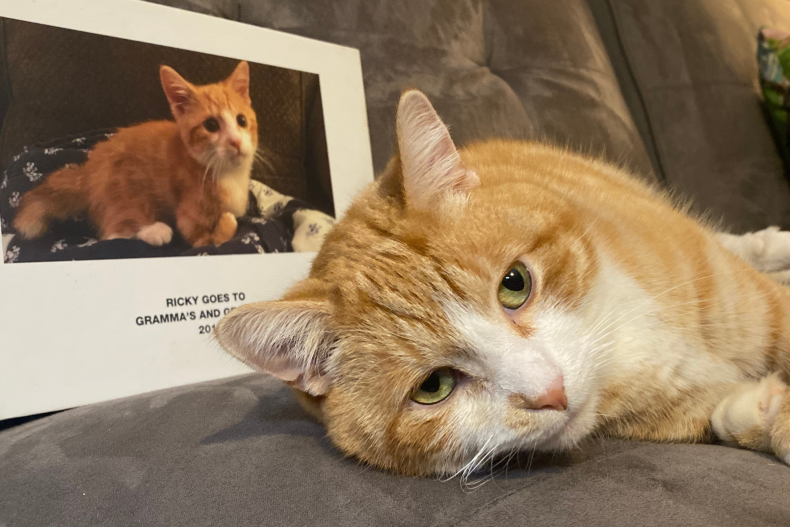 The story of Ricky's stay is told through photos and captions such as: "Gramma gave me my own play area. There was a brand new toy waiting for me. It was fun."
Other pages read "I helped Gramma do the dishes" and "Grampa and I watched cartoons."
Ricky's book first went viral back in 2020, but Grass said this week she was happy to tell his story again.
"I always try to share with people that the book almost didn't exist because Ricky almost ceased to exist. When Ricky was 9 weeks old, he was brought into the veterinary clinic I worked at to be euthanized," she said.
"The individuals who dropped him off reported that they found a kitten with broken legs and that was throwing up everything they tried to feed him. I came back from my lunch early to care for this kitten and in the kennel was Ricky."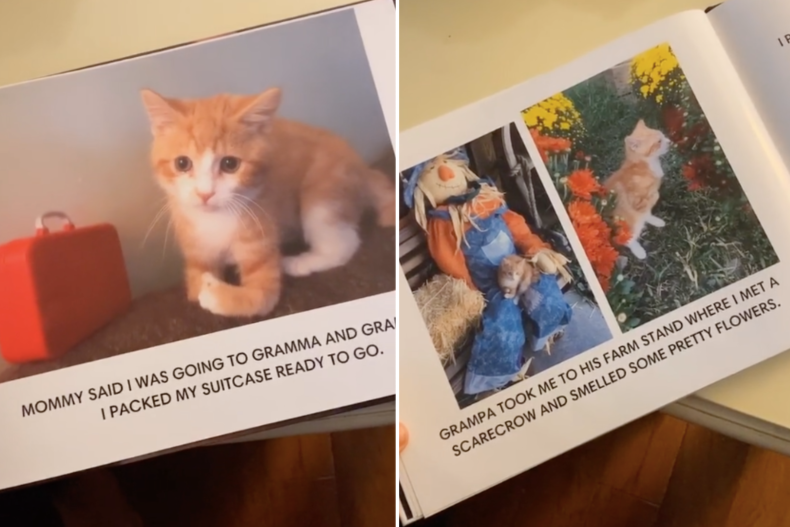 In fact, Ricky did not have broken legs but birth defects that affected all four of his limbs. A few weeks later, the vet team learnt that he also had a pocket in his esophagus called a diverticulum that was collecting food, explaining the sickness.
Grass explained: "The veterinarians came in and we agreed that this kitten did not have to be euthanized, but would need specialized care. I took him home with the intent of transferring him to a rescue that specialized in animals with special needs rather than allow him to be euthanized. However, none were willing to take him.
"I was 22 at the time and I was about to start a year of student teaching on top of working as a veterinary technician. I wasn't sure I could give the small guy what he needed.
"My mom stepped up and offered to watch him for a couple weeks while I got a handle of my schedule. It was during this time that she created the book."
Now almost four years later, Ricky is still doing well and living with his loving owner.
"He has made so much progress," said Grass. "His esophagus works significantly better, he has learned how to walk, climb and run, and he continues to help me raise other foster kittens. Ricky is very loved and lives the life he deserved to have."
Ricky isn't the first cat with special needs to capture hearts on social media: other favorites include Californian cat Kanga Roo, who has radial hypoplasia, and "wonky kitty" Peanut, who has a facial deformity.
As his story goes viral again, Grass recalls how much progress he has made.
"I personally see this book very differently than everyone else, because Ricky still needed quite a lot of care at that time," she said. "At that age he was still medically unstable and whenever I see the pages of his book I am reminded how far he has come."
Do you have funny and adorable videos or pictures of your pet you want to share? Send them to life@newsweek.com with some details about your best friend and they could appear in our Pet of the Week lineup.