Customer Claims She Was Left in Charge of 'Understaffed' Dunkin' Location for 45 Minutes
One TikToker recently claimed she was asked by a Dunkin' employee to watch the store for about 45 minutes. Only problem? She doesn't work at Dunkin'. While hilarious, the bizarre incident speaks to the broader issues embedded in our labor system today: with worker shortages across restaurants nationwide, many locations of fast food chains are struggling to keep their doors open.
The video, posted by @kayla.cernan earlier this week, quickly amassed nearly 500,000 views and over 100,000 likes. In the clip, the TikToker films chaotic footage of herself in the Dunkin' location, situated inside a Walmart. Meanwhile, the text featured in the video reads: "Stuck at Walmart in a storm and the worker at Dunkin just came up to me and asked me to watch the store.....[I've] been all alone telling ppl she will brb for 20min." She adds, "[Y'all] pray for these understaffed stores."
In the caption, @kayla.cernan noted the Dunkin' worker who asked her to watch the store was "so sweet," adding, "I felt so bad for her."
In the comments section, the TikToker clarified the Dunkin' employee returned "after like 45min."
Many commenters asked if @kayla.cernan received any payment or compensation for her time "working" at the shop. "She said thank [you] and practically bowed to me," wrote the TikToker. "I would say that is compensation enough."
Newsweek was not able to independently verify the claims made in the video, and @kayla.cernan could not be reached for additional comment.
In the comments section, many applauded the woman's good deed. "That was so nice of you to wait," wrote one viewer. "She probably needed a break." Many more joked that if they were in her shoes, they would've helped themselves to "free" food and drinks.
Meanwhile, some commenters, employed at other Dunkin' locations or similar establishments, turned the conversation toward the challenges of working in such an understaffed environment. "My Dunkin is insanely understaffed too," wrote one TikToker. Echoed another: "[Six] ppl quit at my job....now I'm scheduled for 29.50 hrs (as pt)."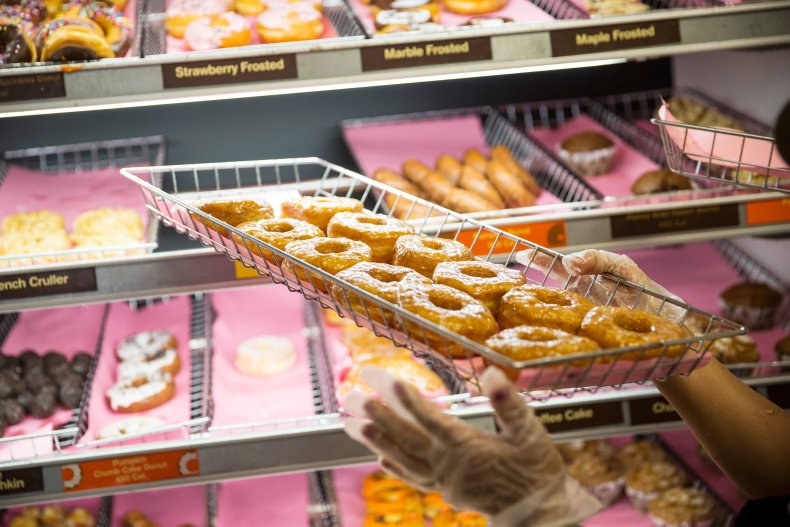 The viral TikTok comes after countless fast food and fast casual restaurants made headlines for their labor shortages, often announced through hand-written signs taped to doors and drive-thru windows.
"Attention Chipotle customers," read a sign posted to a Chipotle window. "Want to know why we're closed? Ask our corporate offices why their employees are forced to work in borderline sweatshop conditions for 8+ hours without breaks. We are overworked, understaffed, underpaid, and underappreciated."
Meanwhile, a photo of a sign taped to a McDonald's drive-thru sparked controversy, announcing, "We are closed because I am quitting and I hate this job."
Many feel the worker shortage, exacerbated by the pandemic, is a direct result of many companies' refusal to pay workers a livable wage. Said New York Rep. Alexandria Ocasio-Cortez in a tweet, responding to a worker shortage at a McDonald's location: "'It's almost impossible to find workers,' say at-will employers refusing to offer living wages, sick/hazard pay, parental leave, or reliable schedules while rents, childcare costs, & student debt reach record highs."