Woman Calls Out Customer Who Ordered $240 Worth Of Tacos In Drive-Thru
A woman said in a now-viral video that she waited in a Taco Bell drive-thru for about 40 minutes when the customer in front of her placed in large order that came out to about $240 in total.
Posted by TikTok user @emily._.stott, the video racked up more than 250,000 views since it was shared as it shows her announcing to the line of cars behind her why it may take a long time for them to have their own orders filled.
As she yelled out to the customers behind her, @emily._.stott said that the customer did not provide notice to the employees about the large order.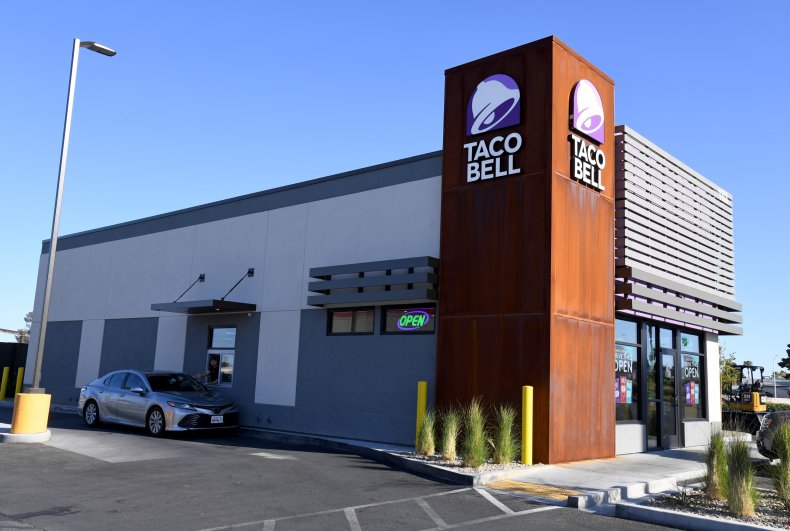 How To Order Ahead at Taco Bell
According to Taco Bell's website, customers have the option of opening an account to place mobile orders.
"Planning for dinner tonight? We got you," Taco Bell's website said. "Just select your pickup time during checkout and we'll see you then."
Customers can order and pay ahead of time before they get to the restaurant to pick up their order.
What's Taking So Long?
In her video, @emily._.stott showed a photo of the order that she said the customer in front of her placed.
"The tacobell drive thru was STACKED and i had to tell 'em why the line was being held up...," read the text that overlaid the video.
The next clip featured @emily._.stott stepping out of her car to turn around and tell the cars behind her about the large order.
"The reason this line is so motherf**king long is because this motherf**ker ordered $300 worth of tacos and didn't give Taco Bell no heads up," @emily._.stott said.
In the video caption, @emily._.stott said that she sat in the drive-thru for 40 minutes before her order was filled.
TikToker Reactions
The video prompted viewers to share their thoughts about large orders in a drive-thru in the comments section.
"I wish these people would just do online would be quicker for everyone," a TikTok user wrote.
"I don't even work in fast food I'm in sit down industry and oh my GOD the disrespect...," another viewer commented.
One commenter who said they had previous experience working with a drive-thru urged other customers that if they had a large order, to place it inside the restaurant rather than in the drive-thru.
"[You're] making everyone behind you blame us for you taking so long," they said.
A viewer commended @emily._.stott for acknowledging that the wait time was due to the customer's large order and not because of the employees.
She said in the comments section that when she was collecting her food from the pickup window, she noticed that the employee was anxious and was shaking.
"I felt so bad," @emily._.stott said.
Newsweek reached out to @emily._.stott and Taco Bell for further comment.
Other incidents that took place in a drive-thru have been captured in viral videos.
One video showed a man's reaction to a customer honking their horn at him while they were in a drive-thru.
Another clip went viral as it showed the moment a drive-thru employee threw a drink at a customer.
A customer was seen getting out of her car to yell at a drive-thru employee who closed the window and walked away.