Customer Shares Angry Call From Wendy's Manager After Leaving Bad Review in Viral Video
One TikTok user was met with a surprising phone call earlier this month in response to a survey she had submitted about a recent visit to Wendy's.
The user, who goes by @bonniedoes, received a call from an unidentified Wendy's employee after submitting a survey questioning the working conditions of the employees at the fast-food chain.
"The man was infuriated that I submitted a review simply stating that perhaps if they paid their employees a livable wage they would have more employees and that staff at my local location would not always be chronically understaffed and overworked," she said in the video that has now been viewed over 200,000 times.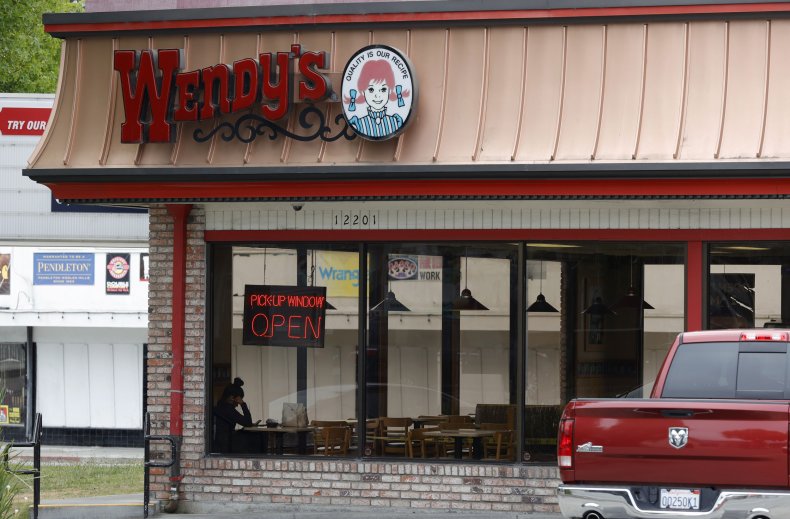 She said close to 10 p.m. she received the call from someone who she was later able to identify as Jeremy, a district manager for Wendy's. Her number had been pulled from the survey she submitted.
She said he pressed her to explain what a livable wage was and when she answered he said it was "absolutely ridiculous."
"He also told me that people were lazy and did not want to work and that that was why they couldn't find employees," she continued.
When asked to identify himself, the person on the other line said he was a customer service associate which did not add up to Bonnie.
"As someone who worked in service when I was a teen, I know how poorly service workers are treated and paid," Bonnie said in an email to Newsweek. "The way in which Jeremy was speaking to me was eerily similar to how my past managers spoke to me and viewed me [disposable, lazy, and cheap labor]."
After the call, she called Wendy's customer service corporate number to explain what had occurred and report him for the inappropriate behavior. When she told the customer service associate the number she received the call from, they were able to identify the person as a district manager.
After days of trying to get in touch with Wendy's again, she finally heard back from the president of Deters Company—the company that owns the franchise she visited. During that call, she was still unable to find answers to her questions about the work conditions of the employees at her local Wendy's.
"My biggest concern is I still don't know if the employees at that location are being paid a livable wage, I don't know if they have a happy and safe work environment. Because if that guy was willing to call me at 10 o'clock at night and scream at me, how does he treat his employees?," she said in a follow-up video posted days after the initial posting.
The person who contacted her identified himself as Jeremy's boss and offered an apology.
Bonnie told Newsweek that after posting the series of videos she was most surprised by how many people responded with the sentiment that service jobs are meant to be temporary.
"I had many comments telling me that only high school or college students staffed businesses like Wendy's, and that paying them an unlivable and sub-par wage for their work was acceptable."
Bonnie does not disclose where she lives, though in the New York City area, Glassdoor reports that the average wage for a cashier at Wendy's is $11/per hour. The federal minimum wage is $7.25 per hour though there has been a push for some time from democrats to raise that to $15.
As previously reported by Newsweek, raising the federal minimum wage to $15 would bring nearly a million people out of poverty in the next four years.
Newsweek contacted Wendy's but they did not respond in time for publication.
Updated 09/30/2021, 1:45 p.m. ET: This story has been updated to include statements from Bonnie as well as the name of the company that owns the Wendy's franchise she visited.
Correction 09/30/2021, 1:45 p.m. ET: This article was corrected to reflect that Bonnie called Wendy's customer service number and also to reflect the title of the president of the Deters Company.