Customer Spits at Popeyes Security Guard, Returns to Shoot at Restaurant
A Popeyes security guard was spat at during an argument with a person, who returned moments later to shoot at the establishment, authorities said.
Officers were dispatched to the fast food restaurant in the 3400 block of Pulaski Highway in Baltimore, Maryland at around 9:15 p.m. on Sunday.
On arrival, officers found a 35-year-old man suffering from a graze wound due to gunfire, the Baltimore Police Department said in a news release.
Southeast District detectives responded to the scene and assumed control over the investigation, Baltimore police said.
Police said investigators learned the victim is a security guard at the restaurant. Witnesses said the victim and the suspect in the shooting had earlier got into a verbal dispute.
The suspect had spat in the security guard's face before leaving the restaurant. It was not clear what prompted the argument.
"Moments later the suspect returned in a vehicle circling the parking lot and discharged a firearm into the business," police said in the release. "As a result, the security guard was wounded and the business sustained a shattered window."
A Popeyes spokesperson told Newsweek: "The safety and wellbeing of our team members and guests is always our top priority. Our franchisee is cooperating fully with local authorities, who were quick to respond, and are currently investigating this case while the restaurant remains closed. I can confirm the security guard who was unfortunately injured is doing OK given the circumstances."
The Baltimore Police Department has been contacted for additional comment.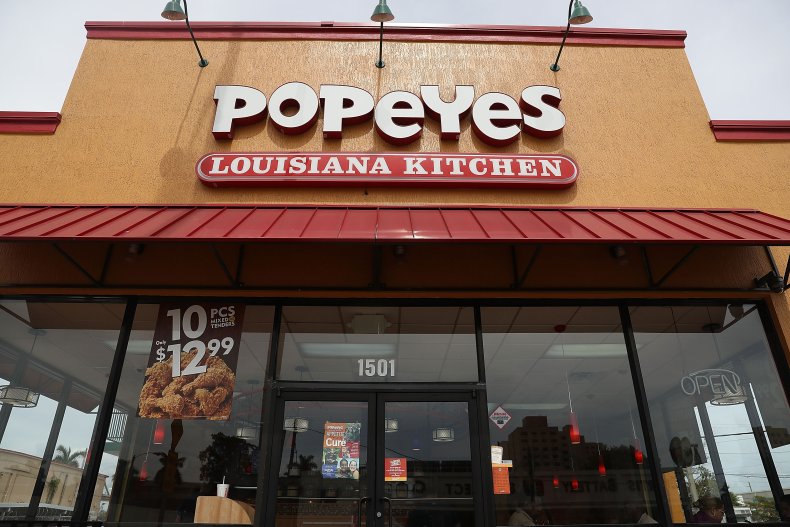 The police department also issued appeals for information for three other shootings on Sunday.
Police said officers responded to the 1200 block of North Decker Street after a shooting was reported just before 4 p.m. There, officers found a 60-year-old suffering from gunshot wounds.
Police also responded to the 1800 block of Mount Street to a reported shooting shortly after 4 p.m. There, officers found a 29-year-old woman and a 16-year-old with gunshot wounds. The injuries, which police said were in the victims' lower extremities, were not thought to be life-threatening.
Officers also responded to a local hospital on Sunday morning after a 24-year-old victim of a shooting walked in seeking treatment.
Police learned the man has been shot in the 3100 block of Gwynns Falls Parkway at around 6:30 a.m. and had been transported to hospital by family members.
Anyone with information about the shooting at the Popeyes restaurant is urged to contact Southeast District Shooting detectives at 410-396-2422.
Those who wish to remain anonymous can utilize the Metro Crime Stoppers tip line, at 1-866-7LOCKUP. You can also submit an online text tip to Metro Crime Stoppers.
This article has been updated with a statement from a Popeyes spokesperson.