Customers, Employees Spend Night Watching TV, Sleeping in Ikea After Snowstorm Traps Them
Customers and employees at an IKEA showroom in northern Denmark were forced to sleep in beds usually reserved for display after a snowstorm trapped them in the store overnight, the Associated Press reported. Six customers and about two dozen employees turned the showroom into a communal bedroom and spent the night watching television and eating together.
Peter Elmose, the store manager, told the Ekstra Bladet tabloid that the impromptu sleeping arrangement went "super well."
"It's been a good night. All fun," he said.
Up to 12 inches (about 30 centimeters) of snow fell, stranding the group of customers and employees when the Aalborg store closed doors Wednesday evening, the AP reported.
"It was too dangerous to drive on the roads," Elmose said. "It was too dangerous to go outside and we couldn't make our employees take those risks and then as there were six customers left, we invited them too."
The group was offered chips and Swedish cinnamon rolls to eat before they watched television together. Elmose said that people were able to "pick the exact bed they always have wanted to try."
"We slept in the furniture exhibitions and our showroom on the first floor, where we have beds, mattresses and sofa beds," he said.
All the used bedding and sheets were changed prior to the shop's reopening Thursday, he said.
"It was a really nice evening, enjoying each other's company," Elmose said. "Everyone had a full night's sleep. Our mattresses are good."
Large parts of Denmark, including the capital Copenhagen, were hit with adverse weather, which congested traffic and caused temporary power outages, Euronews reported. The snow also forced some flights and public transportation to come to a halt Wednesday.
Hundreds of travelers at the Aalborg Airport were forced to stay in the terminal overnight after flights were grounded in the afternoon and the worsening conditions prevented buses from transporting passengers to hotels, The Local reported.
"We have around 300 people in the terminal right now and have been giving out blankets on the assumption they will be staying here tonight," Kim Bermann, operations manager at the airport, told local news outlet Nordjyske.
For more reporting from the Associated Press, see below.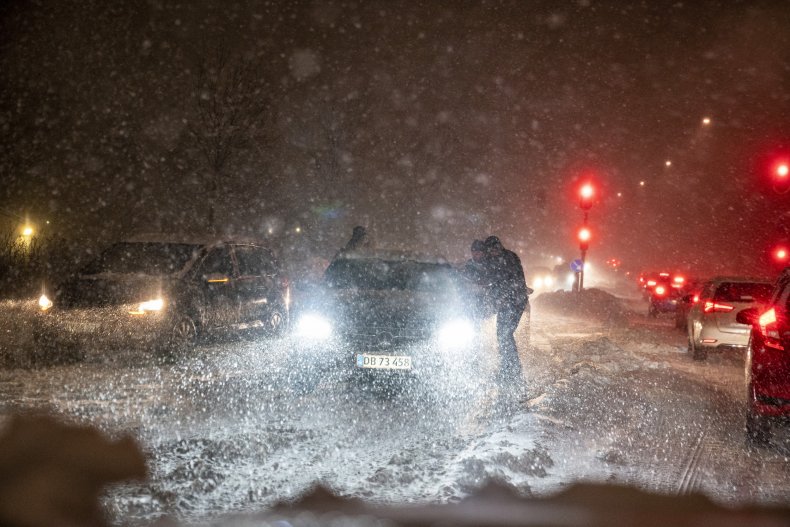 Denmark's public broadcaster DR said people working in a toy shop that is next door to IKEA also spent the night in the department store.
"It's much better than sleeping in one's car. It has been nice and warm and we are just happy that they would let us in," Michelle Barrett, one of the toy shop staff, told DR.
"We just laughed at the situation, because we will probably not experience it again," Barrett added.