U.S. Customs and Border Protection (CBP) officers recently stopped a strange drug-smuggling attempt when they discovered smugglers had tried to hide meth in a bag of peanuts. While CBP Press Officer Matthew Dyman told Newsweek that this particular incident was "unusual," narcotics are often found disguised as common foods in order to be covertly shipped.
The agency reported discovering a "suspicious" shipment at a Memphis, Tenn. hub in a press release last week. According to the release, the package was labeled "REGIONAL BREAD ROASTED PEANUTS REGIONAL DUST SWEET MADE OF CORN" and was headed "from Mexico to East Texas."
After "an x-ray revealed suspicious anomalies within the shipment," officers opened the package. There, they found "bags of peanuts and other food preparation materials." While those contents sound innocuous at first glance, after opening the individual peanut shells, "a white crystal substance," later identified as methamphetamine, was discovered.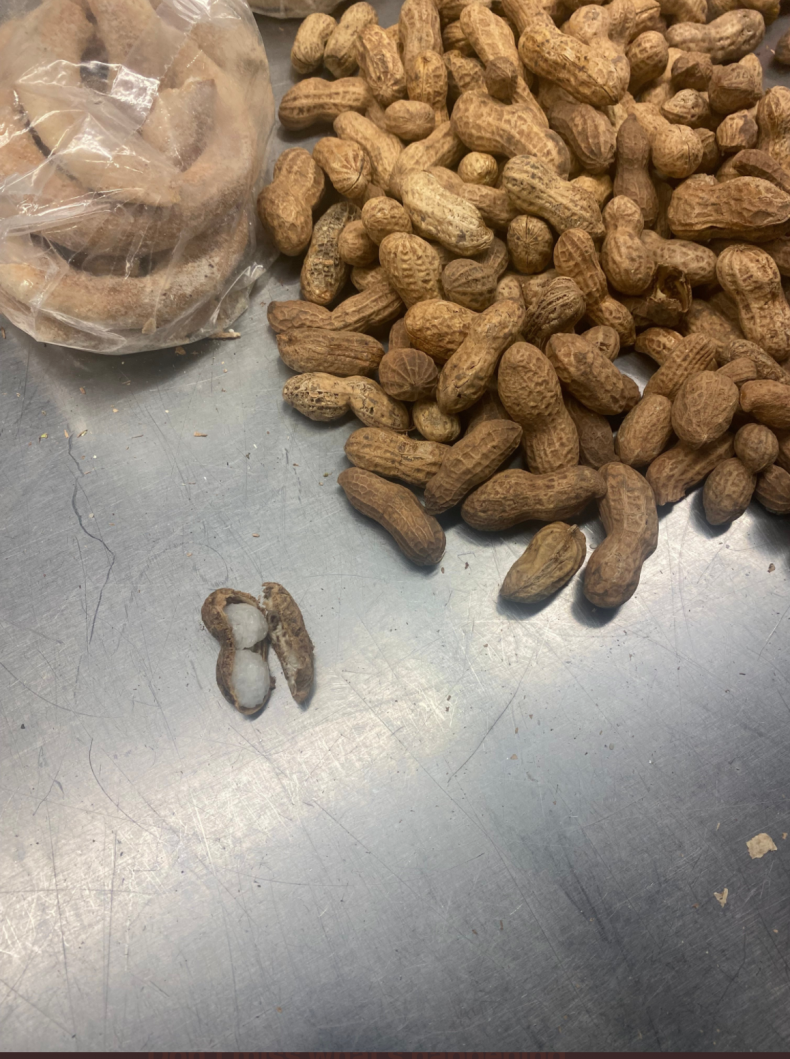 Dyman explained to Newsweek that the incident revealed a "highly unusual smuggling method"—one that he hadn't encountered in his time working at the agency.
Past incidents, according to Dyman, saw narcotics stored in everything from avocados to fake bananas. As he explained, "putting things inside other things" is "definitely a tactic" employed by smugglers. However, the peanuts, as seen in this case, are notable, as each shell had to have been carefully opened, filled with methamphetamine, then resealed. "This would require a lot of time and manual labor," explained Dyman, noting that he "can't think of a way a machine could [have done] it." Rather, the ploy was the result of access to "time and money."
In the press release, Area Port Director Michael Neipert noted that the agency's "experienced officers long ago lost all surprise at the smuggling methods they encounter every shift."
"Narcotics in fruit, nuts, baked goods, shoes, toys and all kinds of other items disguised as gifts or other legitimate shipments fly through the express consignment world. These days you can get a gram of methamphetamine at half the price of what cocaine costs, and at twice the potency," he explained. "I'm proud we were able to keep this shipment from getting to its destination."
The total amount of methamphetamine seized by the CBP reportedly totaled 489 grams.
In the past few months alone, authorities have discovered meth in a number of food-related disguises. In April, for example, TSA agents in Texas found a breakfast burrito stuffed with methamphetamine at an airport security checkpoint.
Days later, also in Texas, CBP officers found a whopping 217 pounds of meth in a "shipment of cucumber pickles."
Perhaps even more outrageous was a case in California, about a month later, which saw 1,100 pounds of methamphetamine–worth about $2.5 million—hidden in watermelon crates.