Cutups at the 'Cut-Outs': Up All Night With Matisse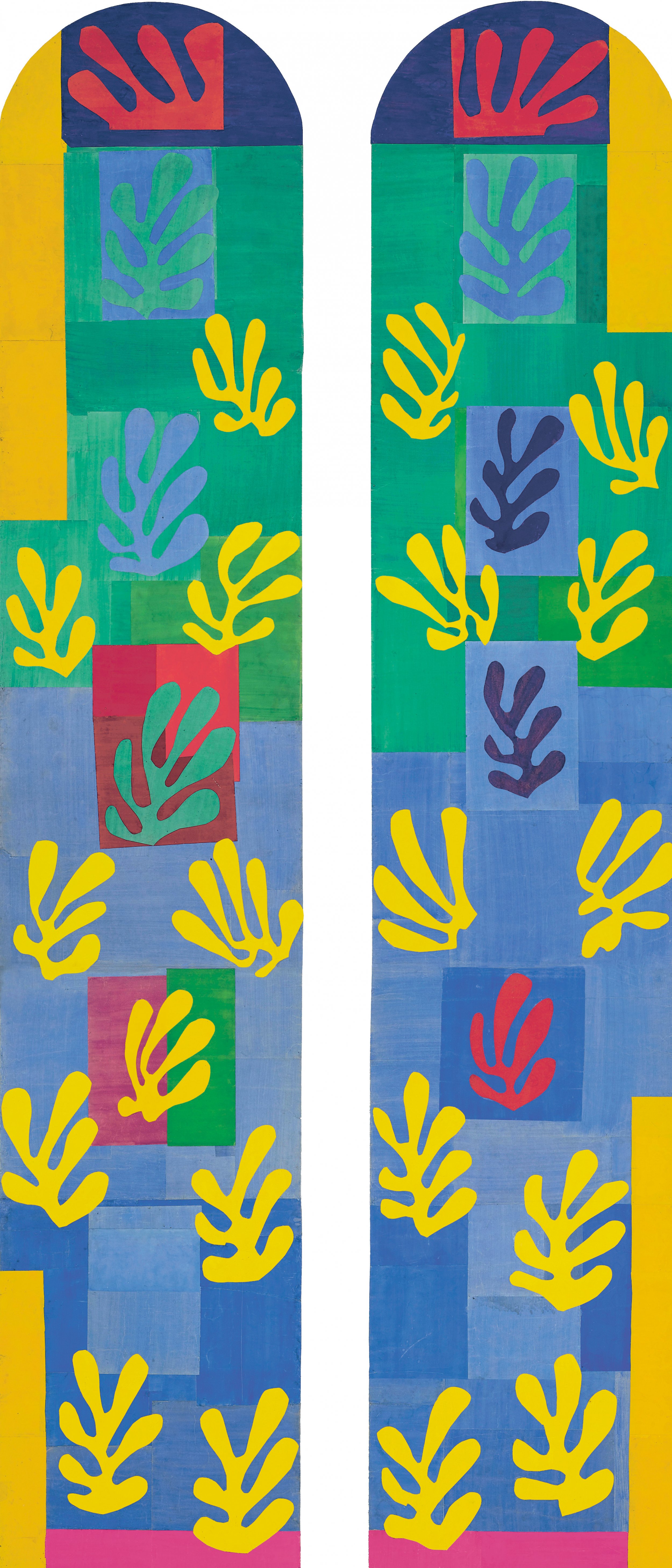 Here's a pop quiz: What kind of sane person forgoes a sweet hibernation and willingly ventures to Midtown Manhattan—the heart of the American nightmare—after 2 o'clock in the morning on a frigid February night? The answer is unclear, but there were hundreds of them hoping to catch a last glimpse of the sprawling Henri Matisse "Cut Outs" exhibition before it shutters on Tuesday, February 10 at the Museum of Modern Art.
The MoMA doesn't have this late-night option often. So why this exhibit? In the 1940s, Matisse went through his "cut outs" period, in which he subverted form by working with jagged pieces of paper. Matisse was in a low place then: In his 70s the artist had survived cancer, fled Nice at the height of World War II and separated from his wife of over 40 years. He was spent, sick, near end of his life.
Yet Matisse the workhorse trudged on, and he began a new phase of his career in which he traded the paintbrush for scissors, which he used to "cut into vivid color." The large-scale paper collages, which he completed with the help of assistants, were an ambitious jump for the painter and sculptor. But then again, this is the same fellow who once lovingly described creating art as "slitting an abscess with a penknife."
Hence why hundreds of narcoleptics and insomniacs gathered late at night to see what that wound looked like.
I am one of these, and so is Jameson, the friend who accompanied me to MoMA that night. We arrived at around 2 in the morning. As we entered the lobby I forgot, for a second, how late it was: The museum teemed with bodies, slurred laughter, lilting conversation. The ticket lines snaked around columns. A woman standing in front of us, apropos of nothing, turns around and said, "You know when your phone dies right at a crucial love moment?" She then bemoaned how she was currently being stood up by a lover who's chased her across the globe—and then, as though on cue, the fellow she'd been speaking about ducked under the black ropes and grinned at her knowingly. I overheard another trio of friends, one of whom was insisting that "museums are capitalist institutions."
A few primitive observations: everyone appeared to be attached by the arm to another person (the new date night, or a perhaps nod to that one Sex and the City episode from eons ago?). The hour was not a deterrent for people of all ages, colors and creeds to converge here. Most seemed bewildered, as though thinking: "What have we got ourselves into?" I began to regret that last cup of coffee as the nagging pangs of dehydration—the kind that sneaks up on you after walking briskly, breathlessly in the winter—beckoned. The next available public showing is at 3:30 a.m.
When we were escorted upstairs, it was immediately apparent that this wasn't merely an exhibition. It was a last dance, and people came here to tango in black lace and leather, their edgiest Sunday best. A displaced L.A.-type, donning a wide-brimmed hat and sunglasses indoors, asked a group beside him: "There's Champagne being passed around, right?" Like many people there, I couldn't tell if he was being serious. I spotted an industrious man very intently studying the hundred-odd cutouts alone, noise-cancelling headphones upon his head, or an audio guide in tow. Clever.
Most people seemed less interested in the art and more into the idea of being here this late on a Saturday night. A woman named Angelina, who was wearing what appeared to be a red velvet tea cosy on her head, said the artwork is "a bit bright for me," but added that "it's amazing we can do this," meaning have this conversation, here, at 2:30 a.m.
Amazing, too, is the depth this exhibit manages to harness despite the surface simplicity of its subject matter. When Matisse drifted from painting, he gravitated toward what would become his "cut-outs," pieces that allowed him to toy with dimensions outside the constraints of a canvas. As New York Magazine critic Jerry Saltz put it, "The Cut-Outs are Matisse's long goodbye to painting—but not a bitter one." It is playful and pained, the forms not quite human, more rooted in their basic elements: squiggly shapes posed across each other, poised in a sort of mitosis mating dance. Blue forms join hands, dancing to music only Matisse can hear.
Jameson and I separated, and I drifted in and out of rooms, alternating between observing the cutouts and the (many) people posing for sneaky selfies beside them. It soon becomes impossible to distinguish the paintings from the people in this colorful palette. People sauntered around in evening gowns and tuxedos, as though they had just arrived from another event. A child ran through the exhibit and no one batted an eye.
I sat down on a bench, in a room surrounded by the more gargantuan works, and tried to catch some people as they paused to take a breath. A woman sat down beside me, and—in a single breath—waxed on about her son's wedding, the Korean orchestra she had been to earlier that night and her pet parrot. As for why she's here, she said she found Matisse's scissor-happy phase interesting, as "it's easier to maneuver than paint." Also, she said she lived across the street. She got up (but not before telling me all about her daytime television show, fulfilling the #networking portion of the night). Immediately, another woman—wearing pentagram earrings—took her place. She side-eyed me, put her face in her hands and started silently crying. Next to her, a lady told her friend how strange it was that one of her deceased Facebook friends recently liked one of her statuses.
I ask a cagey older couple, who told me they were art dealers who spend part of the year in Nice, what they felt about this experience. They blinked at me and started gingerly tiptoeing into the next room. I understand the aversion; art is generally an introspective experience. But having the museum open this late, as a free-for-all, in a way subverts museum-going into an event that's shared, the air kisses flying.
I'm not sure what to draw from this experience, besides the fact that a series of pieces can bring together the masses at unexpected hours, a kind of cross-section cut-out of New York. And that these places might be verifiable black holes of time and space: At one point, I ask a low-key seeming youth, the only person I see wearing plaid, for the time. I'm appalled to learn it is 3:30 in the morning. But I've only been in three rooms? He echoed my bewilderment and told me how "surreal" it felt to come here straight from Williamsburg, where roughly an hour ago he was busting a move on the dance floor at a club. "I came to see what the fuss was about, and I don't get it!" I am almost too exhausted to appreciate his good-natured sarcasm.
I found Jameson on a bench, sketching several of the cutout figurines. "What a safari," she murmured. We looked at each other, and I knew it was time to head home. As we descended the stairs, the museum suddenly looked more like what I was expecting: alien, more dead than alive, as the last stragglers waded into the Technicolor dreamscape Matisse had created with scissors.