'Cuties' Netflix Film Causes Outrage for Poster 'Sexualizing' Children
The poster for a new Netflix film, Cuties, has caused outrage amid claims it is sexualizing the child actors.
The streaming giant is facing backlash for its promotional poster for the French film, whose young stars are 11-years-old. The promo image in question shows the children wearing revealing dance attire of shorts and crop tops and striking various dance poses, like kneeling on the floor and squatting.
Cuties, titled Mignonnes in French, is described as a coming of age film, and the trailer advertises a film typical of the genre; girl moves to a new place, tries to fit in, deals with conservative family at odds with new friends and interests.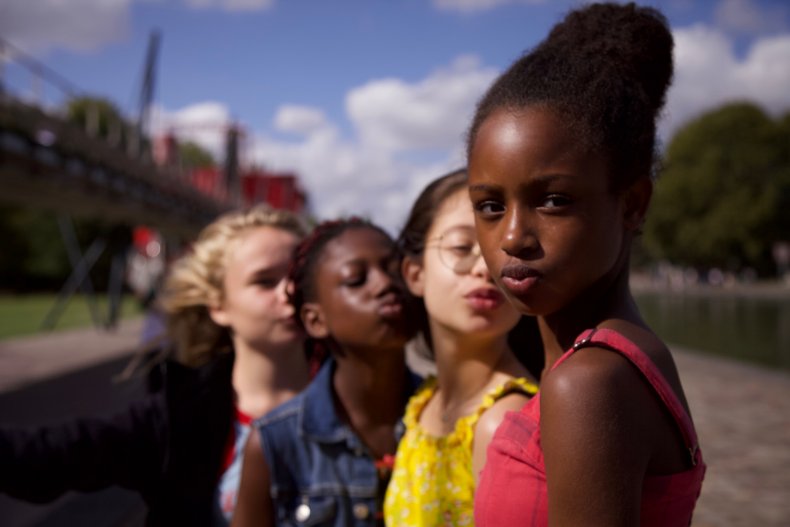 It follows a young girl from a traditional Senegalese Muslim household who joins a dance group and was written and directed by Maïmouna Doucouré. The film won won the directing award in the dramatic world cinema category at the Sundance Film Festival this year.
The synopsis reads: "Amy, 11 years old, tries to escape family dysfunction by joining a free-spirited dance clique named 'Cuties,' as they build their self-confidence through dance."
Newsweek reached out to Netflix for a comment about the nature of the poster used to advertise the film, but did not receive a reply at the time of reporting.
A petition, signed by more than 30,000 people has been launched calling for Netflix to remove Cuties from the platform.
"This movie/show is disgusting as it sexualizes an ELEVEN year old for the viewing pleasure of pedophiles and also negatively influences our children!" the petition's creator wrote. "There is no need for this kind of content in that age group, especially when sex trafficking and pedophilia are so rampant! There is no excuse, this is dangerous content!"
The movie and its Netflix poster have been widely discussed on Twitter with much of the sentiment expressing similar disgust at the provocative nature of the promo.
Some on social media have pointed out that the French promotional poster is totally different and instead features the cast skipping through a street swinging shopping bags, wearing non-revealing clothing.
Doucouré spoke about the film in an interview with Cineuropa, saying she came up with the concept after she saw "a group of young girls aged around 11 years old going up on stage and dancing in a very sensual way while wearing very revealing clothes."
She added: "I was rather shocked and I wondered if they were aware of the image of sexual availability that they were projecting."