Cutout of Mark Zuckerberg Dressed as QAnon Shaman Appears Outside Capitol Ahead of Facebook Hearing
Ahead of a congressional hearing on Big Tech on Thursday, cut-outs of social media executives dressed as Capitol rioters were displayed in Washington, D.C.
One life-sized cutout featured Facebook CEO Mark Zuckerberg as the QAnon Shaman—the man seen wearing face paint, a fur helmet with horns and an American flag during the January 6 insurrection.
The stunt appears to be organized by the consumer activist group SumOfUs. The group describes itself as an online community that is "committed to curbing the growing power of corporations."
In a statement on Thursday, the group said their research "found that tech companies not only provided the organizing platforms for the far-right revolt of January 6th; their policies, algorithms, and tools directly fueled it."
Zuckerberg, along with Google CEO Sundar Pichair and Twitter CEO Jack Dorsey, will face questioning from Senate committees over their companies' role in the proliferation of misinformation online.
The cut-out of Dorsey displayed Thursday depicted the Twitter exec as the rioter who was seen carrying House Speaker Nancy Pelosi's lectern through the rotunda of the U.S. Capitol Building.
One sign accompanying the cut-out displays read, "January 6th brought to you by Facebook, Google and Twitter."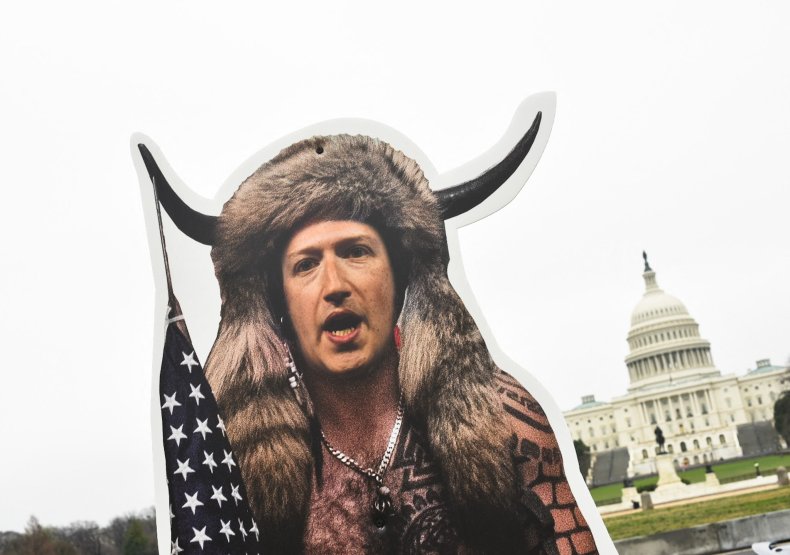 Zuckerberg will begin his testimony Thursday by extending his condolences to the families of the police officers who died in the wake of the January 6 attack, according to prepared remarks.
"The Capitol attack was a horrific assault on our values and our democracy, and Facebook is committed to assisting law enforcement in bringing the insurrectionists to justice," Zuckerberg is expected to say.
The Facebook chief is also expected to suggest changes to Section 230, the law that states online media platforms generally aren't liable for what their users post. Zuckerberg's proposal would keep those protections in place, but would make the companies liable for having systems to protect against unlawful posts and content.
"Instead of being granted immunity, platforms should be required to demonstrate that they have systems in place for identifying unlawful content and removing it," his prepared testimony reads.
The hearing will take place via video call, led by Democrats on the House Energy and Commerce Committee. Another topic that will be explored during the hearing is the spread of misinformation on COVID-19 vaccines.
"It's painfully clear that neither the market nor public pressure will force these social media companies to take the aggressive action they need to take to eliminate disinformation and extremism from their platforms, and therefore it's time for Congress and this committee to legislate and realign these companies' incentives," committee chairman Frank Pallone Jr. (D-N.J.) said in his opening statement.
Newsweek has reached out to Facebook for comment on the displayed cut-out of Zuckerberg dressed as the QAnon Shaman.