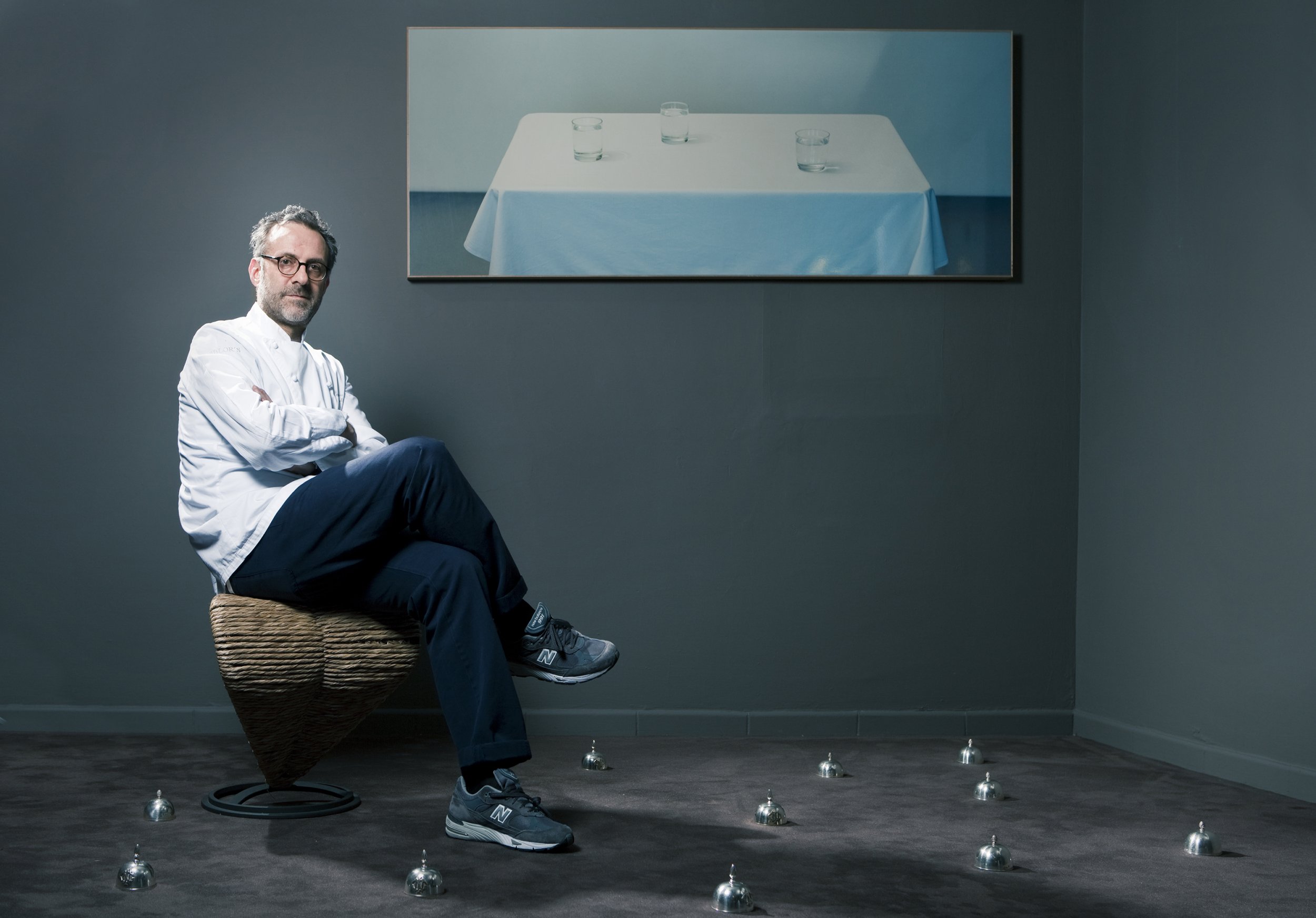 We all know that old saying, "every picture tells a story" (though probably not that it was first used in an advertisement for backache kidney pills), but, nowadays, it seems the latest trend in haute cuisine is that every dish should tell one too. Not that stories provoked by food memories are a new phenomenon – after all, a century ago, Marcel Proust chose to use involuntary memories, prompted by eating his mother's madeleines, to evoke his vanished childhood, which began À la Recherche du Temps Perdu (In Search of Lost Time) now considered, perhaps, the greatest 20th-century novel.
However, "story food", where certain dishes are said to remind the chef of his own childhood memories, or perhaps of events relating to his or her region, is catching on with renowned chefs in Modena, London, Singapore, Marbella and even Shanghai.
There have been quite a few trends in haute cuisine, starting with nouvelle cuisine in the 1970s, which lightened up classical dishes, to Modernist Cuisine, where scientific techniques created a whole range of bizarre flavours, to New Nordic Cuisine, which emphasises locally produced or foraged ingredients.
As a concept, "story food" is happy to pick and choose from any of these former trends, but with the intention of offering a non-verbal narrative through taste sensations. The challenge for the chef is to create tastes that manage to convey the message, while at the same time being pleasurable to consume.
The most prominent exemplar of this trend in London is Tom Sellers, a 26-year-old chef from Nottingham, whose restaurant, Story, in London's Bermondsey won a Michelin star within four months of opening last year. Almost within the shadow of Tower Bridge, the unusual triangular site was, until a million-pound makeover, a public lavatory. Continuing with his story theme, diners are encouraged to bring along a book of their choice and leave it behind, and each table is adorned with a novel by Charles Dickens, in honour of his local characters such as Oliver Twist and Little Dorrit.
"Food always started with a memory, I am very strong on the fact that whenever you eat something, whether in a three-star restaurant or a chicken shop, subconsciously your memory is relating it to a previous experience," says Sellers. "That is where it started for me when I started to think about food and how I almost wanted to make the experience as powerful as possible. I call the restaurant Story because I wanted to empower the narrative and story side of food – and, ultimately, it is my own story because I spent 10 years of my life cooking in some of the best restaurants in the world."
All of the 10 dishes on his tasting menu tell a story, whether it is a personal memory of the smell of burnt onions, or the background behind the ingredients. The most amusing one is a homage to Snow White and is simply called Raw beef, Apple and Périgord truffle. The apple arrives in a bowl on a bed of ice with mist swirling around it through the application of liquid nitrogen. However, when you remove the top of the apple, there is a tangle of what look like dark weeds, but in fact are shards of black truffle with a beef tartare beneath it – an exquisite combination and anything but a poisoned apple. Sellers is a fan of fairytales like Snow White.
"Ultimately I knew that putting beef tartare and truffles inside an apple would taste good – my chef brain told me that," he says. "I don't tell the diner that this is the background story to this dish, because it is immediately obvious to most people. The mist is to do with taking the diner back to the woods. I had this scene in my head of mist coming out of the forest, especially when I was going out into the forest in Denmark when I worked at Noma, one of the leading restaurants in Scandinavia, if not the world."
Food Stories can also be more personal, like his Onion, Apple and Old Tom. This consists of pickled onions slightly charred and dipped in Old Tom Gin. Here, the burnt flavour was in memory of his time as a child at the Nottingham Fair, while gin is his drink of choice. "I kind of married them both together – something I loved as a child and another that I have grown to love as an adult. Some people say to me they weren't sure about the onion dish because it challenged them – but I think more and more people want to be challenged with food and I am willing to take that risk."
The best thing about "story food" is how accommodating it can be. Massimo Bottura is arguably the most acclaimed chef in Italy – he was recently awarded three Michelin stars for his Osteria Francescana in Modena and last year was voted number three in the World's 50 Best Restaurants awards. A voluble person, his approach to food is definitely inspired by Proust and he has the quote about the Madeleine at the top of his menu.
…I raised to my lips a spoonful of the tea in which I had soaked a morsel of the Madeleine. No sooner had the warm liquid, and the crumbs with it, touched my palate and a shudder ran through my whole body…and I stopped, intent upon the extraordinary changes that were taking place…
Bottura's dishes are on a far more intellectual plane, where they express historical or artistic concepts. One of his most famous is An Eel Swimming up the Po River. This imaginary eel is a symbol for a princely family that were ousted from Ferrara and came to Modena in the 16th century. The eel manages to gather various ingredients, such as polenta from Veneto and campanine apples from Mantua plus a lacquer of Saba syrup and Amarone wine – all of which end up on the plate.
Then there is his Memory of a Mortadella Sandwich, which Bottura says is what he remembers of a sandwich his mother would put in his backpack when he went to school. "I wanted to recreate it in my restaurant without the greasy part inside, which I managed after four years. I distilled pieces of mortadella and then with various instruments, made a foam of mortadella and through flour, a bread to accompany it. It reminds me of my youth and emotional state," he says.
Even more bizarre is his elegant quilt-like dish of hare, chocolate, root powders and herbs, which he calls Camouflage – a Hare in the Woods. This was inspired by a remark that Picasso is said to have made when he saw a camouflaged truck drive through Paris in the First World War – "We invented that! That is Cubism!" Bottura's playful approach extends to the desserts, with one called Oops - I Dropped the Lemon Tart. This was literally inspired by accidentally dropping a lemon tart, so the dish looks cracked with the tart strewn across it – a sly dig at the futility of striving for perfection on the plate.
The "story food" concept has just begun, but more and more serious chefs around the globe are playing with the idea. In Singapore, Restaurant Andre is paving the way, with dishes like Memory, a delicious mixture of warm foie gras jelly and black truffle coulis that chef André Chiang first made at a three star Michelin restaurant in the south of France. In Shanghai, there is Ultraviolet, an extraordinary restaurant inside an old factory, where ten diners sit in an enclosed container, which is then surrounded by projected images, while they eat from a French picnic basket. The meal and accompanying fine wines come to approximately £500 per person and it is booked out months in advance.
Only this month, Dani' García, one of the leading young chefs in Spain, reopened his Marbella restaurant, Calima, with a special menu called Once Upon a Time.
So how important are our subconscious memories of food in appreciating what we eat now? There has been a lot of literary and academic research into Proust's madeleines and the latest conclusions are not what you would expect. Emily Troscianko, a research fellow at St John's College, Oxford, recently wrote an academic paper on the subject. She thinks it is a mistake to imagine that Proust's response was an example of involuntary memory.
"What makes it problematical is that he takes quite a long time to actually retrieve the memories it evokes. We have an intuitive sense that memories triggered by sensory cues are more vivid and specific, but in terms of the actual amount of detail recalled, there tends not to be that much. It may be because we just fill in the gaps later, often with quite a lot of active reconstruction going on. Recent research shows that involuntary memories triggered by smells are actually not nearly as common or as detailed as those that come from words or phrases."
So after all of these attempts to prompt diners to reacquaint themselves with their culinary past through smells and imagination, perhaps the most important advice is to simply read the menu.