Cutting Back This Many Calories Per Day Could Lower Heart Disease Risk
Cutting back on the calorie equivalent of six Oreo cookies per day could lower a person's risk of developing conditions like heart disease, according to researchers.
The study involved 218 adults aged between 21 to 50 years old who were a healthy weight or slightly overweight but not obese. Off the back of promising findings in studies involving animals and humans, the authors of the paper published in the journal The Lancet Diabetes & Endocrinology wanted to find out if restricting calories carried any health benefits.
Researchers first asked the participants to eat three meals a day which cut a fourth of their regular calorie intake for one month. Next, the team told the participants to choose from six different meal plans which they would follow for two years, which continued the 25 percent cut in their daily calorie intake. On average, that amounted to a drop of 2467 kcal to 2170 kcal: almost 300 calories, or six Oreo cookies.
During the first six months of the trial, the participants went to weekly counseling sessions. Meanwhile, a control group of 75 continued their diet as normal, and visited researchers once every six months. The participants wrote down how much they ate in food diaries.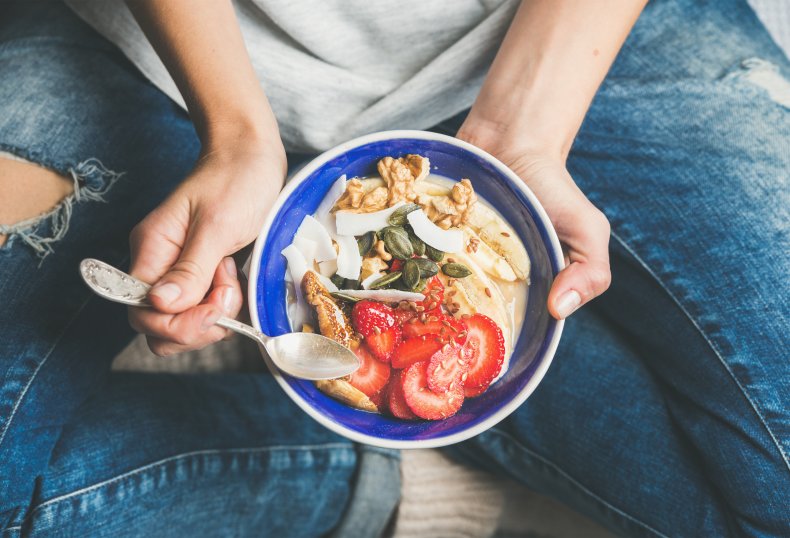 At the end of the study, most participants were able to cut around 12 percent, rather than the intended 25 percent, of their daily calorie intake. On average, the participants lost 7.5 kilograms, or 10 percent of their body weight, including 71 percent fat. The control group, meanwhile, gained weight on average.
The researchers believe the participants may have been at lower risk of developing heart disease, cognitive decline, and cancer, as their levels of a biomarker linked to chronic inflammation dropped in the two year period. They also had smaller waists, as well as better blood pressure, and cholesterol and insulin levels.
"These findings suggest the potential for a substantial advantage for cardiovascular health of practicing moderate calorie restriction in young and middle-aged healthy individuals, and they offer promise for pronounced long-term population health benefits," the authors wrote.
"These findings should provide a new tool for clinicians in fighting the ravages of poor and unhealthy diets."
The authors wrote that while the study had a large sample size for such an intensive program, it was limited because they were unable to measure plaque build-up in the participants' arteries.
Co-author Carl Pieper, associate professor of Biostatistics and Bioinformatics at the Duke University School of Medicine, told Newsweek: "To our knowledge, this is also one of first studies to study the effects of caloric restriction in people who are already at a healthy weight.
"Some caloric restriction is easily attainable. It is more difficult to attain and sustain 25 percent caloric restriction, such as was prescribed in this trial. However, any level of restriction was associated with a lowering of these markers."
He argued: "This investigation is extremely important from a public health perspective. Heart disease is the leading cause of disability and death around the world. Thousands of men and women around the world die every day from cardiovascular disease. Even a modification that is not as severe as we used in this study could reduce the burden of cardiovascular disease and diabetes around the world."
Dr. William E. Kraus, lead author of the study and a cardiologist and distinguished professor of medicine at Duke University Medical Center, commented in a statement: "There's something about caloric restriction, some mechanism we don't yet understand that results in these improvements. We have collected blood, muscle and other samples from these participants and will continue to explore what this metabolic signal or magic molecule might be."
Kraus said: "This shows that even a modification that is not as severe as what we used in this study could reduce the burden of diabetes and cardiovascular disease that we have in this country.
"People can do this fairly easily by simply watching their little indiscretions here and there, or maybe reducing the amount of them, like not snacking after dinner," Kraus suggested.
In the U.S., around 610,000 people die of heart disease every year, while 30.3 million are thought to have diabetes, according to the Centers for Disease Control and Prevention.
In an editorial published in The Lancet Diabetes & Endocrinology, Professor Frank B Hu, an expert in nutrition, diabetes, and cardiovascular disease at Harvard TH Chan School of Public Health, wrote that the trial was "groundbreaking."
"It is the first long-term calorie restriction intervention in non-obese young and middle-aged participants with a large sample size. Energy intake and energy expenditure were measured carefully with both conventional dietary assessment tools and doubly labelled water," he wrote. The work also had a better than average retention rate of participants than past weight loss studies, he said.
This article has been updated with comment from Carl Pieper.