Cyber Firm Blasted for Using 'Booth Babes' at Major Security Conference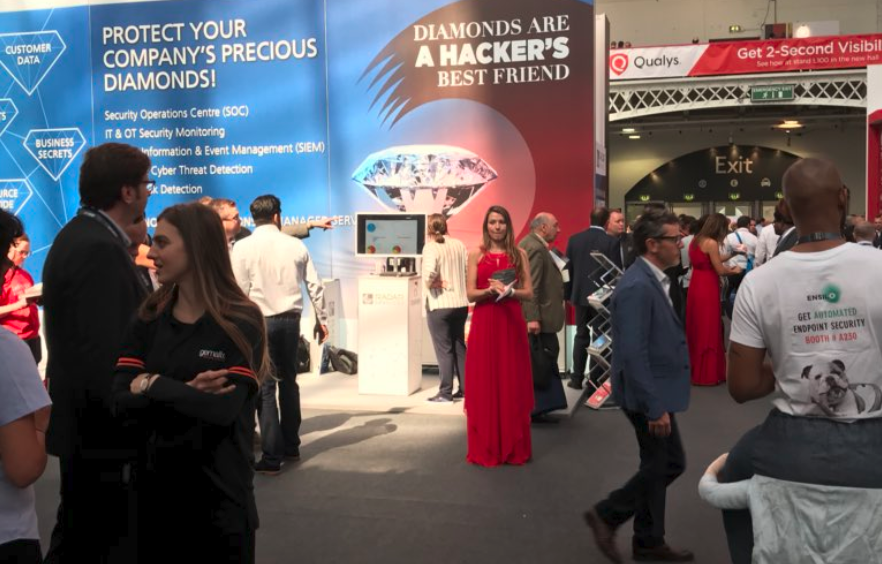 Infosecurity Europe, a cybersecurity conference that took place in London this week, has apologized after one of its exhibitors— Radar Services—employed multiple women as "booth babes" to promote its products and services to the thousands of attendees visiting the annual event.
Images that were first posted to social media on Wednesday by cybersecurity entrepreneur and keynote speaker Jane Frankland showed multiple women in red dresses at the exhibitor's stand, mingling in front of a large marketing banner that read: "Diamonds are a Hacker's Best Friend."
"Disappointed to see booth babes at #infosec2018 today," Frankland tweeted, adding: "The girls were hired for the event and knew nothing about security. Not seen this tactic for a long time."
The tweet quickly racked up dozens of replies, with many comments voicing disappointment at the firm's decision to employ promotional models. "It's a sad sight and so cringe," wrote Twitter user Jonathan Stock. "I don't understand why anyone thinks this would work as a tactic in the modern world," he added. According to the conference organizers, the move was in clear violation of their policies.
Responding to the criticism, Infosecurity Europe's official Twitter account offered apologies on Thursday. "Booth babes are indeed a step backwards for the industry which is why our contracts expressly forbid this," it wrote, adding: "We've addressed directly with the company involved."
Eleanor Dallaway, editor of U.K. trade publication Infosecurity Magazine, an official media partner with close ties to the Reed Exhibitions Ltd-organized cybersecurity conference, also tweeted: "Infosecurity does have a 'no booth babe' policy which it has worked hard to enforce over the years."
She added: "They are looking at the exact terminology of what is considered 'booth babe.' It's sad that exhibitors are insulting visitors by misunderstanding what they're looking for.
"The vendor [has] been spoken to, reminded of the rules, and asked to change. Hopefully the progress that has been made over the years will continue to be so that we don't need to be still having this conversation. I like to think the large majority of the industry is better than this."
The PR firm working for the conference confirmed the vendor responsible had been spoken to.
"As a big supporter of women in tech, particularly in cybersecurity, Infosecurity Europe has been working for many years to reinforce our policy with our exhibitors about the use of 'booth babes,'" an Infosecurity Europe media spokesperson told Newsweek via email on Thursday.
The statement continued: "Our contract clearly states that this is forbidden, and we have included the same messages in our Exhibitor Masterclass and sales conversations.
"Our community is massively supportive of this policy. Occasionally though, the message doesn't get through, which is detrimental to both specific brands, as well as the wider industry. It also clearly shows how we as a community must continue to be vigilant and continue the conversation. The company in question has already been contacted by our team and their staff immediately corrected their outfits."
On Wednesday, Infosecurity Magazine hosted a networking event at the bustling technology conference specifically to celebrate women who work in the cybersecurity industry.
Responding to the backlash, a spokesperson for the Austria-headquartered Radar Services told Newsweek: "We thank you and the community for reporting this issue and apologize for it.
"As soon as we got to know about the issue we immediately reacted and asked our exhibition staff to dress differently which they immediately did. It was never our intent to cause embarrassment."
But journalist Kate O'Flaherty said it was unfortunate to see the firm had taken the approach.
"I was more surprised than anything. How could the vendor get it so wrong?" O'Flaherty told Newsweek. "It didn't fit with the tone of the event at all. Plus, it reinforces the view that women aren't technical enough to work in the sector—that they are just there for marketing and promotions."
Frankland said that she was "disgusted" with Radar Services' marketing stunt, noting that the tech industry in the U.K. needs to stop objectifying women and work to get rid of such stereotypes.
"It's a big step backward," she told Newsweek.