Cyber Monday Video Game Deals 2018: GameStop's Black Friday Lives On With Even More On Sale
It's Cyber Monday, the online-only way to keep Black Friday rolling into the new week. GameStop has another batch of video game deals for 2018 offering not only every single Black Friday deal again, but even more discounts on top of those. To see more on GameStop's Black Friday deals, check here, here, here and here. Remember, these deals can only be found at GameStop.com, not at store locations.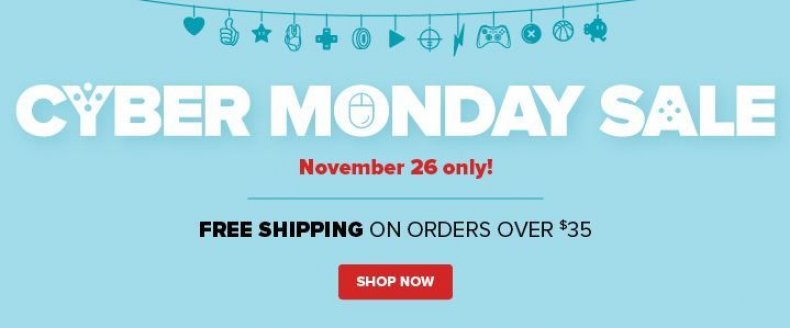 The major new deals for GameStop's Cyber Monday sale are as follows. These aren't all the deals, so be sure to check the GameStop website for more information. As an added bonus, GameStop is also offering free shipping on all orders of $35 or more.
If you're looking to pick up some older games and consoles, be sure to look for "Blast From The Past" deals. These include savings on things like preowned Wii, Xbox 360 and PS3 consoles and accessories (Kinect, anyone?). You can even get GameStop-created console bundles, with a controller or two and a selection of games. Other consoles included in Blast From The Past deals include Wii U, 3DS XL, Xbox One and PS4.
GameStop Cyber Monday 2018 Deals
Xbox One Minecraft 1TB console bundle - $200
Free $50 GameStop gift card with purchase of any new Nintendo Switch, Xbox One, or PS4 console (excludes PS4 1TB Spider-Man and Xbox One S 1TB Minecraft bundles; limit 1 per customer)
Call of Duty Black Ops 4 - $38
Fallout 76 Standard - $40
Fallout 76 Tricentennial Edition- $60
Assassins Creed Odyssey - $27
FIFA19 - $27
Madden 19 - $27
NBA 2K19 - $27
Shadow of the Tomb Raider - $27
WWE 2K19 - $27
Hitman 2 - $30
NASCAR Heat 3 - $25
Horizon Zero Dawn Complete - $10
Cyber Monday exclusive Blast from the Past console bundles on Xbox One, PS4, Wii U, Wii, PS3, Xbox 360 and 3DS XL: starting as low as $74.99
Buy 2 Get 1 free on Last Gen preowned video games and on Retro video games
20% of all preowned smartphones, tablets, media players and wearable technology
HyperX Revolver GunMetal headset - $70
PDP Afterglow AG9 PS4 and Xbox One headsets - $50
Star Wars the Black Series Force FX Z6 Riot Control Baton - $100
Star Wars Ultimate Co-pilot Chewie - $80
Star Wars Nerf Rival Stormtrooper Blaster - $50
Pokémon Snorlax Bean Bag Chair - $99
Arcade 1Up Street Fighter, Rampage, Centipede, or Asteroid - $250
So what do you think? Will any of these Cyber Monday deals win you over? What have you picked up from Black Friday deals already? Let us know your thoughts in the comments section below.