'Cyberpunk 2077' Reviewer Publishes PSA Warning About Epileptic Triggers
Update: CD Projekt Red has released the following statement on Twitter.
Original Story
Cyberpunk 2077 is one of the year's most anticipated games, but one reviewer is trying to warn gamers that the latest title from CD Projekt Red may cause epileptic seizures.
On Monday, Game Informer's Liana Ruppert published a PSA for those who are susceptible to seizures and also looking to play Cyberpunk 2077 when it's released on December 10. In the piece, simply titled "Cyberpunk 2077 Epileptic PSA," she breaks down her experience playing the massive RPG, as someone who is prone to seizures.
"After playing Cyberpunk 2077 for the past week and a half, there is an epileptic warning I'd like to offer to those Samurai heading into Night City," Ruppert wrote.
Early into the piece, Ruppert shares that she suffers from seizures because of an injury she sustained while on active duty. She then says that, while playing Cyberpunk 2077, she suffered one "major" seizure and experienced several moments when she felt like she was going to have another.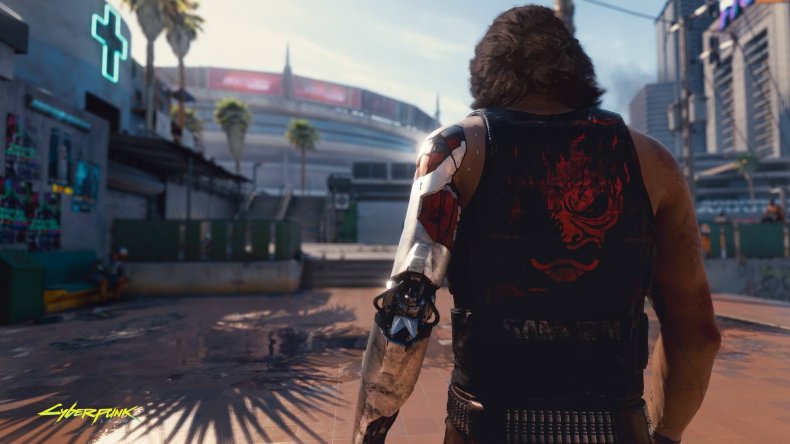 "I kept going because I made that decision to, and I feel like that decision helped me sort of slap together a small little guide for players wanting to take part in this game for fear of missing out," she wrote.
From there, Ruppert details some of the triggers that she encountered. (She also notes, "A common trigger for epileptics in the media are rapid blinking lights, specifically of the red and white variety.") Ruppert warns that there are oftentimes "red glitching animations" during the game that could spell trouble for people who suffer with epilepsy. Moments in the story when your character enters a club or bar are also "danger zones," according to Ruppert. Additionally, some interactions with Johnny Silverhand will cause a "flickering pale blue glitch effect," which can trigger some forms of epilepsy.
Ruppert also mentions that she uses an "eye-saving mode" on her monitor to dim the blue light on her screen, which helps her.
But then there's the "Braindance" feature in the game. It lets players record everything they experience in Cyberpunk 2077, so that it can be played back later on. This is especially useful for downloading and interacting with memories of deceased characters, and it's a major part of the Cyberpunk 2077 gameplay and story.
"Pretty much everything about this is a trigger and this is something that caused me to have a grand mal seizure when playing to help with our review," Ruppert wrote.
When performing a Braindance, your character will put on a headset to initiate the sequence, which pushes out blinking red and white LEDs, "much like the actual device neurologists use in real life to trigger a seizure when they need to trigger one for diagnosis purposes," according to Ruppert.
There are other aspects of the Braindances that can trigger seizures, as explained by Ruppert, and we recommend that anyone who is afflicted with epilepsy read her PSA. With CD Projekt Red confirming a big patch on launch day to fix some bugs, we hope that some of these triggers will be changed in the near future.
Newsweek has reached out to CD Projekt Red for comment on this situation and Ruppert's PSA.
Cyberpunk 2077 is scheduled to release December 10 for Xbox One, Xbox Series X/S, PS5, PS4, PC and Google Stadia.