Cyberpunk 2077 is still in development at CD Projekt RED and gamers have tons of questions. The developer's lead cinematic animator, Maciej Pietras, talked to French outlet JeauxActu and revealed some interesting information about Night City, the main world of Cyberpunk 2077.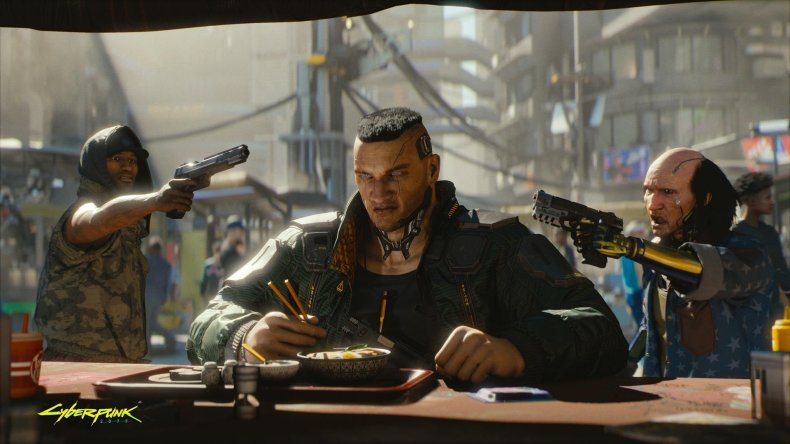 When asked how big the world of Night City will be, Pietras said it was difficult to determine because the map is very vertical. However, the map is entirely created by the developers instead of relying on procedurally-generated content to fill in the gaps between the main areas.
"The game will allow you to enter many buildings, knowing that everything was done by hand, because we believe that quality comes first through manual creation, nothing is procedural in our world," Pietras told JeauxActu (with translations provided by Google Translate). "It is in this that the city of Night City will be vast to go, thanks to this verticality."
CD Projekt RED is known for quality games, but creating a massive world by hand is crazy. Expect the whole of Night City to be as detailed and unique as possible, seeing as how the developers are crafting it all themselves.
It's also been confirmed players will not be in first-person mode for the duration of the game. Pietras says players will be pushed back to a third-person perspective when driving vehicles and during cutscenes, but players can opt to resume first-person perspective when driving if they want. "I want to point out that even if the adventure will be played primarily in FPS, know that there will be key moments in the game where you can see your character in full, especially in cinematics," he said. "You will be able to contemplate it with all the customizations that you have attributed to it."
Other questions answered in the interview include confirmation that players will remain in Night City through the entire campaign of Cyberpunk 2077. Players shouldn't expect to travel to other areas of the universe. Players can also drive any vehicles they see when playing, and can customize their own personal car. Cats and dogs also wander around Night City, but no other animals.
There still is no release information on Cyberpunk 2077, but it is expected the game will release for PS4, Xbox One and PC.
So what do you think? Are you excited to see more of Cyberpunk 2077 from CD Projekt RED? When do you think the game will release? Let us know your thoughts in the comments section below.