'Cyberpunk 2077' Twitch Stream Goes Crazy, Reddit Is On the Case [UPDATE]
UPDATE: The mysterious stream has finally revealed its purpose. The Cyberpunk 2077 E3 gameplay demo showed to press is now streaming on the CD Projekt RED Twitch account. Check it out for yourself to get a glimpse of Cyberpunk 2077 gameplay footage.
Original story is as follows...
Cyberpunk 2077 developer CD Projekt RED is live right now on Twitch, but don't expect to see game designers answering questions or a new trailer. Instead, the stream is a massive string of seemingly random letters, numbers and characters.
Watch live video from CD PROJEKT RED on www.twitch.tv
The feed is titled "Data Transfer in Process," and lists Cyberpunk 2077 as the game currently being played. This means it isn't some other announcement or error from CD Projekt RED. Whatever this is, it's deliberate.
If your mind went blank the second you saw that wall of text on the Twitch stream, don't worry. The internet is filled with people way more bored/smart than we are, and they're already trying to crack the Cyberpunk 2077 code.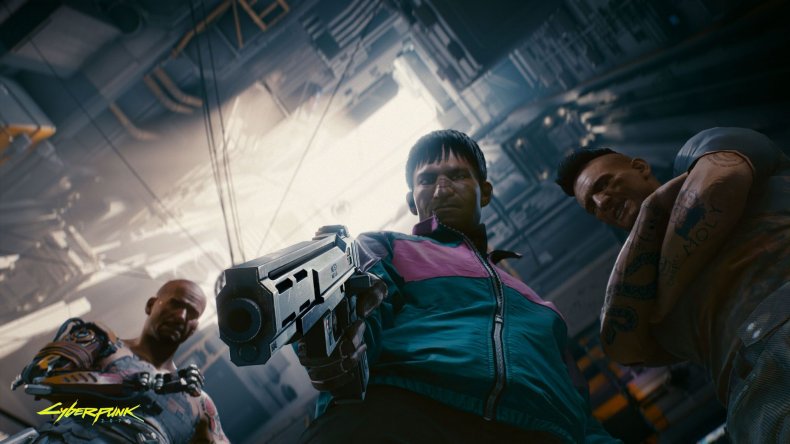 Reddit user nican has a working prototype decoder, but it is said to be a very slow-moving program. So far, no major breakthroughs have been discovered but the reddit thread will likely be the first place any new information will be posted. Be sure to sort by "new" to see the most recent updates and finds. Of course, all the excitement hasn't stopped some users from making obvious jokes about decoding messages from companies.
According to Italian websites like everyeye.it and multiplayer.it, there is a gameplay reveal teased for later in the day. Both articles don't explicitly mention Cyberpunk 2077, but there are enough clues between the two where conclusions can be drawn. A now-deleted tweet from German outlet Rocket Beans also mentions something exciting happening later today. Expect to see some gameplay reveal later today, as early as 2:00 p.m. EDT.
Cyberpunk 2077 still has no release information, outside of a confirmed launch on PS4, Xbox One and PC. If I were to guess on when we'll be able to play Cyberpunk 2077, I think the release date will be announced at next year's E3, with a release date in late 2019 or early 2020.
So what do you think? Are you excited to figure out what this Twitch stream could mean? When do you think Cyberpunk 2077 will be released? Let us know your thoughts in the comments section below.