'Cyberpunk 2077' Release Time: When Can I Download on PS4, PS5, Xbox and PC?
Cyberpunk 2077 is hours away from its global release, so we want to make sure you're prepared for what might be the single biggest game launch of the year. Below, we recap all you need to know about platform-specific release times, preloads, editions and more.
What time does Cyberpunk 2077 release?
Unlike most games that stick to a standard 12 a.m. EST launch time across all platforms, Cyberpunk 2077 features a staggered rollout plan depending on your platform and timezone. Especially if you're playing on PC or Stadia, launch may be sooner than you think. Check out this official release time graphic from CD Projekt RED.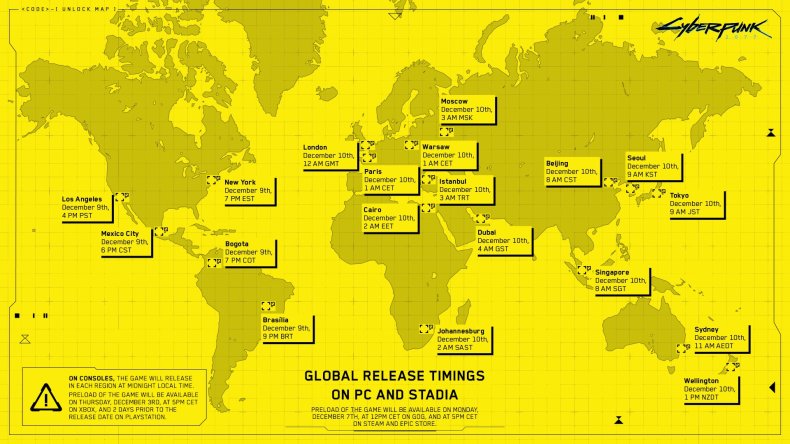 PC/Stadia: December 9 at 7 p.m. EST
Console: December 10 at 12 a.m. local time
That's right, those planning to enjoy Cyberpunk 2077 via Stadia, GOG, the Epic Games Store or Steam will have a handful of hours exploring Night City ahead of those on PlayStation or Xbox. That being said, considering how long most of us have waited to play Cyberpunk, the slight differential in release times shouldn't matter too much.
What about Cyberpunk 2077 preloads?
Just like most major triple-A releases Cyberpunk 2077 does indeed support preloads on Xbox Series X|S, Xbox One, PS5, PS4 and PC. The dates those preloads start and the size of the download varies by platform.
Xbox: Preloads went live December 3 at 11 a.m. EST and take up about 60GB of hard drive space.
PlayStation: Preloads went live around 12 a.m. local time December 8 and take up around 70GB of hard drive space.
PC: Preloads began December 7 at 6 a.m. EST on GOG and 11 a.m. EST on Steam and EGS. Preloads require about 70GB of hard drive space.
Unfortunately, given that Cyberpunk 2077 requires a 40GB day-one patch, the final file size of the game is currently a bit difficult to pin down.
Here's a quick overview of how to preload on all platforms
Go to the Cyberpunk 2077 store page on the PlayStation Store, Microsoft Store, Steam, Epic Games Store or GOG, and you should be given the option to download the game.
On PS4 or PS5, scroll over to your games Library and select Cyberpunk 2077. The option to download the game should appear.
On Xbox One or Xbox Series X|S, Cyberpunk 2077 should be visible in the "ready to install" section of "Games & apps."
In Steam, open your Library and click the Preload button in the Cyberpunk 2077 area.
What editions of Cyberpunk 2077 exist?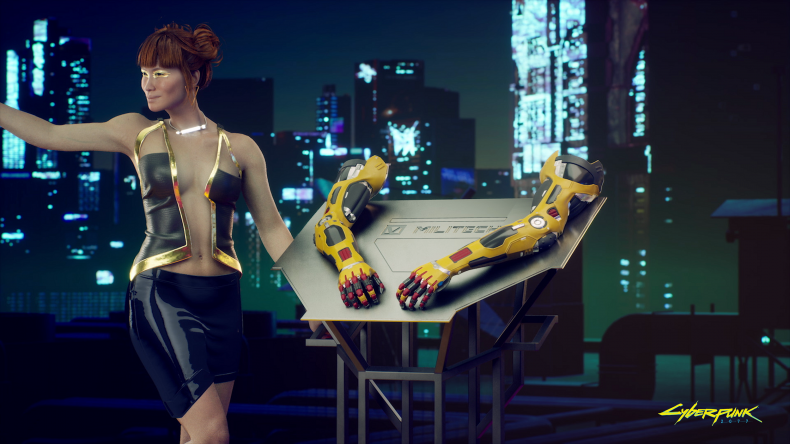 Now that you know the exact release time and preload details for Cyberpunk 2077, you may be curious about the various editions of the game that are available for purchase. Here's the full rundown. Simply put, there's basically only one version of the game that's currently for sale.
Cyberpunk 2077 Standard edition: This edition features a copy of the game plus the following bonuses.
Physical
World Compendium detailing the game's setting and lore
Postcards from Night City
Map of Night City
Stickers
Digital
Game soundtrack
Art booklet featuring a selection of art from the game
Cyberpunk 2020 sourcebook
Wallpapers for desktop and mobile
You can buy this at all major storefronts. The only real aberration worth knowing is that Walmart and Amazon are both offering pre-orders for $49, which is $10 less than everywhere else. There's a massive $249 Collector's Edition, of course, but those sold out a long time ago.
Cyberpunk 2077 is available December 10 on Xbox Series X|S, Xbox One, PS5, PS4, PC and Stadia.
How are you feeling about Cyberpunk 2077 leading up to its release? Will this game deliver on its high expectations? Tell us in the comments section!