Cybersecurity Head Fired by Trump Says GOP Needs to Accept Biden's Win, Warns of Foreign Threat Over Vaccine
Christopher Krebs—the former director of the Cybersecurity and Infrastructure Security Agency who was appointed and fired by President Donald Trump—urged Republican leaders in Congress to accept the reality that President-elect Joe Biden won the presidential election.
Although Biden was projected as the winner of the election nearly a month ago, Trump has refused to concede. The president and his lawyers have pushed unfounded claims of widespread voter fraud, without providing evidence. Legal challenges from Trump's lawyers have nearly all failed in court.
According to an analysis by The Washington Post published Saturday, just 27 of 249 Republicans currently serving in Congress have publicly accepted the fact that Biden won.
"I can't speak to what their motivations are. To those that have spoken up, it's the right thing to do. And I think the rest of them have to acknowledge that the system in place to conduct the election was legitimate, and particularly in the House [of Representatives], they've accepted their outcomes and their races," Krebs told CBS News Face the Nation on Sunday when he was asked about the response from GOP lawmakers.
"I don't see any difference here between the presidential race. It is well past the time where all leaders of the Republican Party need to accept the outcome of this race, and move on—and accept that Joe Biden is the president-elect," Krebs said.
Newsweek reached out to press representatives for top GOP lawmakers Senate Majority Leader Mitch McConnell and House Minority Leader Kevin McCarthy for comment, but they did not immediately respond.
Krebs joined the Trump administration's Department of Homeland Security (DHS) in 2017. In August of that year, he was appointed as Under Secretary of Homeland Security for National Protection and Programs. After that initiative was replaced by the Cybersecurity and Infrastructure Security Agency, Krebs continued as the new agency's director within the DHS. But the official was fired last month after his agency dismissed Trump's false claims of widespread voter fraud.
"The November 3rd election was the most secure in American history. Right now, across the country, election officials are reviewing and double checking the entire election process prior to finalizing the result," CISA said in a joint statement on November 12 with other election security officials and experts.
"There is no evidence that any voting system deleted or lost votes, changed votes, or was in any way compromised," the statement emphasized.
Krebs was fired by Trump less than a week later on November 17. Attorney Joseph diGenova, who is working for Trump's campaign, later said Krebs should be "drawn and quartered, taken out at dawn and shot."
Although most Republicans in Congress have not publicly acknowledged Biden's victory, several prominent GOP lawmakers and many former Republican officials have congratulated Biden. Some have also criticized Trump for pushing baseless claims of widespread fraud.
"Having failed to make even a plausible case of widespread fraud or conspiracy before any court of law, the President has now resorted to overt pressure on state and local officials to subvert the will of the people and overturn the election," Senator Mitt Romney, a Utah Republican, said in a statement posted to Twitter on November 19. "It is difficult to imagine a worse, more undemocratic action by a sitting American President."
Romney was one of the first Republican lawmakers to publicly congratulate Biden and Vice President-elect Kamala Harris on their win.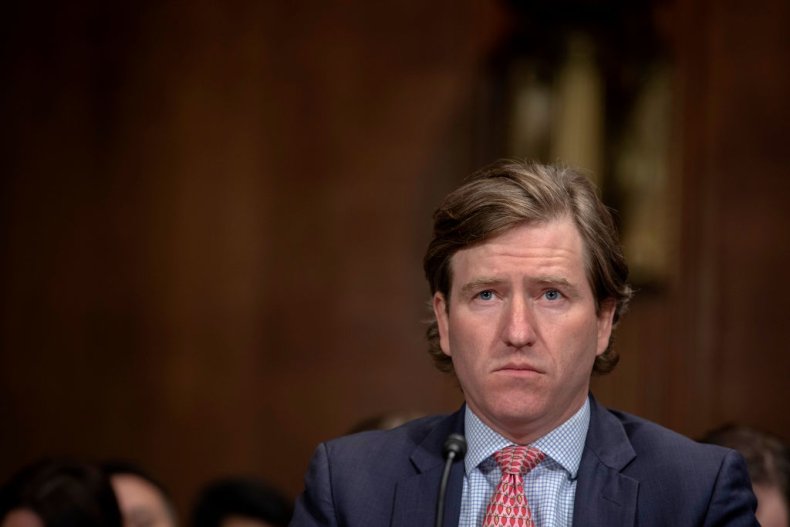 Krebs also raised concerns Sunday about potential foreign efforts to disrupt the distribution of COVID-19 vaccines. DHS warned on Thursday that foreign actors were carrying out cyber-attacks targeting companies involved with the development and distribution of vaccines in the U.S.
"The traditional powers, the big four of Russia, China, Iran and North Korea, we have seen to some extent all four of those countries doing some kind of espionage or spying, trying to get intellectual property related to the vaccine and, in fact, just how we are doing as a country policy-wise and in terms of health impact," Krebs explained. "What we had been thinking through at CISA was not just the vaccine developers, but their entire supply chain and really trying to look through those for those critical weak spots."