Cybersecurity Team Says Hacker Activity on Trump Websites Reached Record High This Summer
Websites associated with President Donald Trump's reelection campaign and various businesses saw increased hacker interference earlier this summer, according to email exchanges between employees and executives at cybersecurity firm Cloudflare.
Reuters, which obtained copies of the firm's relevant emails, released an exclusive report detailing the correspondence on Tuesday. The Trump campaign hired Cloudflare to monitor and protect against website breaches.
Internal staff emails, sent during the earlier part of July, reportedly showed cyberattacks targeting Trump-affiliated websites reached a record high one month prior. According to Reuters, the correspondence additionally notified Cloudflare CEO Matthew Prince, and other company executives, about an increased incidence of breaches observed overall starting in May. Cloudflare's security assessment found hacker intervention was more advanced, in addition to more frequent, during recent months, the emails reportedly added.
"As we get closer to the election, attacks are increasing in both numbers (and) sophistication," read one of the emails acquired by Reuters, according to its Tuesday report.
The outlet said Cloudflare staff's emails did not include specific statistics to quantify the cyberattacks detected while surveilling Trump's digital presence. However, the firm's security evaluation reportedly noted that hacker activity temporarily suspended public access to certain websites between March 15 and June 6, bolstering its concerns about further intervention efforts to come.
The Cloudflare team proposed that complex cyberattacks in higher volumes could mean hackers were "probing" security barriers on Trump's websites, the assessment stated. The supposed probing, in turn, could signal more consequent hacking attempts in the future, if the intervention Cloudflare observed aimed to gather intel about the site's defenses and how to navigate them. Cloudflare's evaluation said the hacker activity indicated potential plans disable Trump-affiliated websites, according to Reuters.
Cloudflare reportedly dismissed direct inquiries from the news outlet about its security evaluation concerning the president's websites, as well as email correspondence related to the findings. The company cited a general "increase in cyberattacks" directed at political candidates in a statement to Reuters.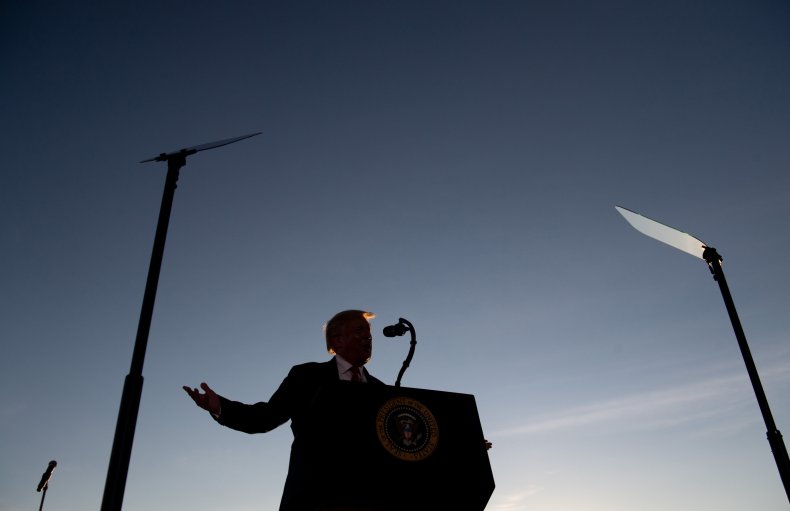 "We have seen an increase in cyberattacks targeting political candidates. We will continue to work to ensure these attacks do not disrupt free and fair elections," the statement read.
Trump's 2016 presidential campaign initially employed Cloudflare to help protect its digital platforms from cyberattacks leading up to his election in November 2016. The security company is well-known for its work mitigating distributed denial-of-service (DDoS) attacks, where hackers disrupt or disable access to a web server by overloading the network with digital traffic.
A Cloudflare spokesperson told Newsweek Tuesday that the company could not share specific information about its work with the Trump campaign.
"As a policy, we do not discuss specific users of our service without their permission—that includes the majority of presidential campaigns from both parties this cycle," the spokesperson said in a statement. The company cited two initiatives, Cloudflare for Campaigns and the Athenian Project, through which it provides free cybersecurity services to political candidates and federal elections.
"Providing support to help ensure elections are not impacted by cyber attacks directly aligns with Cloudflare's mission to help build a better Internet," the statement finished.
Newsweek reached out to the Trump campaign and the White House for comments but did not receive replies in time for publication.
Update: This story was updated at 11:50 a.m. ET on Tuesday, September 1, to include the Cloudflare spokesperson's statement.