Cyclist Who Flipped Off Trump Has No Regrets Because 'It Felt Great' to Swear at the President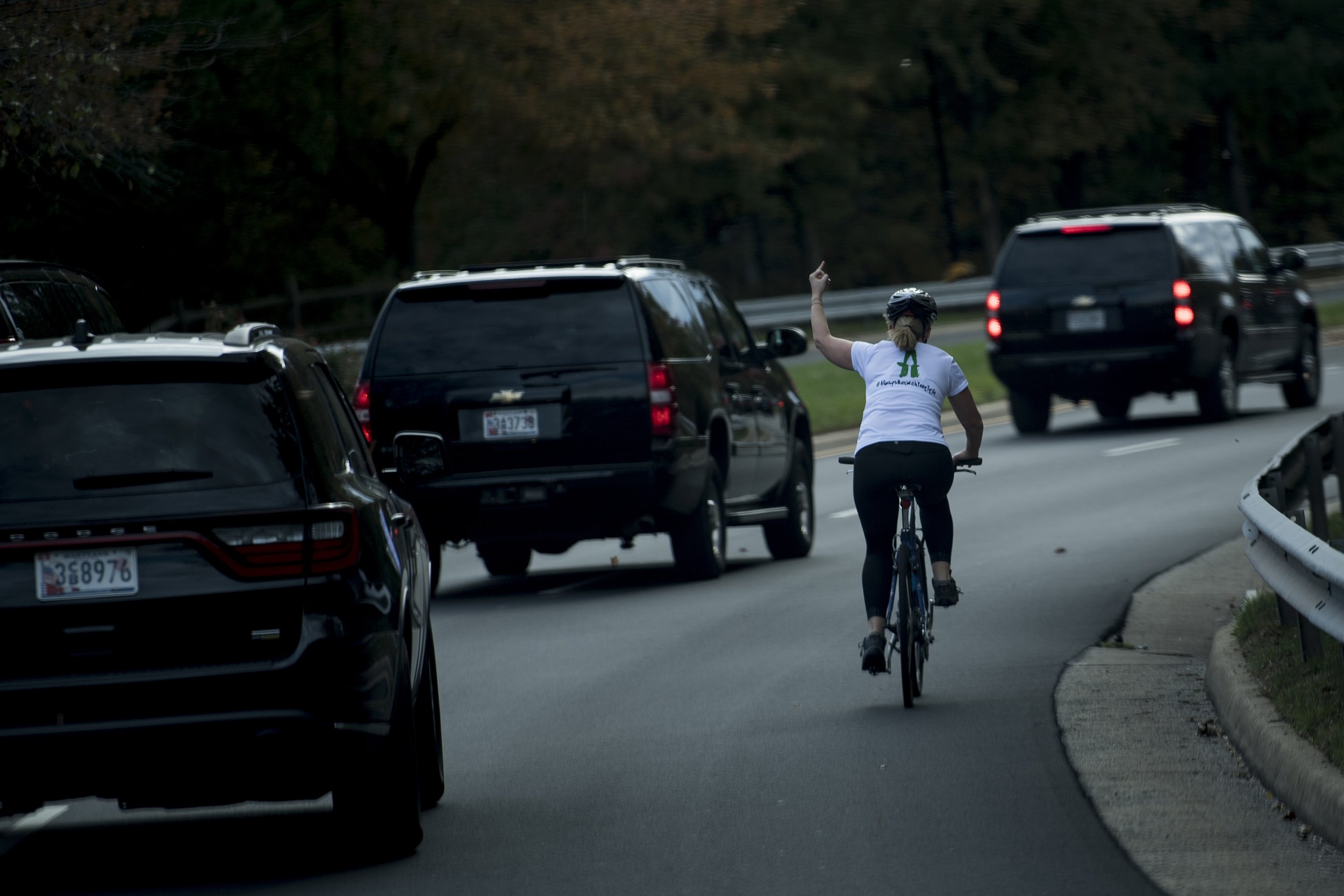 The cyclist who was fired after flipping off Donald Trump's motorcade doesn't have any regrets about her actions, stating: "It felt great."
Juli Briskman, from Virginia, lost her job at the construction company Akima LLC because her employer found the gesture she made in October "lewd" and "obscene," but she said in an interview with Megyn Kelly on Thursday that she was pleased she showed the president how she felt.
"All my frustration about this administration just welled up inside me and I started thinking about the things that I think are going wrong right now in the country," she told the talk show host.
"That was the only way I had to give him the message I wanted to give him. It felt great. It was like I got to tell him how I really feel," she added.
Briskman lost the job that she had held for just over six months after she posted to social media the picture of her gesturing at Trump's motorcade, with the company explaining in a statement that it expected employees to "maintain high ethical standards."
"They said, 'We're separating from you,'" Briskman, 50, told the Huffington Post. "Basically, you cannot have 'lewd' or 'obscene' things in your social media. So they were calling flipping him off 'obscene.'"
The cyclist explained on Megyn Kelly Today that she had not planned to speak about what happened when the president's motorcade drove past, butdecided to act after being fired. She suggested her company, which often gets government contracts, had not treated her fairly.
"I really wasn't gonna talk about this until I remembered the fellow that I actually flagged to the company that he had written very obscene things in someone else's conversation on Facebook," Briskman told Kelly. "He did not get fired. He was allowed to clean up his Facebook page."
"They clearly treated me differently. It was not equal application of their social media policy," she added.
Akima LLC did not immediately respond to Newsweek's request for comment.