Cyclist Who Ripped George Floyd Signs Away From Young Girl in Viral Video Being Searched For By Police
The Montgomery Park Police in Maryland are searching for a cyclist who was caught ripping signs away from a young girl and cursing at a group of activists in a video posted to Twitter.
The young girl was part of a group putting up signs along the Capital Crescent Trail, which connects Bethesda, Maryland to Washington D.C., to commemorate the death of George Floyd, a Minneapolis man who died in police custody and whose death has ignited protests across the world.
Monday marked a week after Floyd's death, which was caught in a viral video where a police officer was seen kneeling on Floyd's neck for nearly nine minutes.
The group was posting signs near the Dalecarlia Tunnel in Bethesda that read "Killer Cops Will Not Go Free" on Tuesday when the cyclist encountered them.
As the cyclist approaches the young girl, the man filming the video can be heard telling the cyclist to "leave her alone" and to "just walk away," while another woman repeatedly yells, "do not touch her."
The cyclist continues to go up the young girl and holds onto her arm as he proceeds to forcibly rip the sign out of her hands. The woman runs up to the cyclist, telling him to "get off of her." After cursing at the group, the cyclist grabs his bicycle and starts running towards the man behind the camera, eventually knocking him over with his bicycle.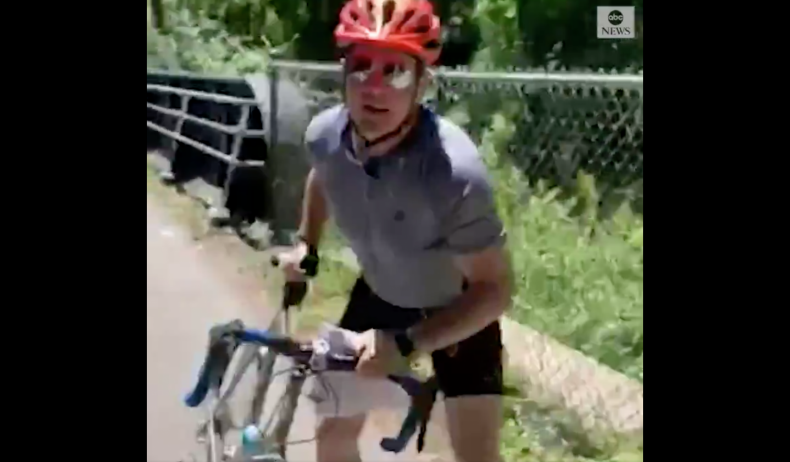 The man who recorded the incident told WRC-TV, "He sees me recording him and sees the fact that I recorded him as he was doing that, and he grabs his bike and he runs it into me and pins me to the ground."
Park police have asked for the public's assistance in identifying the man.
He was seen wearing an orange helmet, grey shirt and black shorts.
Maryland Attorney General Brian Frosh has also asked that anyone who can identify the cyclist to contact him or the Montgomery County States Attorney John McCarthy.
"The Maryland-National Capital Park Police knows that in order for appropriate healing to take place and trust to be reaffirmed, it will require an on-going collective effort between the community and public safety," Montgomery Park Police Chief Darryl McSwain said in a public statement on the death of George Floyd. "The Maryland-National Capital Park Police values the sanctity of life and will ensure our policies, hiring practices, training, community engagement efforts, accountability measures, and officer wellness programs remain consistent with a standard of excellence."
Newsweek reached out to Montgomery Park Police for comment but did not hear back before publication.