At least 82 people have been killed in India and Bangladesh since Cyclone Amphan made landfall on Wednesday, health officials confirmed. The cyclone had weakened into a depression by Thursday morning, according to the latest report from India's Meteorological Department (IMD), with the wind speeds of a Category 1 storm.
Amphan reached Category 5 classification earlier this week as it approached coastal regions of Bangladesh and two adjacent Indian states from the Bay of Bengal. The IMD's designation referred to Amphan as a "severe cyclonic storm" throughout Wednesday, reduced from "very severe" when it first hit the coastline. The department said it expects the cyclone to progressively weaken as it continues to travel northeast over Bangladesh and warned of ongoing thunderstorms.
Close to 3 million people had been evacuated from areas where Amphan caused the most damage. On Thursday, India's National Disaster Response Force director-general, S.N. Pradhan, confirmed that roughly 500,000 residents of several districts in the state of West Bengal were successfully evacuated, as were more than 230,000 residents of Odisha.
Given stabilizing weather conditions in the latter state, Pradhan said, some evacuees had begun returning to their homes Thursday afternoon. Before the cyclone's onset, Bangladesh's deputy disaster minister, Enamur Rahman, told news agency Agence France-Presse on Tuesday that authorities were preparing to evacuate 2.2 million people.
Though widespread relief and rescue efforts were launched early by disaster management teams in both countries, authorities have reported deaths in Bangladesh and West Bengal from the storm, which flooded streets, uprooted trees, collapsed structures and left millions without power.
In a televised news conference Thursday, West Bengal Chief Minister Mamata Banerjee said at least 72 deaths had been confirmed in the state since Amphan's arrival on Wednesday. At least 10 deaths have been confirmed in Bangladesh, according to The New Indian Express, which referenced a report from the nation's health ministry.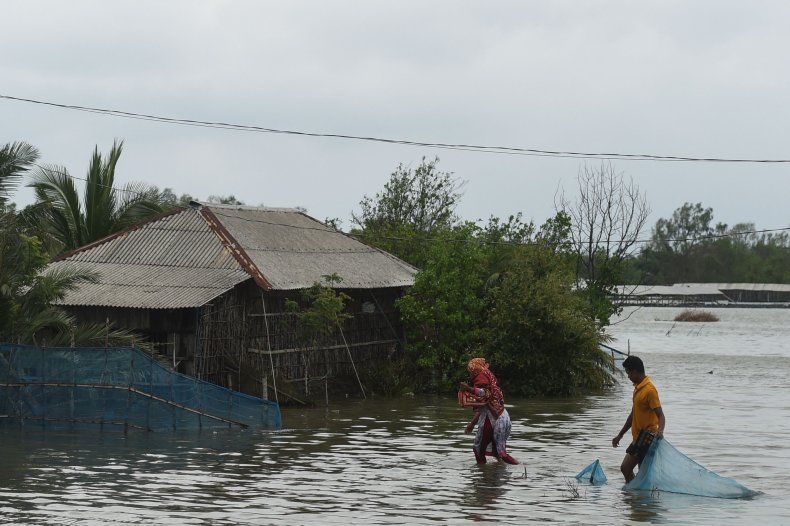 During her news update, Banerjee noted that Amphan had caused more destruction in West Bengal than the novel coronavirus outbreak. In light of that, she requested Indian Prime Minister Narendra Modi visit the state to "have a look" at the situation.
Modi shared comments about the cyclone's development in several messages on Twitter throughout Thursday, saying India's central government was "working in close coordination" with National Disaster Response Force members to aid relief efforts in impacted communities.
"No stone will be left unturned in helping the affected," he wrote. "Authorities are working on the ground to ensure all possible assistance to those affected. I pray that the situation normalizes at the earliest."