Tropical Cyclone Fani 2019 India Path, Timing: Damage Expected From northern Andhra Pradesh to Odisha, Jharkhand, West Bengal and Bihar
Cyclone Fani, one of the strongest tropical storms to hit India in two decades, is on a scheduled forecast path toward a direct hit along the coast Friday morning. The latest Cyclone Fani forecast updates suggest the storm will make landfall on a track on the coast of India's Odisha state, near the city of Puri.
Major damage is expected along the coast near Puri and from northern Andhra Pradesh to Odisha, Jharkhand, West Bengal and Bihar. Nearly one million people have been evacuated ahead of Fani's strike, including more than 100,000 in the city of Puri.
Cyclone Fani, the strongest cyclone this early in the calendar year in the Northern Indian Ocean since 2008, is expected to hit near Puri around 9 a.m. to 10 a.m. local time Friday morning (about 11 p.m. to midnight Eastern Time Thursday night). The Joint Typhoon Warning Center, which monitors tropical storms in that region, said in its latest update that Fani will strike India at Category 4 strength.
Just hours ago the JTWC reported that Tropical Cyclone Fani's maximum sustained winds were 155 miles per hour. Winds were forecast to diminish some before landfall, but the India Meteorological Department (IMD) has warned of widespread and significant wind-related damage along the coast.
Predicted damage (from Accuweather) includes:
—Total destruction of thatched houses
—Extensive damage to kutcha houses (huts made of mud, wood, straw, and dry leaves), and some damage to more sturdy building
—Bending and uprooting of power and communication poles
—Major damage to roads and flooding of escape routes
—Widespread damage to standing crops and plantations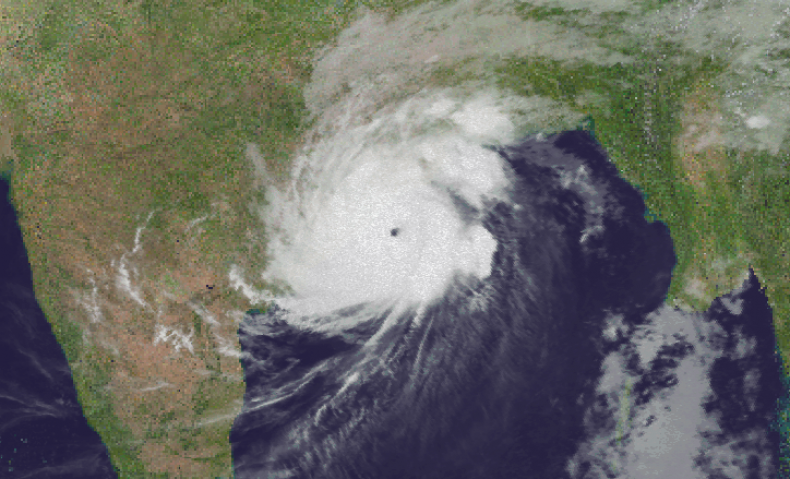 Tropical Cyclone Fani's storm surge is expected to near five feet, with the most significant impact to the east of landfall. High tide at Puri is scheduled for 7::28 a.m. Friday, just a couple of hours before forecast landfall, which could increase the storm's water impact.
Among the areas in India expected to experienced significant impact from Tropical Cyclone Fani, according to Accuweather, are:
"Residents from northern Andhra Pradesh to Odisha, Jharkhand, West Bengal and Bihar are at risk for significant impacts from Fani.
"Areas along the coast, such as Kakinda and Visakhapatnam, to the border with Bangladesh will have to deal with dangerous seas and varying levels of coastal flooding.
"Cities from Brahmapur to Puri could be dealt a direct hit with impacts ranging from destructive winds to flooding downpours and an inundating coastal storm surge."
Fani is the sixth strongest tropical cyclone recorded in the Bay of Bengal, according to Weather Underground, which said the storm is unusually large and attacking from an unusual position for this time of the year.
"Cyclone season in the Bay of Bengal peaks during April-May and October-November, on either side of the monsoon season," Weather Underground reported. "Fani is an unusual springtime threat for eastern India, as most of the April and May cyclones in this region move east or northeast toward Bangladesh and Myanmar. In eastern India, most of the worst cyclones have struck during the fall months. "