Cyclone Gita Tears Through Pacific Island, Flattening Parliament, Now Heads to Fiji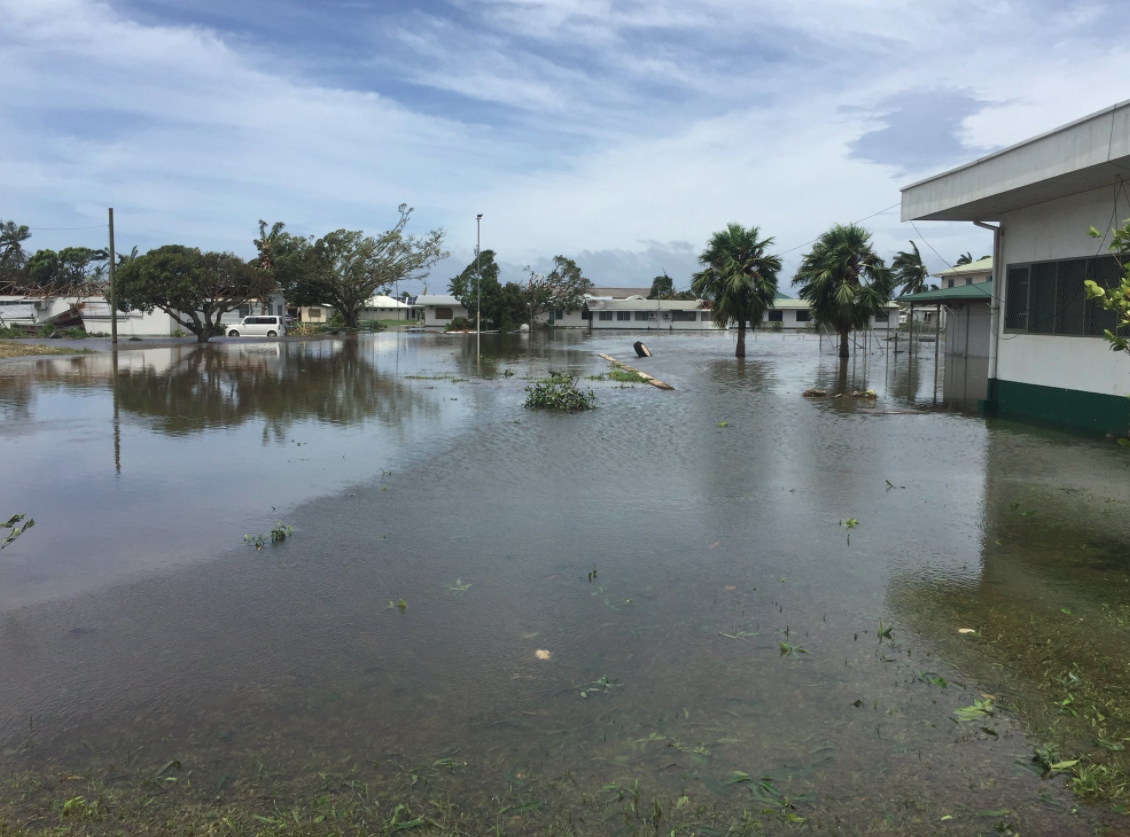 Tonga residents woke up to chaotic scenes on Tuesday after Cyclone Gita tore through the Pacific island nation in the middle of the night, destroying homes, flooding neighborhoods and even flattening the country's parliament building.
The tropical cyclone, which hit Tonga with the force of a Category 4 hurricane, is believed to be most powerful cyclone ever recorded to hit the small Pacific nation, according to officials.
So far, there have been no confirmed deaths reported in the wake of the storm, however a number of people suffered injuries, Graham Kenna, Australian government adviser at Tonga's National Emergency, told Reuters.
Images shared on social media showed Tonga's century-old parliament building destroyed, homes flattened and other areas completely flooded. Essential services, such as power and water, have been disrupted, and it could be days until they are restored.
The Tongan government declared a state of emergency on Monday and advised the public to stay off the roads.
As many as 5,700 people sought shelter in evacuation centers overnight, adding that the numbers were expected to increase "substantially" Tuesday evening, New Zealand's Foreign Affairs office said in a statement.
Tonga police asked residents to "please stay at home and look after your families and properties" on Tuesday afternoon, sharing images of their headquarters in Longolongo surrounded by water after heavy floods.
They asked residents to try to keep the roads clear for emergency response teams delivering aid and assistance.
By Tuesday morning, emergency crews and residents had already begun the work of cleaning up after the storm.
"As soon as the sun came up [Tuesday] morning, everyone was out assessing damage and working out what to do first, and then got down to work," Virginie Dourlet, a Parisian who has lived in Tonga for five years, told Newsweek.
"The key words are resilience and resourcefulness," she added. "Everyone has been helping around in a community spirit. That's how it works here. Many are related around us, which helps too."
Other countries have also pledged to support the country's recovery efforts.
New Zealand has said it will donate NZ$750,000 ($545,000) in aid to Tonga, in addition to flying emergency relief supplies to the country on Tuesday.
"The full extent of damage caused by Cyclone Gita is still being assessed, but there is an immediate need for assistance on the ground," New Zealand Foreign Affairs Minister Winston Peters said in a statement.
Australia has also said it will cover A$350,000 ($275,000) worth of emergency shelter and kitchen and hygiene kits.
The country's Foreign Minister, Julie Bishop, also said in a statement that Australian Defense Force personnel will be helping with cleanup efforts, including debris removal, water, sanitation and distribution of emergency supplies.
Cyclone Gita's path of destruction is not yet over, however, as the storm continues to make its way toward Fiji's southern Lau islands, where it is expected to intensify to a Category 5 cyclone.
Fiji's government has warned residents to expect strong winds, heavy rains and flooding.
Gita also brought heavy rainfall to both Samoa and American Samoa over the weekend, leaving some areas flooded.