Cyclone Vayu Latest Map: Hurricane-strength Storm Closing on India With Strong Winds, Heavy Rain and Storm Surge
Cyclone Vayu is now expected to brush past Gujarat rather than hit the mainland, according to a national bulletin by the India Meteorological Department (IMD). As of 8:30 a.m. IST today, the storm was moving north-northwestwards over the eastcentral Arabian Sea. It was 160 km south-southwest of Diu and 110 km southwest of Gujarat.
The national bulletin warned that the cyclone would "skirt" the Saurashtra coast affecting Gir Somnath, Diu, Junagarh, Porbandar and Devbhoomi Dwarka.Winds are expected to hit 160 kmph from Thursday afternoon, with the "Very Severe Cyclonic Storm" lasting through to the weekend.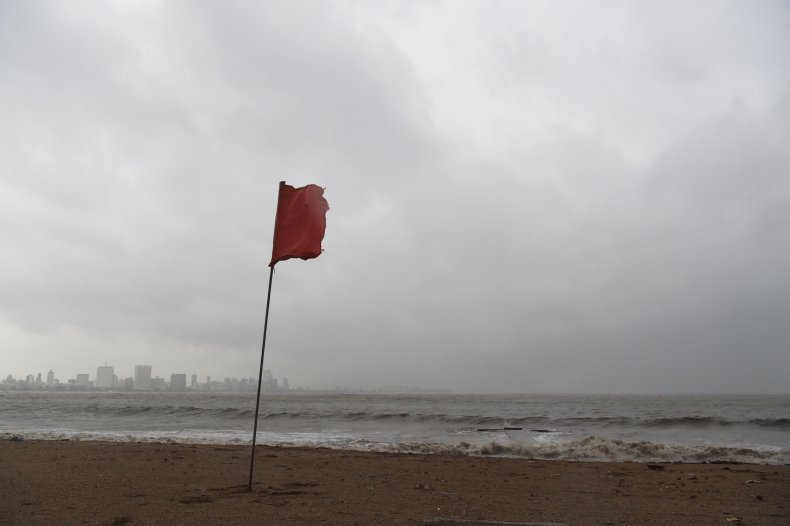 On Thursday, widespread heavy rainfall (minimum 64.5 - 11.5 mm/day) will affect Saurashtra and Kutch, with isolated heavy rainfall in the Gujarat region. Gale winds will speed up to 160 kmph over the north Arabian Sea and the Gujarat coast. According to IMD, the sea condition is currently "phenomenal" over the north Arabian Sea & Gujarat coast until the weekend. Fishermen are advised not to venture out, due to rough waves and astronomical tides at a height of 1.3 m.
In the affected areas, there is still expected to be extensive damage to Kutcha houses and pucca houses, with the potential threat from flying objects forewarned. There is also a chance of flooding of escape routes, as well as disruption to railways, overhead power lines and signalling systems. The IMD has also advised that there will be widespread damage to standing crops, plantation and orchards. Residents in these areas are advised to evacuate from low lying areas, while other higher level communities should remain indoors.
According to the Associated Press, Vayu "battered" an Indian fishing hub, showing that even though the cyclone might not make landfall, it could be dangerous for communities on the coast. Mumbai is also feeling the force of Vayu, with social media users showing heavy rainfall in the city.
The National Disaster Response Force (NDRF) has been setting up shelters in the Nalia, Kutch and Porbandar, Gujarat, to help local residents prepare for any medical or unpredicted events from the cyclone. Amit Shah, Union Home Minister, also confirmed over social media that over 10,000 people from low lying areas were evacuated to safer places and that the Indian Coast Guard, the Navy, Army & Air Force units have also been put on standby, with aircraft and helicopters carrying out aerial surveillance.
The Airports Authority of India (AAI) has suspended all operations in airports in the Gujarat region in an effort to minimize damage to the airport and to "avoid inconvenience" to passengers. Airports in Porbandar, Diu, Bhavnagar, Keshod and Kandla flights have been grounded since Wednesday.