Tributes Paid to Cynthia Harris, 'Mad About You' Star, After Her Death at 87
Actress Cynthia Harris, famed for her role as Sylvia Buchman in the classic sitcom Mad About You, has died at the age of 87.
According to an announcement published by The New York Times, the star of stage and screen passed away on Sunday, October 3. No further details about the New York native's death have been released.
"In addition to having devoted her life to the theater she was active in many philanthropic causes," read the announcement. "Most recently she was an artistic director of the Actors Company Theater (TACT)."
The statement continued: "Cynthia is survived by her loving partner Nathan Silverstein, her devoted assistant Terrence Mintern, her brother Dr. Matthew Harris (Frances), her sister-in-law Maryjane Harris (brother David predeceased her) and many nieces and nephews. Cynthia's passing is a great loss for the dramatic arts and for all of us."
Following the announcement, actor Paul Reiser, who played Harris' son in NBC comedy Mad About You, took to Twitter to pay tribute to the beloved star.
"What an exceptional woman. Truly one of a kind," he wrote. "Cynthia could get a laugh just waiting to deliver a line you knew she would then absolutely crush. And such a big heart. It was an honor and a joy to be her 'son' all these years. Rest in peace, dear friend."
Actress Finnerty Steeves also shared her own memories of having worked with Harris, as she shared a photo of herself posing with her onetime co-star.
"I met #CynthiaHarris when she played my mother in #NeilSimons Off Broadway #LostInYonkers in 2012," recalled Steeves. "Thank you for being a wonderful friend, scene partner & for teaching my daughter to love tea parties. You were a firecracker Cynthia and you will be sorely missed. 🦋"
TheaterMania managing editor David Gordon said: "I'm sad to hear that Cynthia Harris has passed. As you all know, Mad About You is my favorite TV show and boy did she capture the overbearing Jewish mom thing perfectly."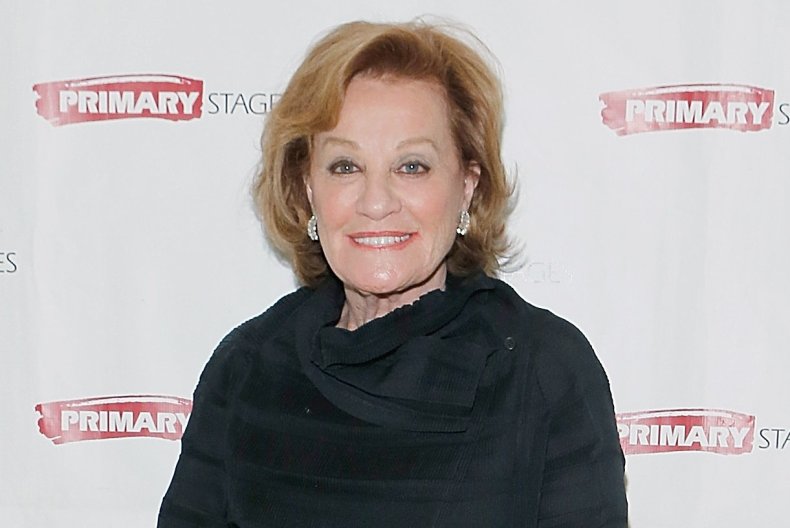 Journalist Josh Mansour tweeted: "Cynthia Harris was the best of New York. The type of New Yorkers we're indebted to for the unique color and perspective they bring that's distinctly New York for the rest of us to enjoy. And the absolute magic of a traditional New York Jewish mother. May her memory be a blessing."
Mike Barnes, a senior editor at The Hollywood Reporter, shared a quote from one of Harris' old interviews as he paid tribute to her on the microblogging platform.
"#RIP Cynthia Harris, great as the Dutchess of Windsor in Edward & Mrs. Simpson and as Paul Reiser's mom in @madaboutyoutv. 'The only thing I ever wanted for my birthday from the time I was old enough to speak was, 'I'd like to go see a play,'' she said."
Harris won acclaim for her role in TV comedy Mad About You, which originally ran on NBC between 1992 and 1999, joining the show in 1993. She reprised her role in a 2019 reboot, which was picked up by Spectrum Originals.
Having also appeared on stage in a number of plays, including the original Broadway production of Stephen Sondheim's Company in 1971, she also appeared in the 1983 film Reuben, Reuben and 1987 hit Three Men and a Baby.
The actress won acclaim and scooped a BAFTA nomination for her portrayal of Wallis Warfield Simpson in the Emmy-winning British miniseries Edward & Mrs. Simpson in 1979. Edward Fox took on the role of King Edward VIII, who abdicated the throne in 1936 to wed Simpson.
Speaking about the famous couple's relationship in a 1978 interview, she said, per The Hollywood Reporter: "I think her Americanism attracted him [to her] ... he felt that he would be a new king for a new age.
"And she didn't really know all the things that you are not supposed to do. She could have made him feel that everything was possible. I think she was very warm and very witty."