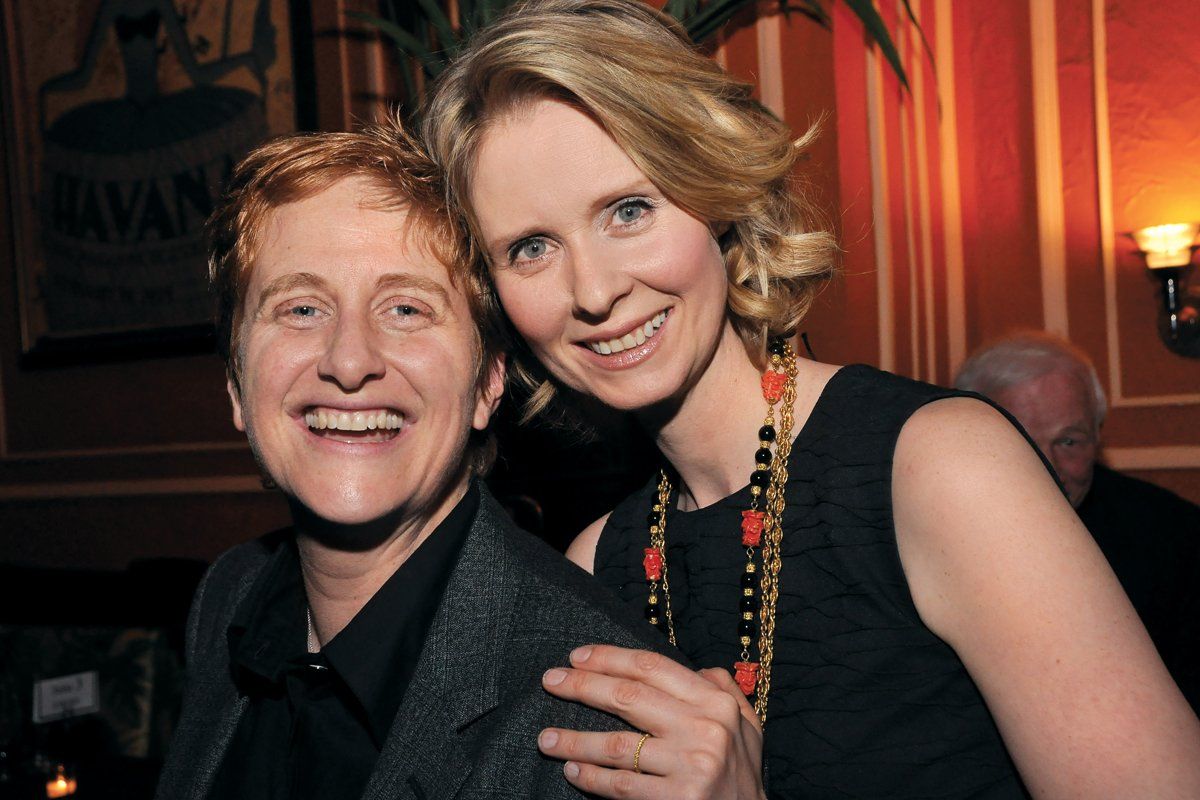 I will always remember where we were when it happened. I had just finished speaking at the Pride service at New York's gay synagogue, Congregation Beit Simchat Torah. The excitement was electric: we knew the vote was coming before the night was out and that it would almost surely be in our favor.
After the service we walked to the subway. Our whole family (including our 4-month-old baby) plus a couple of friends were waiting on the platform when word came through on a stranger's BlackBerry that the state Senate had passed marriage equality. They called out to us, we cheered, and others did too. Somebody offered to take a picture to commemorate the moment, and it's such a great shot: all different ages, down in the subway, looking so proud and so, well, New York-y.
I showed my mother the photo later, and she immediately started talking about where she was and what she was doing in 1945 when word came that the war was over and victory was ours. She instantly made the link in her mind. There had been all this enormous effort, people were so hopeful, and then it came: the sweet triumph after the long, hard battle.
My girlfriend and I have been engaged for more than two years, and we had not made plans to get married anywhere else. This had been our last shot. Our feeling was "If you don't pass it this session, we're just gonna need to pick another state and go there." But New York did us proud that night.
As a nation, I think we're at a turning point in the fight for marriage equality. For the first time, a majority of Americans say gay people should be allowed to be married—not just allowed to have civil unions, but to marry. The distinction is important: when you say to somebody, "This is my wife" or "This is my husband," everybody understands. A civil union? Well, what is that? Will it be recognized in a hospital? Will it be recognized by your employer? Will it be recognized by your insurance company? If it costs them money, probably not.
No one wants that kind of uncertainty for their loved ones. My girlfriend has been a stay-at-home mom for the past four years, and she just gave birth to our new baby, whom the law sees as hers by birth and mine by adoption. She has no legal relationship to our two older children. Marriage will change that for our family.
We need more politicians to get out there and lead as they did in New York—whether that means being a driving force like Gov. Andrew Cuomo or sticking your neck out like four GOP senators here. State Sen. James Alesi was the first to come forward publicly with a yes vote. I think it was scary to go out on a limb and break with his party, but when I talked to him in Albany last month before the vote, he was elated. He said, "Ninety-five percent of the comments on my Facebook page are positive! I'm hearing from all these people that I never heard from before, and I feel like I have thousands of new friends."
There are always going to be people who are against same-sex marriage, and our efforts to convince them otherwise will be wasted breath. But then there are people like Senator Alesi who are on the fence, who are really tortured because they want so much to do the right thing. They want to vote with their conscience. And when they do, it's important that we remember that these people put their political futures on the line to support us. We need to be there for them in the next election, and the one after that. And we need to be there in larger numbers than the people who may want retribution against these brave allies of ours.
The fight for gay marriage is often portrayed in political terms—Democrat versus Republican, liberal versus conservative. But for couples like us, this is about something simpler and more personal. I want to be married to my girlfriend. And I want us to have a ceremony. I want all our friends and family to come, and I want our kids to be there. Just like that historic night last month on the subway platform, I want it to be a moment I will always remember. Till death do us part.