Cynthia Nixon Ordered Lox and Cream Cheese on a Cinnamon and Raisin Bagel... And It's Making People Sick
Actor turned political candidate Cynthia Nixon raised a few eyebrows when she ordered a snack on the campaign trail.
The star of Sex and the City is facing incumbent Andrew Cuomo in the race for the Democratic ticket for New York governor.
When she turned up at the counter on Sunday at the deli Zabar on Broadway and ordered a lox, cream cheese and capers filling she asked for it to be put on a cinnamon raisin bagel, Gothamist reported.
She told the deli worker: "That's what I want—a full load with cream cheese, sweet and salty,"
Gothamist reported that veteran campaign manager Rebecca Katz tried to dissuade the filming of the scene which has sparked much debate.
One person tweeted: "There's a lot happening in New York politics right now, but @CynthiaNixon eating a cinnamon raisin bagel with lox hit me as an unmatched level of chaos."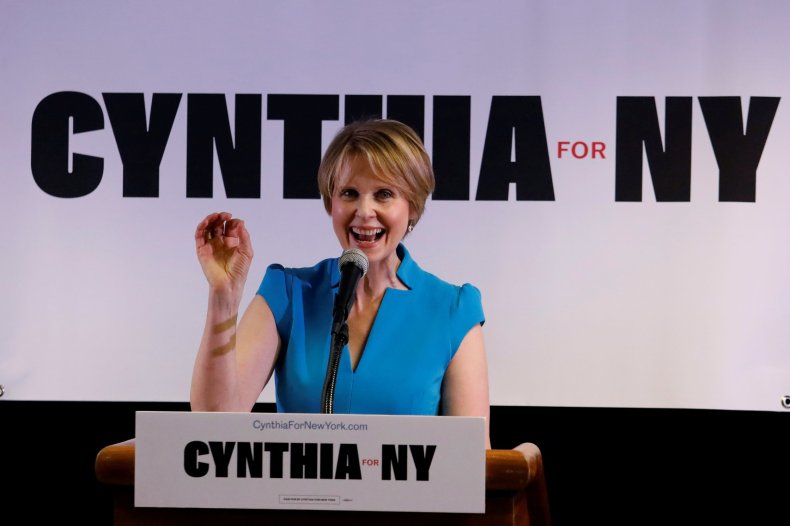 Another wrote: "I'm still voting for her, but we need to talk about how Cynthia Nixon apparently puts lox on cinnamon raisin bagels, which seems basically criminal to me."
New York bagel expert Jake Dobkin told Gothamist: "That's really disgusting—I mean like, it's terrible. A horrifying example of globalism."
Grub Street ran a story questioning the wisdom of those running for office eating in public, referring to previous culinary faux pas committed by ex-presidential candidate Mitt Romney who once declared that his favorite meat is "hot dog."
New York mayor Bill de Blasio ate pizza with a knife and fork. Former presidential hopeful John Kasich was the butt of jokes from Donald Trump when he was filmed scoffing a variety of foods ranging from meats, cheeses and pizzas.
"Politicians of the world, please, know that any photo op at a beloved eating or drinking institution is not worth the risk," Grub Street's editorial said.
Nixon's campaign has focused on her pledges for single-payer health care, making housing affordable and increasing the use of renewable energy.
She is considered an underdog in the Democratic primaries, and recently faced an accusation of anti-Semitism, which she denies, sent in a pro-Cuomo mailer from the Democratic Party.
"With anti-Semitism and bigotry on the rise, we can't take a chance with inexperienced Cynthia Nixon," reads the email, which says it was paid for by the New York State Democratic Committee that Cuomo controls and funds.
Nixon belongs to a synagogue and is raising two of her children Jewish. She described the mailer sent by the Democratic Party as "dirty, sleazy politics."