Cynthia Nixon Supports Marijuana Legalization: "Stop Putting People of Color in Jail"
Cynthia Nixon, the Sex and the City actress and New York gubernatorial candidate, posted a video on Twitter Wednesday advocating for the legalization of recreational marijuana, citing racial disparities among people who are arrested for weed use.
"We have to stop putting people of color in jail for something that white people do with impunity," she said, later adding that "whites and people of color use marijuana at roughly the same rates."
The video received about 12,000 favorites and 3.4 thousand retweets in less than two hours.
"If there was more political courage coming out of Albany, we would have done this already," Nixon added in the video.
Before releasing the video, Nixon posted a series pro-legalization tweets, many of which included facts that supported the decriminalization of marijuana.
This was not the first time Nixon has spoken about legalization. When asked if she wanted to legalize weed in a New York Times interview published on Monday, Nixon said "One hundred percent."
"It's a moneymaker. And it's a justice issue," she told the Times. "We have people, particularly African-American men, sitting in jail for something that white people do with impunity."
In 2017, 86 percent of those who were arrested for possession in a public location or having more than 25 grams of weed on their person were black or Hispanic, Politico reported. In 2010, New York state had two times the national average rate of marijuana arrests, according to the New York Civil Liberties Union.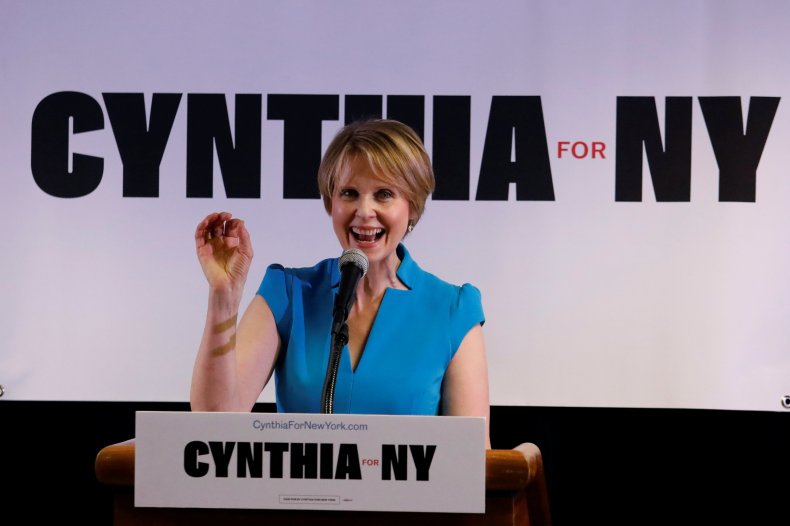 Nixon advocates for a number of other progressive issues and has made fixing inequality in New York a key part of her campaign.
A native New Yorker, Nixon has been advocating for equality in education for 17 years, according to her website. Her work for racial and educational equality made her an honoree at the Triumph Awards for Reverend Al Sharpton's National Action Network in 2017. Nixon has been a key player in the fight for LGBT rights and was given GLAAD's Vito Russo Award in 2010, her website states.
A representative for Nixon did not immediately respond to request for comment.