'Cytokine Storms' Seen in Some COVID-19 Patients Could Be Halted by Specially Developed Proteins, Scientists Say
Researchers have developed specialized proteins that they say may be able to combat the excessive immune response seen in some severe COVID-19 cases known as a "cytokine storm."
This is a phenomenon where the immune system produces an excess amount of immune cells that secrete messenger proteins known as cytokines. This overabundance of cytokines can lead to inflammation in the lungs, which in severe cases can prove fatal.
Cytokine storms are seen in a variety of viral and bacterial infections, including hepatitis and HIV, as well as in patients receiving certain treatments, such as CAR-T therapy, which is used to attack cancer cells.
The team of scientists from the Massachusetts Institute of Technology (MIT) think the proteins they have developed may be able to dampen excessive cytokine levels, thus mitigating the worst effects of the storm, according to a study published in the journal Quarterly Review of Biophysics (QRB) Discovery that describes their initial findings.
The proteins are similar in structure, and act in a similar way, to other proteins known as antibodies that are produced by our immune systems in order to defend against foreign materials, such as bacteria, viruses and toxins.
"The idea is that [the proteins] can be injected into the body and bind to the excessive cytokines as generated by the cytokine storm, removing the excessive cytokines and alleviating the symptoms from the infection," Rui Qing, a senior author of the study from MIT, said in a statement.
The proteins that Qing and his colleagues developed bind to cytokines, which stimulate inflammation and other immune responses in the body. In this sense, the specially developed proteins mimic other proteins that are already present in the body known as cytokine receptors. In total, the team developed proteins that mimic six different kinds of cytokine receptors.
In lab experiments, the scientists found that their specialized proteins were able to bind to cytokines with a similar strength to those that are found naturally in the body.
It is important to note that more research is required using animal models and human cells in order to get a clearer picture of the efficacy of this approach. Nevertheless, the MIT scientists are hopeful that their proteins may be able to rapidly soak up excessive cytokines during a storm unleashed during COVID-19.
"When the [proteins] bind to excessive cytokines, they may inhibit excessive cytokine interaction with target cells, thereby reducing the organ damage and toxicity," the authors wrote in the study.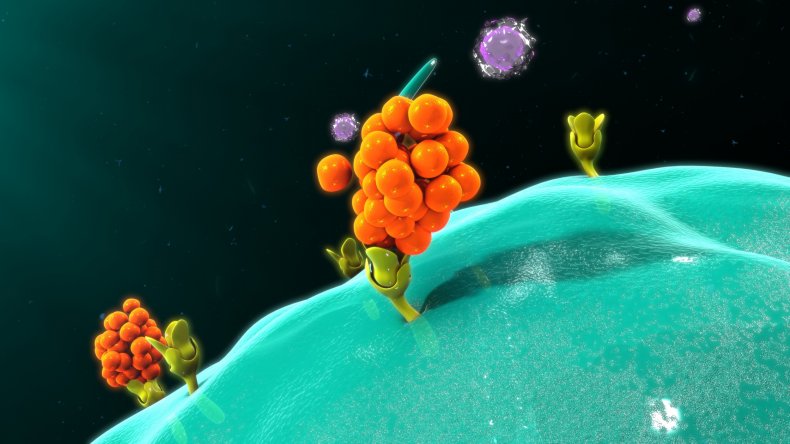 The authors began developing their proteins in April, 2019, before the COVID-19 pandemic began. But when evidence began to emerge earlier this year that infection with the novel coronavirus could be causing cytokine storms in some patients, they realized that their research may be useful in the treatment of COVID-19.
"As it turns out, our research initiated in April 2019 is directly relevant to the treatment of Covid-19 infected patients," Shuguang Zhang, a senior author of the paper from MIT, said in a statement. "Curiosity-driven, or even proactive research often leads to preparedness, which is key to preventing future disasters."
The next step, the researchers say is to conduct further tests in human cells and animal models, before hopefully moving on to human clinical studies, if those are successful, involving patients infected with COVID-19.
Kenneth Shea, a professor in the Department of Chemistry at the University of California, Irvine, who was not involved in the study, described the paper as an "important work" that could eventually lead to a therapy, while cautioning that currently the idea is at a "very early stage."
"Their protein complex sequesters cytokines with high affinity. Although the work is in a very early stage of development, approaches that capture and remove cytokines from circulation offer promising new strategies for treatment," Shea told Newsweek.
Meanwhile, Otto Yang, a professor of infectious diseases at the University of California, Los Angeles, who was also not involved in the study, said that although the study "looks relatively sound, early 'leads' like this generally don't survive the climb."
"This is a basic science experiment that is many, many steps removed from usage in humans; it's impossible to predict if it could be useful," Yang told Newsweek. "The paper describes decoy cytokine receptor structures to sponge up the cytokines circulating causing cytokine storm. This is not even tested in animals; all of it is in vitro. This is a first baby step towards climbing a huge figurative mountain to attain usefulness as a drug. It's not even worth thinking about a strategy like this showing promise until it's been in animals, and shown 1) not to kill them and 2) to have the desired activity."
This article was updated to include comments from Kenneth Shea and Otto Yang.
Centers for Disease Control and Prevention Advice on Using Face Coverings to Slow Spread of COVID-19
CDC recommends wearing a cloth face covering in public where social distancing measures are difficult to maintain.
A simple cloth face covering can help slow the spread of the virus by those infected and by those who do not exhibit symptoms.
Cloth face coverings can be fashioned from household items. Guides are offered by the CDC. (https://www.cdc.gov/coronavirus/2019-ncov/prevent-getting-sick/diy-cloth-face-coverings.html)
Cloth face coverings should be washed regularly. A washing machine will suffice.
Practice safe removal of face coverings by not touching eyes, nose, and mouth, and wash hands immediately after removing the covering.
World Health Organization advice for avoiding spread of coronavirus disease (COVID-19)
Hygiene advice
Clean hands frequently with soap and water, or alcohol-based hand rub.
Wash hands after coughing or sneezing; when caring for the sick; before, during and after food preparation; before eating; after using the toilet; when hands are visibly dirty; and after handling animals or waste.
Maintain at least 1 meter (3 feet) distance from anyone who is coughing or sneezing.
Avoid touching your hands, nose and mouth. Do not spit in public.
Cover your mouth and nose with a tissue or bent elbow when coughing or sneezing. Discard the tissue immediately and clean your hands.
Medical advice
Avoid close contact with others if you have any symptoms.
Stay at home if you feel unwell, even with mild symptoms such as headache and runny nose, to avoid potential spread of the disease to medical facilities and other people.
If you develop serious symptoms (fever, cough, difficulty breathing) seek medical care early and contact local health authorities in advance.
Note any recent contact with others and travel details to provide to authorities who can trace and prevent spread of the disease.
Stay up to date on COVID-19 developments issued by health authorities and follow their guidance.
Mask and glove usage
Healthy individuals only need to wear a mask if taking care of a sick person.
Wear a mask if you are coughing or sneezing.
Masks are effective when used in combination with frequent hand cleaning.
Do not touch the mask while wearing it. Clean hands if you touch the mask.
Learn how to properly put on, remove and dispose of masks. Clean hands after disposing of the mask.
Do not reuse single-use masks.
Regularly washing bare hands is more effective against catching COVID-19 than wearing rubber gloves.
The COVID-19 virus can still be picked up on rubber gloves and transmitted by touching your face.