Czech President and Putin Share A Joke About 'Liquidating' Journalists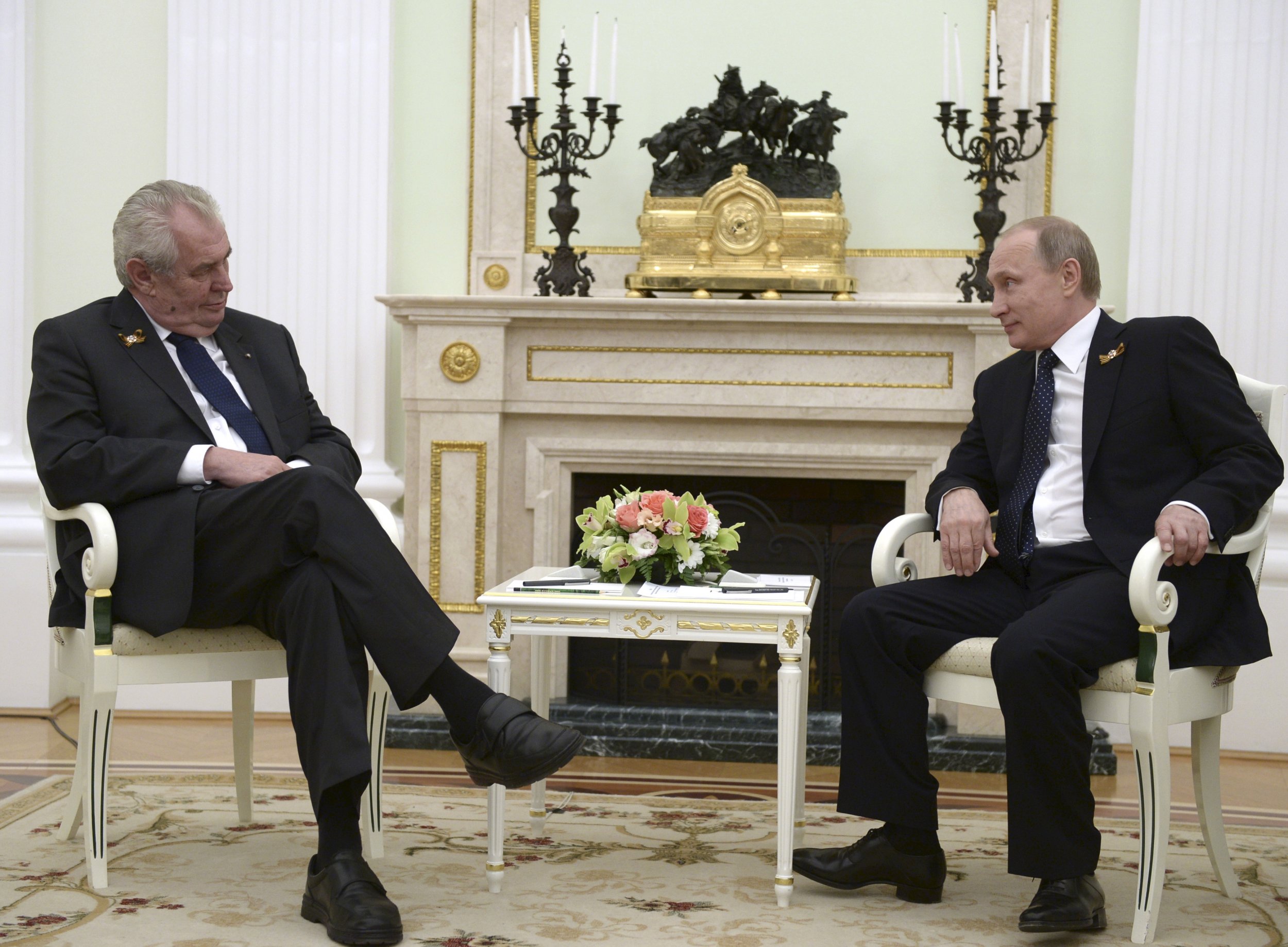 Czech President Milos Zeman joked with his Russian counterpart Vladimir Putin about doing away with journalists while on a visit to China, German broadcaster Deutsche Welle reports.
Zeman, whose statements have fallen foul of the Czech cabinet of ministers numerous times, met with Putin in Beijing amid a swarm of members of the press. The Czech president turned to Putin, whose country has a notorious reputation for persecution and suspicious deaths of the free press, asking if they should "liquidate" any of the journalists as there are too many.
Read More: Inside Russia's alternate media reality.
"Liquidation isn't necessary," Putin answered in jest. "We can reduce them."
Zeman's comment was caught on microphone, according to Czech public broadcaster Radio Praha and has caused a stir in the Czech Republic, where Zeman's actions in his ceremonial role have repeatedly irked the government.
Czech Foreign Minister Lubomir Zaoralek strongly opposed Zeman's joke, claiming such humor was inappropriate with Putin or anyone else. Zeman's spokesman defended the joke as merely a witty remark.
Russia ranks extremely low on freedom of press relative to the developed world, with Freedom Press giving it a score of 83 out of 100 with 100 being the worst possible score for press freedoms last year.
Under Putin, the majority of televised news and current affairs broadcasts have become state-controlled. Independent journalists have repeatedly complained of intimidation in Russia and in 2006 one of the country's most renowned investigative journalists Anna Politkovskaya was brutally murdered in Moscow in a case that remains unresolved.
Zeman's sympathies for Putin and China, where he made the comments, are well known. His belief that the Czech Republic should seek closer ties with China caused controversy last October when he allegedly crossed a Holocaust survivor off an annual honors list as a punitive move against Daniel Herman, the Czech Culture Minister, whom he accused of undermining Prague's relationship with Beijing.
The man in question was uncle to Herman and the minister claimed his uncle would not receive the award because Zeman disapproved of Herman's earlier decision to meet with the Dalai Lama. The Buddhist leader has long lived in exile because of China's claims over Tibet and Zeman believed contact with him could anger China.