Czech Prime Minister Gives Lesson in Flattering Donald Trump, Says He's Inspired to 'Make the Czech Republic Great Again'
Czech Prime Minister Andrej Babis met with President Donald Trump on Thursday in Washington, where he lavished praise on the U.S. leader and expressed an understanding of his vision to "make America great again."
"It's been 30 years since the Velvet Revolution, when the Czech people gained democracy and freedom. So Czech people are creative, innovative, great people…with unlimited potential, and our bilateral relations are growing, our investors are investing in the U.S. and already create[d] thousands of jobs," Babis, who was once a member of Czechoslovakia's Communist Party, told Trump.
"Mr. President, I watched your 2019 state of the union address, and I perfectly understand your plan to make America great again. I also had a similar plan to make the Czech Republic great again," Babis continued.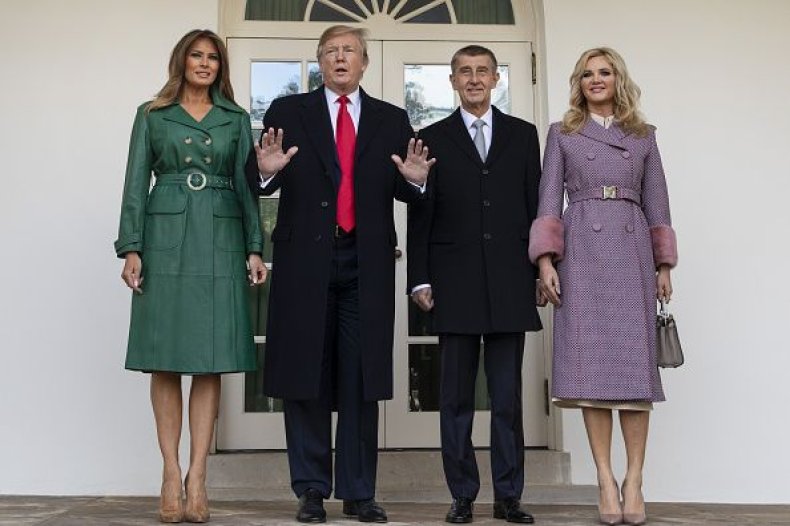 In response, Trump said flattering things about the Czech Republic, calling its people "strong." He also noted that the two countries would cooperate on issues related to cybersecurity, an apparent reference to the fact that the Czech Republic recently followed the U.S. example and issued warning against the use of products from the Chinese companies Huawei and ZTE, due to national security concerns.
"Czech Republic doing very, very well economically and in all other respects," Trump said. "It's always been a safe country. Strong military. Strong people. We have a very good relationship with the Czech Republic and the United States. We do a lot of trade."
Babis has been nicknamed the Donald Trump of the Czech Republic, in large part because he's a billionaire who dislikes migration.
But the two men have more in common than just wealth and a propensity for populism. Like Trump, Babis is under investigation for a litany of crimes, a fact that he has blamed on a deep state conspiracy against him. Investigators are currently looking into whether Babis committed financial fraud to receive European Union subsidies and grants for his business empire. Similarly, Trump's longtime lawyer recently testified before Congress that Trump committed financial fraud while filing insurance claims and seeking bank loans.
In one extreme incident, the Czech Prime Minister's son claimed his father had him kidnapped in Ukraine's Russian-occupied Crimean peninsula in order to keep him from talking to investigators. Babis later said that his son suffered from schizophrenia, but protesters took to the streets arguing that the prime minister was obstructing justice.
Nevertheless, Babis survived a vote of no confidence in November, and his position as prime minister appears secure for now. Babis also has a much higher approval rating in his country than Trump currently has in the U.S.