Czech Republic Flies Israeli Flag Over Prague Castle In Support of Nation Amid Palestinian Clashes
The Israeli flag is flying over the Czech Republic's Prague Castle upon President Milos Zeman's orders, a spokesman said on Friday, to show support for Israel amid escalating clashes with Palestinians in Gaza
It has been Zeman's latest display of solidarity with Israel as around 300 Muslims in Turkey, in contrast, showed support for Palestinians that have been killed in the ongoing violence at a funeral prayer on Friday, calling for Hamas militants to "continue resistance" as they fight with Israel.
The Czech spokesman said the flying of Israel's flag over the seat of the Czech presidency symbolizes "a sign of unequivocal support and solidarity" between their two nations.
In the West Bank, seven Palestinians have been killed by Israeli army fire according to Palestinian health officials. On Friday, Israel employed tank fire and airstrikes towards the Gaza Strip on the basis of clearing alleged militant tunnels due to a potential threat of a ground invasion.
For more reporting from the Associated Press, see below: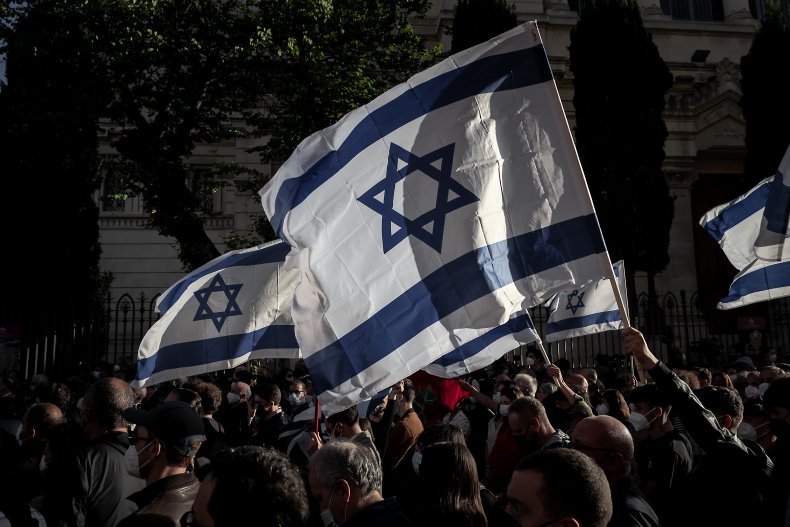 The Israeli army says one Palestinian was killed after attempting to stab a soldier. Palestinian health officials confirmed that death and said six other Palestinians were killed by Israeli army fire in the occupied West Bank.
The health ministry said five were killed in stone-throwing clashes with Israeli forces in several locations, and a sixth was killed during an attempt to stab an Israeli soldier on Friday. A seventh was killed in Nablus.
The West Bank violence comes as Israel unleashed a heavy barrage of tank fire and airstrikes on the Gaza Strip on Friday. The West Bank violence signals a new wave of unrest there as part of the Israel-Gaza escalation.
Meanwhile, Muslims in Turkey shouted support for militant Hamas leaders on Friday.
About 300 Muslims at the event hollered slogans in Turkish, including "Greetings to Hamas, continue resistance." They called on Turkish soldiers to go to Gaza to help fight Israel and sang of the domed mosque in contested Jerusalem: "Al-Aqsa will be saved if blood flows in streams."
Some also waved Palestinian flags and chanted slogans in Arabic.
People in Turkey have been demonstrating against Israel this week, gathering without much interference from the police despite a strict lockdown to curb COVID-19 infections.
Israel has taken action against those demonstrating against the country's conflict with Palestinians.
Israeli defense forces have fired warning shots toward a group of protesters who crossed from Lebanon as part of a rally against the Israeli campaign in Gaza.
The army said some two dozen Palestinian and Lebanese youth had gathered at the border gate separating the two countries for a protest on Friday. A few of those involved crossed the border into Israel.
The Israeli army says the group sabotaged the fence and set a fire in the area before returning to Lebanese territory.
Al-Manar TV station, owned by Lebanon's militant Hezbollah group, said one Lebanese person was wounded in the incident. The report could not be immediately confirmed. The Lebanese military had no comment.
Israel's army says a soldier has shot and killed a Palestinian who tried to ram his car into a military post in the occupied West Bank, then got out and attempted to stab the soldier.
The incident took place on Friday north of the city of Ramallah in the occupied West Bank. The Palestinian health ministry confirmed the death, but no other details were immediately available.
Rights groups have complained about past shootings of Palestinians by the Israeli military under questionable circumstances.
In recent years, Palestinians have carried out a series of stabbings, shootings and car-ramming attacks that have killed or wounded Israeli soldiers and civilians. Military checkpoints in the West Bank are a frequent target.