CZU Fire Evacuees in California May Not Be Allowed Back Home for Weeks
More than 64,000 Californians were forced to evacuate their homes due to the threat of the CZU fire — and it could be weeks before they'll be able to return.
The CZU August Lightning Complex has so far burned some 50,000 acres of the northern California counties, Santa Cruz and San Mateo. As of Friday, it was still zero percent contained and officials implored people to follow evacuation orders and not to return to their homes for any reason until it was deemed safe.
Santa Cruz County Chief Deputy Chris Clark acknowledged that some people may have left a pet behind as they rushed to leave. Instead of going back for the animal, he encouraged those concerned about a pet to call animal control and leave the potential rescue up to first responders.
Clark also said he recognized that people who were displaced by the fire are wondering how long they'll have to be away from home. The answer to that question depends on when firefighters can contain the fire, which depends on how it behaves.
"I don't want to give any false hope here because it's a dynamic situation," Clark said. What would I tell my loved one? It could be potentially weeks depending on what this fire does."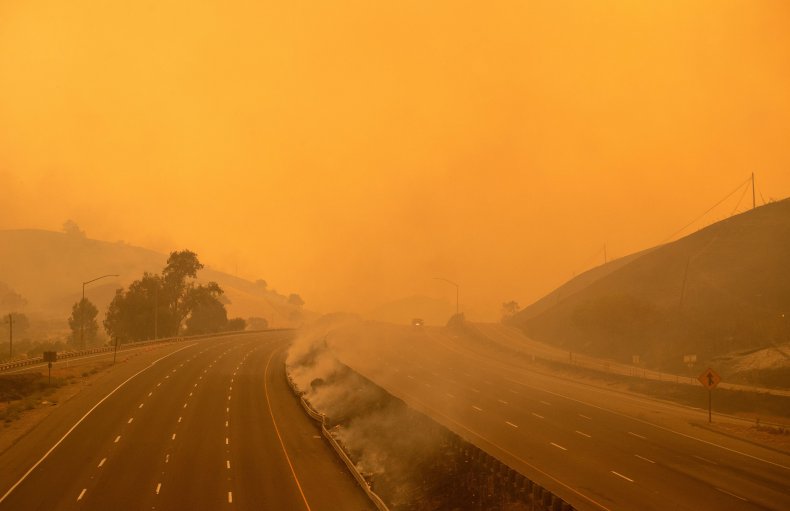 About 90 law enforcement personnel will be stationed in the area to patrol evacuated neighborhoods and prevent people's homes from being broken into. Fifty structures have already been destroyed, according to California Department of Forestry and Fire Protection (Cal Fire) deputy chief Jonathan Cox. That number is expected to increase to triple digits as officials verify the damage.
One thing that won't help firefighters contain the flames is people remaining at home to try to save their property themselves. On Thursday night, first responders made three separate rescues, Cal Fire Incident Management Team Three Chief Mark Branton said during a briefing, pulling from the "vital, very few resources" the effort had at its disposal.
"I know they're trying to do the right thing for their property and their neighbors but in the long run it's created a bigger problem for firefighters and first responders," the chief said.
Resources are spread thin as firefighters battle multiple large flames in the state but there are now 1,000 personnel assigned to the fire, an increase from the 591 that were dedicated to it on Wednesday. Although rain helped the western edge of the fire, it failed to provide the relief firefighters would like to see on the eastern edge. Given the fire conditions and their lack of resources, Branton said they're doing the "absolute best we can."