Over 100,000 military members from various countries stormed the beaches of Normandy on D-Day, but there was only one father and son pair serving together.
Thursday marks the 75th anniversary of the D-Day invasion, which occurred on June 6, 1944, and was the largest amphibious assault in world history. Thousands of people embarked on the "Great Crusade," as then-General Dwight Eisenhower labeled it, and among them were Theodore Roosevelt, Jr. and his son, Quentin Roosevelt II.
On D-Day, Theodore, the son of former President Theodore Roosevelt, was 56 years old and according to the Department of Veterans Affairs (VA), the oldest man and only general in the first wave to storm the beaches of Normandy. At the time, Theodore had arthritis, a heart condition and suffered from injuries sustained in World War I, so he charged the beaches with a cane and a pistol, the VA said.
Alongside Theodore at Normandy was his son Quentin, a captain at the time, who landed at Omaha beach. Theodore was the only father to serve with his son on D-Day, according to the VA.
Unfortunately, Theodore passed away of a heart attack shortly after the invasion on July 12, 1944. His distant cousin, then-President Franklin D. Roosevelt, posthumously awarded him the Congressional Medal of Honor in September of that year.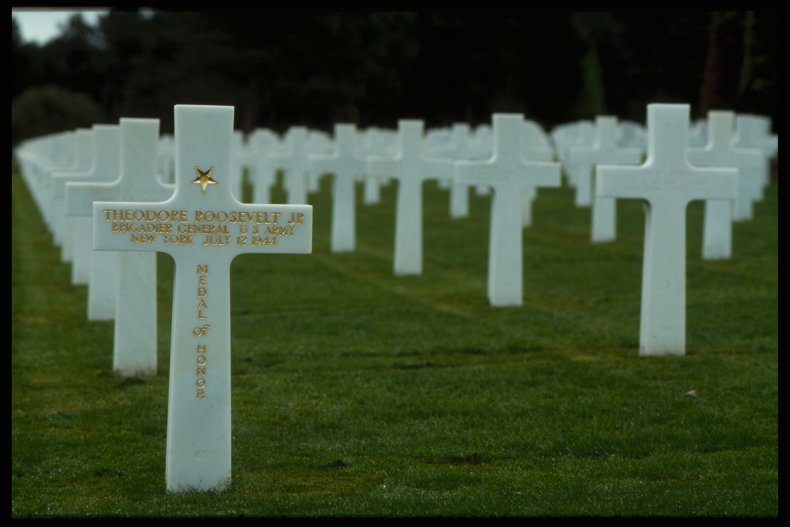 From the beach, Theodore led groups of troops over the seawall and established them inland, according to his Medal of Honor citation.
"His valor, courage, and presence in the very front of the attack and his complete unconcern at being under heavy fire inspired the troops to heights of enthusiasm and self-sacrifice," the citation continued. "Although the enemy had the beach under constant direct fire, Brigadier General Roosevelt moved from one locality to another, rallying men around him, directed and personally led them against the enemy."
While he was credited with contributing to the invasion's success, if it wasn't for Theodore's determination and persistence, he wouldn't have even been at Normandy.
After proving his military prowess during World War I, Theodore dedicated his time to helping found the soldiers' organization that would later become the American Legion. However, he returned to active duty in April 1941, according to the VA, and led troops in Northern Africa and Sicily.
He was reassigned to England to help with the upcoming invasion in Normandy but had two verbal requests to land with the first wave denied. His written request for the mission, though, was approved.