D-Day Fighter Who Was in Normandy Landings Passes Away 2 Days Before 98th Birthday
One of the few remaining D-day fighters who cleared the beaches of bodies after the Normandy landings has passed away two days before his 98th birthday.
Frank Gibbins, nicknamed Tony, was given the grim task when he arrived in France on June 6, 1944, as a 20-year-old Royal Marine.
He was tasked with loading body bags and transporting them to a ship anchored three miles from the shoreline where they were then buried at sea.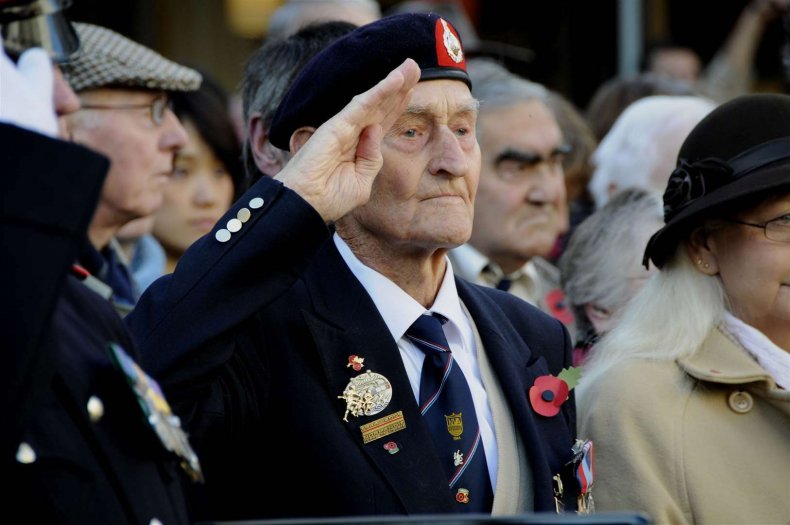 He was presented with France's highest military decoration, the Order of the Legion d'Honneur, in 2016 along with other WWII servicemen.
He was the last surviving member of Canterbury's Normandy Veterans' Association.
Gibbins was one of 61,715 British soldiers to have landed on the Normandy beaches in what became known as the largest invasion force in human history.
He passed away April 14, two days before his 98th birthday, following a period of ill health.
There are only an estimated 1.8 percent of D-day veterans still alive today.
While Gibbins is believed to have been the last remaining survivor in Canterbury, England, his legacy lives on through his family.
His oldest son Tony said: "He was a devoted family man and doted on his kids and grandkids.
"He didn't open up about the war until later in life. He was always anti-war because he realized what a waste of life it was.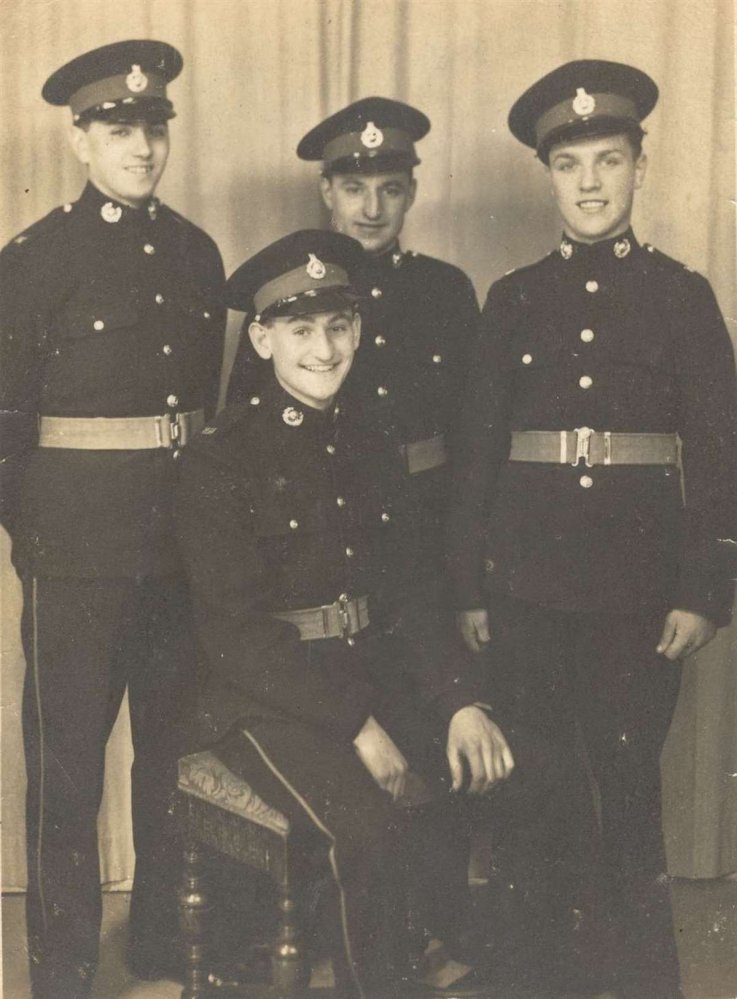 Frank Gibbins, front, with Royal Marines of the 812 flotilla training at Sandwich in the weeks before D-Day.
KM Group/Zenger
"He valued everything he had because he knew how fortunate he was to come through some of the things his comrades didn't."
Gibbins described the beaches in Normandy as being full of "smoke, the noise of guns and explosions."
After clearing the bodies, he was tasked with running ammunition inthe other direction.
He then traveled across Europe before being stationed in northern Germany to guard scores of weapons that had been surrendered by enemy forces.
His son said: "It was a baptism of fire seeing that. He never mentioned any of the bad things when we were kids, simply saying 'I was one of the lucky ones."
Gibbins was born in Hertfordshire and grew up in the countryside before enlisting on his 18th birthday.
He was put through intensive training before being stationed at Sandwich, where his responsibilities included being a lookout for German vessels.
After the war ended, he returned to Hertfordshire, completed a bricklaying course and entered the building trade.
But he quickly became "fed up" with civilian life and joined the Navy two years later.
In a 2004 interview, Gibbins said: "I missed the action. I got fed up.
"So, when I saw an advert in the local newspaper that said 'use your wartime experience and service – re-join the forces', I joined the Navy.
"I stayed with them until 1956."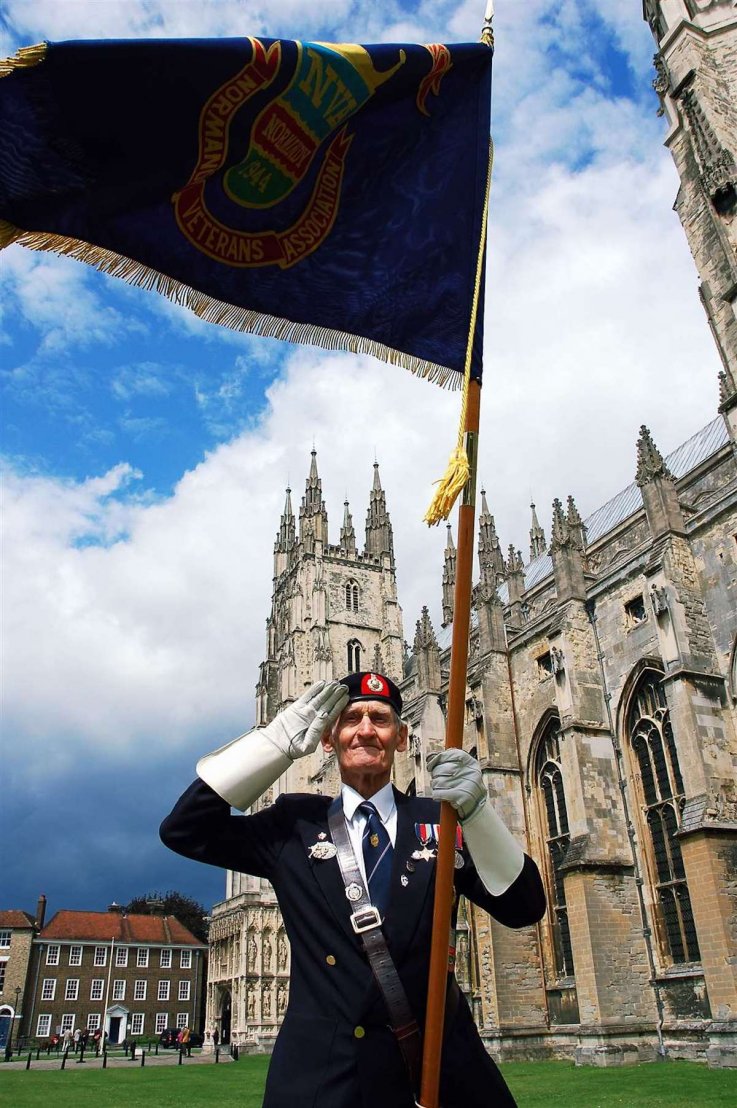 Normandy veteran Frank Gibbins photographed with the Canterbury branch standard in 2007.
KM Group/Zenger
He met and married his wife Betty in 1955, before joining his father-in-law's building firm, WH Cork, in Chilham, near Canterbury.
The couple, who then moved to Bridge in 1982, had six children, while Gibbins went on to work for larger construction companies like Costain and Coombs in Wincheap.
After retiring, Gibbins became a well-known figure at Broome Park, where he regularly played senior golf into his mid-80s.
He also belonged to the Canterbury branch of the Normandy Veterans' Association, becoming one of their last surviving members.
His son said: "My dad was the last man standing of the Normandy Veterans' Association.
"It's the end of an era, end of a generation.
"He was a popular man. He was a loving, caring person."
Gibbins' funeral is set to take place May 4 at Margate crematorium.
Well-wishers can make donations to Age Concern Thanet.
This story was provided to Newsweek by Zenger News.