D-Day Landings: Emotional Scenes As World War II Veterans Return to Normandy for 74th Anniversary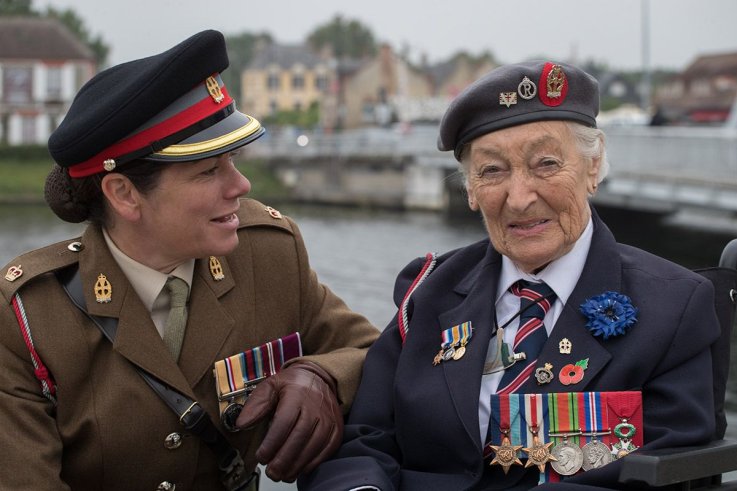 Only a handful of the brave troops who took part in the D-Day landings are still alive today. On the 74th anniversary of the pivotal action, veterans made an emotional return to Normandy to commemorate the battle that cost the Allies up to 10,000 men and changed the course of World War II.
On the windy morning of June 6, 1944, 156,000 Allied troops began landing on a 50-mile stretch of Normandy coastline, overcoming heavy defensive fire and obstacles including land mines buried on the shore. The sea was filled with vessels carrying reinforcements, while airships dotted the skyline.
This attack would go on to be known as the D-Day landings, the largest seaborne invasion in history. It allowed the Allies to get a stronger foothold in mainland Europe, and go on to defeat the Nazis and win the Second World War.
The charity D-Day Revisited took a number of British veterans to this year's commemorations, where they laid wreaths and scattered ashes. Next year, the 75th anniversary, will be the charity's final planned visit.
See also: D-day Landings Sites Then and Now: Historic World War II Locations Revisited
Emotional photos from the event show veterans with chests full of ribbons bidding farewell to the friends and comrades they lost 74 years ago. Ninety-five-year-old Ray Shuck, 95, who was a paratrooper on D-Day and later shot in the head by a German sniper, revisited the church in which he was given the last rites. Susan Eisenhower, granddaughter of President Dwight D. Eisenhower, who served as a brigadier general during the war, also joined the celebrations.
In honor of the anniversary, we've collected the most touching images of the ceremonies.