D-day Landings Sites Then and Now: Historic World War II Locations Revisited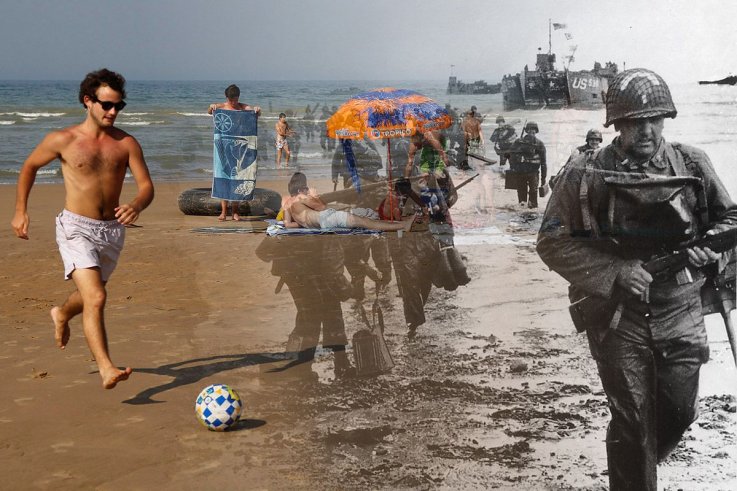 In June 1944, the Second World War had been raging for almost five years, and Allied forces were poised to gain a foothold in mainland Europe from which to attack Nazi-occupied areas. Normandy, a coastal region in northern France, was chosen for the ambitious and risky invasion.
The D-day landings are now considered the turning point which led to the end of the war a year later, and to the defeat of Nazi Germany.
On the windy morning of June 6, Allied troops began landing on a 50-mile stretch of Normandy coastline, overcoming heavy defensive fire and obstacles, including landmines buried on the shore. The sea was filled with vessels carrying reinforcements, while airships dotted the skyline.
It's hard to imagine that from this carnage and confusion would emerge the popular beach towns of today, where the only real danger is a spot of sunburn.
See also: D-Day Landings: Emotional Scenes As World War II Veterans Return to Normandy for 74th Anniversary
This Newsweek slideshow features then-and-now images of the landing sites in Normandy. In one wartime picture, Allied troops scrabble in the cliffs of Pointe du Hoc as they set up a makeshift base. It's a stark contrast to the peaceful area today, which welcomes foreign visitors with open arms rather than gunfire.
Viewing the images side by side is a moving reminder of the passage of time, as well as the bravery of the Allied forces, who lost at least 10,000 men during the attack.
Click through this slideshow to see all of these stunning images of the D-day landing sites, both then and now, as we celebrate the anniversary of this decisive moment in history.