D-Day Veteran Honored by Trump at SOTU Address Endorses Democrat Opponent of Republican Duncan Hunter
Joseph Reilly has never endorsed a political candidate—until now.
The former private first class and D-Day veteran endorsed Democratic candidate Ammar Campa-Najjar for California's 50th Congressional District Monday, a seat currently held by embattled Republican Congressman Duncan Hunter.
"I've never endorsed a political candidate before, but I'm proud to endorse Ammar for Congress," Reilly said in a statement released by Campa-Najjar's campaign.
After contacting Campa-Najjar, the 97-year-old World War II veteran officially decided to back the 30-year-old Democrat taking on Hunter, a six-term Republican representing a district just outside San Diego who is also currently fighting a 60-count indictment for allegedly misusing hundreds of thousands of dollars in campaign funds.
The straw that broke the camel's back for Reilly, according to Campa-Najjar, was Hunter's latest fundraising email to supporters dated April 9, in which Hunter rehashed false assertions that Campa-Najjar, a Palestinian Mexican American, is tied to radical Islam and is a threat to America's national security interests, a tactic used repeatedly on the campaign trail last year which critics have labeled as bigoted.
"My Congressman, Duncan Hunter, has now crossed that line twice," Reilly said. "First when he betrayed the public's trust in order to enrich himself, and now again when he makes such shameful and false attacks in order to hold on to his power."
A veteran himself, Hunter joined the Marine Corps after the September 11, 2001, terrorist attacks and served two combat tours in Iraq and a third tour in Afghanistan.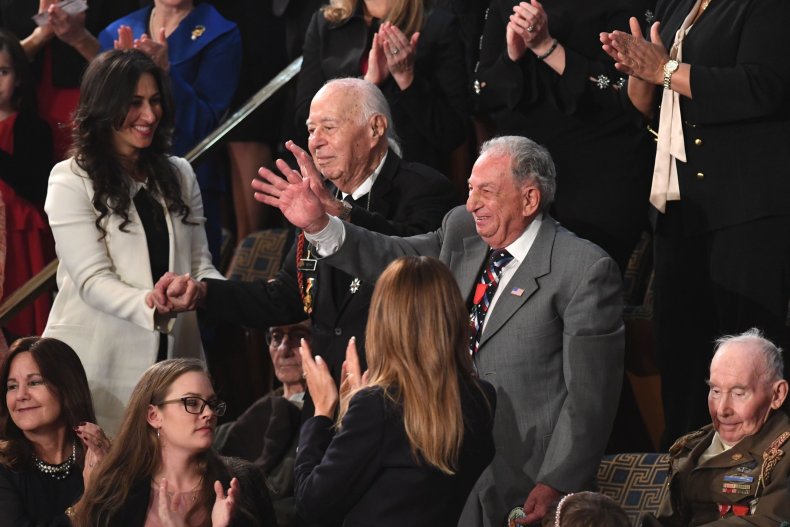 Newsweek's attempts to reach Reilly by phone were unsuccessful.
President Donald Trump honored several veterans at his State of the Union address in February—Reilly was one of them.
"On D-Day, June 6, 1944, 15,000 young American men jumped from the skies, and 60,000 more stormed in from the sea to save our civilization from tyranny," Trump said. "Here, with us tonight, are three of those incredible heroes. Private First Class Joseph Reilly, Staff Sergeant Irving Locker and Sergeant Herman Zeitchik."
Hunter's latest campaign claims were nearly identical to ones made last month in an email, which said Campa-Najjar's bid to unseat him last year was propped up by "supporters of the Palestinian Liberation Organization." He also suggested Campa-Najjar still had ties to his Palestinian grandfather, one of the men originally believed to be responsible for the 1972 Munich Olympics terrorist attack that left several people dead, despite the man's death 16 years before Campa-Najjar's birth. New reporting last year concluded that the people killed "had no connection to Munich."
The candidate has condemned his grandfather, but Hunter also repeatedly misstated Campa-Najjar's name throughout the email to include part of his grandfather's. All were attacks used in last year's campaign by Hunter and were again used last month.
Hunter could not be reached for comment.
Since becoming a formidable opponent last election cycle, the California Republican has labeled Campa-Najjar a "grave threat to our national security," warned "radical Muslims are trying to infiltrate the U.S. government" and said Campa-Najjar was trying to "infiltrate Congress."
"Attacking anyone for the color of their skin or their religion wasn't OK 75 years ago, and it's not OK now," Reilly said. Campa-Najjar has reiterated throughout his candidacy that he is a Christian.
Hunter's resurrection of the same attack lines against his Democratic opponent, who held a security clearance working for the Department of Labor under the Obama administration, came as Campa-Najjar's re-election campaign has churned along for some time, raising more than $350,000 in the first quarter of 2019. Hunter's campaign raised less than $93,000. Although in a reliably Republican district, Hunter narrowly beat Campa-Najjar by roughly 3.5 points last year.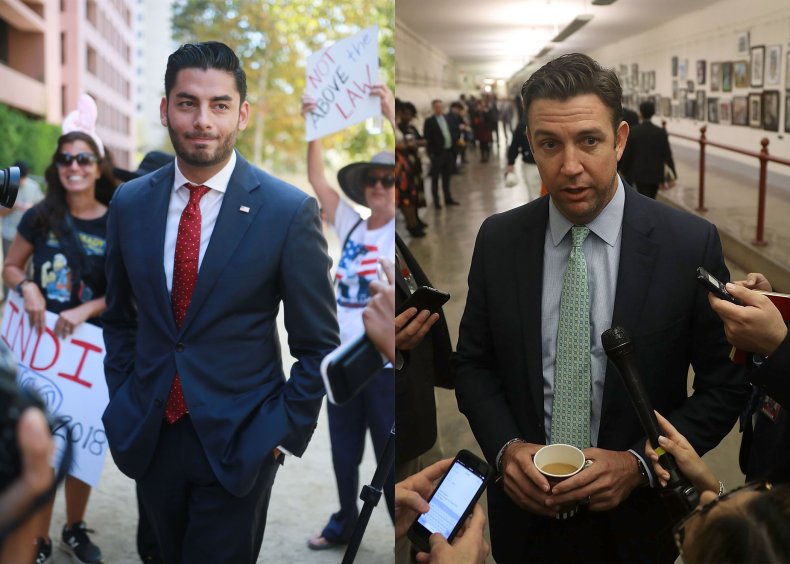 Hunter and his wife, Margaret, were accused by federal prosecutors last year of committing a slew of crimes, the most significant being the misuse of $250,000 in campaign funds. The indictment alleged that the money was spent on items like personal vacations, tequila and video games. He and his wife pleaded not guilty while they await their September 10 trial date.
"The saddest part is, I don't actually believe Duncan Hunter is a bigot in his heart," Reilly said. "I just think after he was indicted on all those criminal charges, he became so desperate to hold on to power that he'll say anything, no matter how false or disgusting."
Campa-Najjar told Newsweek that before Reilly extended his endorsement, he and the man who parachuted into France in 1944 and later fought in Bastogne in the Battle of the Bulge had a phone conversation.
"He asked, 'What keeps you up at night?' I said, 'Letting my district down, letting you down, after years of trying to win. Coming up short,'" Campa-Najjar recalled his conversation with Reilly. "He said I'll win if I keep my eyes on the district, and that he'd help me however he can. Meeting veterans, interviews, TV ads. 'Whatever it takes to get you elected' were his words."
Campa-Najjar met with Reilly once in the past and said that now the veteran pledged to help him campaign at Veterans of Foreign Wars locations.
"I promised him I would work as hard as humanly possible to honor all that he fought for, our nation's values, our institutions, and the ability of every American to live with dignity," Campa-Najjar said.