D-Day Veteran's 'Shores of Normandy' Beats Ed Sheeran and Justin Bieber's Single on Amazon Chart
"The Shores of Normandy," a song by Jim Radford, a D-Day veteran, bumped Ed Sheeran and Justin Beiber's "I Don't Care" down a spot on a best-selling chart.
Radford's song was released on May 17, according to Amazon, and on Wednesday, a day before the 75th anniversary of D-Day, the song was listed as number one on Amazon's United Kingdom singles chart. Sheeran and Bieber held the second spot, followed by Bastille's "Those Nights" and Lil Nas' "Old Town Road."
Radford released his song to raise money for the British Normandy Memorial, located in Ver-sur-Mer, France. On Thursday, Prime Minister Theresa May and French President Emmanuel Macron will inaugurate it, according to the memorial's website.
The song tells the story of "Operation Overlord," the codename for the Battle of Normandy. In it, a boat sails from Poole, England, to Normandy, where they were met with heavy artillery and faced many casualties.
"I little thought when I left home of the dreadful sights I'd see, but I came to manhood on the day that I first saw Normandy," Radford sings in his song.
It also recounts the years after the war, that Radford spent thinking about the men who perished. The places on the beach that were once soaked with blood from fallen service members, Radford's song notes now is the place where "sweet children play." The song also urges people to never forget the bravery and actions of those who served on D-Day.
"And those of you who were unborn, who've lived in liberty, remember those who made it so on the shores of Normandy," the song concludes.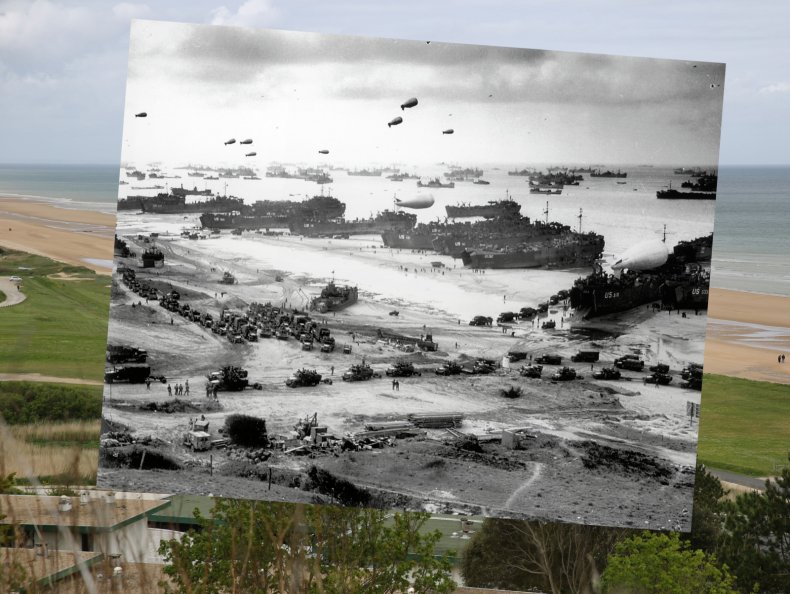 While the song was only recently released, he's performed it in previous years and its writing dates back decades. After the 25th anniversary, when he returned to Normandy, he was moved by the contrast of the place Normandy was in the modern day and when he first saw it. That trip prompted him to pen the lyrics to the song.
In 1944, Radford was 15 years old and served on the Empire Larch. He was the youngest D-Day service member, according to Good Morning Britain. His older brother, Jack, was killed when a torpedo hit his ship during World War II.
"Imagine a war film and a horror film combined on a very large scale. It was a bit like that," Radford, now 90, told Good Morning Britain.
At the time, he said he knew he was in a dangerous situation but had a lot of adrenaline and was focused on what he had to do so he wasn't necessarily afraid. He was tasked with constructing the Mulberry Harbor. The first of its kind, it was a portable harbor that was brought from England to Normandy to assist with offloading cargo onto the beaches. Pieces of the harbor can still be seen today.
Radford will travel to Normandy for the 75th anniversary and the inauguration of the memorial.