Director Spike Lee is back with another "joint," two years after the release of his Oscar-winning BlacKkKlansman. Da 5 Bloods has a release date this week on Netflix, and features a cast including The Good Fight's Delroy Lindo and Black Panther's Chadwick Boseman. Early reviews have been strong for the movie, the trailer of which is available to view now.
When is Da 5 Bloods out on Netflix?
Spike Lee's new movie has a Netflix release date of 00:01 a.m. PDT on Friday, June 12. When it is released in your country will depend on your time difference from America's west coast, which due to daylight savings time is currently seven hours behind GMT. Netflix is currently hosting the trailer for the film which can be found on the streamer now.
The movie is far from the only Lee movie on Netflix. Da 5 Bloods is joined on the service by Malcolm X, She's Gotta Have It, School Daze and Inside Man. BlacKkKlansman, meanwhile, can be found on HBO Max.
Who stars in Da 5 Bloods?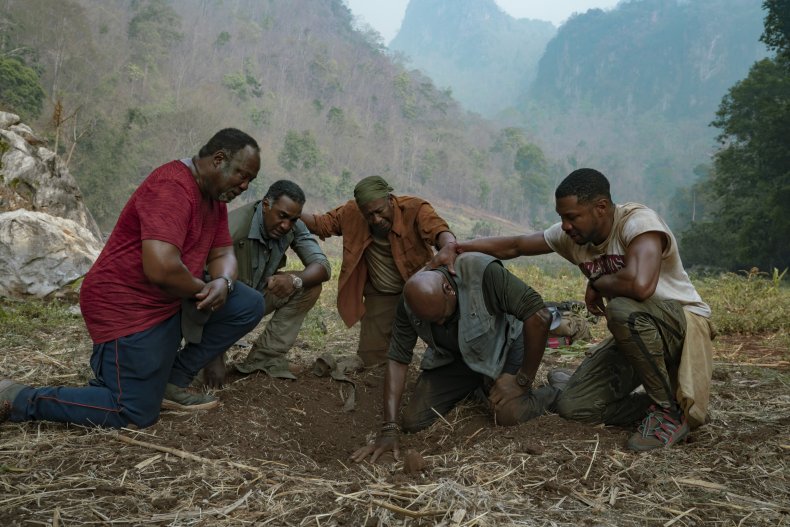 Leading the cast are Delroy Lindo (star of former Lee movies Malcolm X, Crooklyn and Clockers), The Wire's Clarke Peters and Isiah Whitlock Jr. (The Wire), and Scandal actor Norm Lewis. They play four ageing Vietnam vets who return to the country to find treasure. While there, they reminisce about Norman (Chadwick Boseman), their fallen squad leader.
Starring alongside them are The Last Black Man in San Francisco's Jonathan Majors, Paul Walter Hauser from BlacKkKlansman and Vietnamese actor Veronica Ngo. She plays Hanoi Hannah, a real-life figure who presented propaganda radio broadcasts aimed at U.S. troops.
Speaking to British GQ, Lindo revealed that his character is a Trump supporter, but that he struggled wearing a MAGA hat. He said: "I put it on backwards. It was kinda, sorta unconscious. But I couldn't allow my discomfort, my dislike, the repugnancy of having to do this derail the various other far more important aspects of the character. But putting it on backwards... that allowed me to diminish my discomfort somewhat."
What is the plot of Da 5 Bloods?
The official Netflix summary reads: "From Academy Award Winner Spike Lee comes a New Joint: the story of four African-American vets—Paul (Delroy Lindo), Otis (Clarke Peters), Eddie (Norm Lewis), and Melvin (Isiah Whitlock, Jr.)—who return to Vietnam. Searching for the remains of their fallen Squad Leader (Chadwick Boseman) and the promise of buried treasure, our heroes, joined by Paul's concerned son (Jonathan Majors), battle forces of Man and Nature—while confronted by the lasting ravages of The Immorality of The Vietnam War."
What are the reviews like for Da 5 Bloods?
At time of writing the movie has a Rotten Tomatoes score of 88%, with a Metacritic score of 81. The BBC, Financial Times and The Guardian are among those who gave the movie 5/5 reviews, with the latter calling the movie, "an insurgent filmic uproar to match the uproar in the world."
Among the less enthusiastic reviewers, however, was The AV Club review, which said of the movie, "he's more concerned with making a Vietnam movie that looks Black than one that actually takes on the complexities of Blackness, war, and global imperialism."
Da 5 Bloods is streaming from Friday, June 12 on Netflix.