'Da 5 Bloods' Review Roundup: What Critics Have Said About the Spike Lee Movie
Da 5 Bloods has been on Netflix for less than a week, but already many critics are calling it one of Spike Lee's best. The movie combines the racial politics of movies like Do the Right Thing, Malcolm X and BlacKkKlansman with elements of Lee's thrillers like 25th Hour and Inside Man, and has enough positive reviews to give it a 92 percent Rotten Tomatoes score.
This makes the film the joint second highest-rated Lee movie on the site, behind BlacKkKlansman, the movie that won the director his first Oscar, and tied with Do the Right Thing, a film the American Film Institute once called one of the best American movies ever made.
Among the raves was one from The New Yorker's Richard Brody, which said the film had rewritten film history for the better. He wrote: "Far from merely offering a corrective or footnote to a chapter of American history, he transforms them into a new and improved cinematic mythology, one that exalts the unacknowledged heroism of black Americans and creates a place for them at the center of modern culture—and, in the process, redefines American heroism as such."
FilmWeek's Amy Nicholson concurred, writing: "It feels like a reclaiming of Hollywood myths."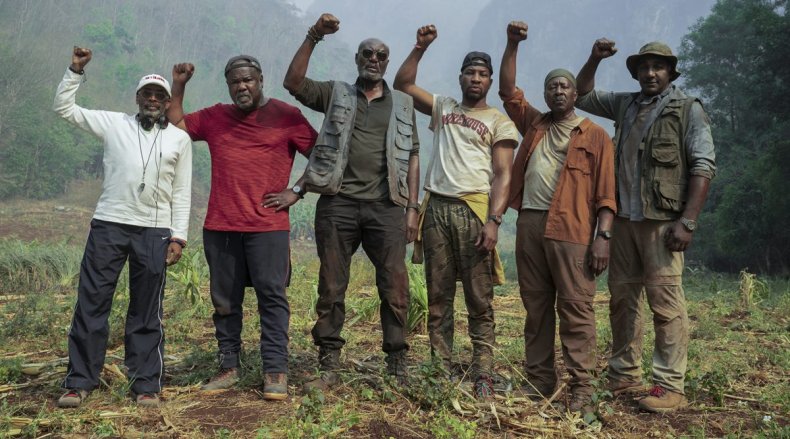 Five-star ratings for the film came courtesy of critics like Chicago Sun-Times' Richard Roeper, who suggested the movie should be a major awards contender in a year where the Oscars have temporarily changed their rules to allow movies that were not cinematically released to compete. He said: "Academy of Motion Picture Arts & Sciences has ruled this film will still be eligible for Oscar consideration, and that's a good thing because it deserves close to a dozen nominations."
On Metacritic, meanwhile, Da 5 Bloods has scored a lower but still respectable 81, making it his fourth highest-rated movie behind Do the Right Thing, Get on the Bus, and BlacKkKlansman.
The reason for this difference in ratings lies in the different way the two sites compile their scores. RT scores split all reviews into just two categories, 'fresh' and 'rotten', while Metacritic also takes into account what critics actually scored the film.
As such, the RT score tells us that nearly all critics liked the film, while the Metacritic score tells us that on average they rated the movie 4/5.
Among the reviewers who disagreed, however, was Ashley Ray-Harris, who in an AV Club C- review called the movie "politically muddled," adding that Lee is "more concerned with making a Vietnam movie that looks Black than one that actually takes on the complexities of Blackness, war, and global imperialism."
CNN's Brian Lowry, meanwhile, said of the movie: "Despite powerful moments, the film itself doesn't consistently measure up to [its] ambition, enjoyably mashing up old movies while indulging in a few too many detours en route to its destination."
Audiences are also more mixed on the film, with RT users giving Da 5 Bloods a 60% rating while Metacritic users score it 6.2/10
Da 5 Bloods is streaming now on Netflix.