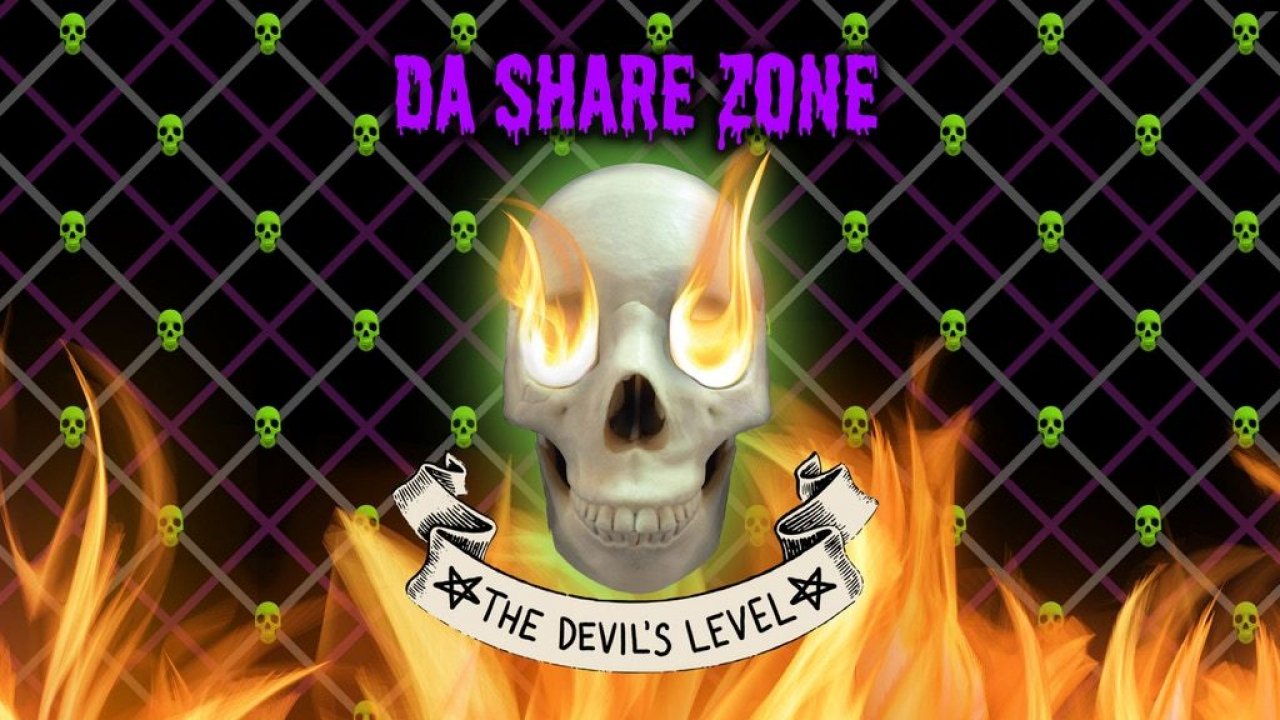 In 2016, an anonymous person (or group of people) started a Twitter account called @dasharez0ne. It currently has nearly 85,000 followers and has spent more than a year tweeting out relatable memes about the annoying things in life—working to afford rent, dealing with difficult people, and not having enough free time—with most of its meme images wreathed in flames. Scrolling through its feed is like reading the private thoughts of a liberal goth kid whose taste in art hasn't yet caught up to their advanced understanding of mental health and politics.
But here's the thing: The fictional character who supposedly runs Da Share Z0ne is a skeleton. Its name, obviously, is Admin, and Admin has a lot of fervent opinions about immigration, sexual consent and safe spaces. As the account itself has proclaimed, "Da Share Z0ne is for everybody, bitch!!!!"
As weird as it might seem, the creator(s) behind the account have their bony skeleton finger on the pulse of the internet. On January 22, Da Share Z0ne announced its first trading card game, "The Devil's Level," funded by a Kickstarter campaign that is now well on its way to earning $90,000.
To discuss the game and the nature of its humor, Da Share Z0ne's Admin agreed to answer a few questions from Newsweek in character. Admin's responses—which come in all-caps regardless of who Admin is talking to—have been left unedited (Admin isn't big on spelling.)
What can you tell me about who you are?
ADMIN OF DA SHARE Z0NE, A PAGE ABOUT TRYING TO CHILL EVEN THOUGH GOING TO WORK AND GETTING FOOD AND PAYING FOR RENT ALL SUCKS BIG TIME
How long have you been running Da Share Z0ne, and why did you start?
STARTED IN 2016 TO SHARE MY IDEAS ONLINE. BUT IVE HAD IDEAS FOR MUCH LONGER I JUST DIDNT HAVE A PHONE
What do all zoneheads have in common?
THEIR COOL. THEY KNOW HOW TO CHILL. AND THEY LIKE TO LAUGH AND SHARE MY PICS.
Are you a skeleton, or do you just identify with the image of skeletons?
EVERYONE IS A SKELETON THINK ABOUT IT
Can you give me some examples of things in the news that you've found chill?
LEGAL WEED. IT SHOULD BE LEGAL EVERYWHERE AND CHEAPER "TO MUCH MONEY" AND WHEN A PENGUIN GETS BORN IN A ZOO. PENGUINS ARE THE KING OF BIRDS
What are some things in the news lately that are definitely not chill?
COPS KEEP SHOOTING PEOPLE AND THEN THEY LOCK THEM UP EVEN THOUGH WEED IS LEGAL IN CALIFORNIA AND DENVER. OTHER PEOPLE DOING SHOOTINGS AND THERES SOME WARS GOING ON RIGHT NOW
Have you ever had to block anyone or reject them from interacting with Da Share Z0ne, and what did they do to cause that?
ONLY BLOCK NAZIS BECAUSE EVERYONE ELSE IS JUST TRYING TOO TALK TO ME. BUT I DONT WANT TO SEE NAZIS ON THERE AND TWITTER WONT BAN THEM.
Do you think Twitter became a worse place after the 2016 presidential election, or was it always that contentious?
DONT KNOW WHAT IT WAS ORIGINALY LIKE BUT THE TIMELINE ISNT GOOD. I ONLY SUSCRIBE TO BANDS I LIKE AND TO ELVIRA BECAUSE SHES COOL
Why did you decide to go with a trading card game? Are you a fan of board games and card games in general?
YOU CAN PUT DIFFERENT PICS ON ALL OF THEM, SO IF YOU HAVE 200 CARDS YOU CAN MAKE 200 PICS, AND I LIKE MAKING PICS. I DIDNT' DO A BOARD GAME BECAUSE YOU CAN ONLY MAKE 1 PIC FOR THE BOARD. SOME OF THOSE GAMES ARE FUN BUT NOT IF PEOPLE ARE TO SERIOUS LIKE MAGIC CARDS OR TO VALUBLE LIKE BASEBALL CARDS
Playing a card game means you have to get your friends together IRL. Is that something you think people should do more often?
THATS THE REASON I MADE IT, SO MY FRIENDS WOULD COME OVER MORE, AND THEY HAVE TO LEARN FROM ME, INSTEAD OF RANDY GETTING MAD BECAUSE I DONT' KNOW ALL THE STREETS IN MONOPOLLY
How do you make sure that the stuff you look at online is chill/fun/healthy for you, personally? Do you have boundaries with how often you're online?
I GO ON LINE AS MUCH AS POSSIBLE, ITS FINE IF YOU DONT JUST READ ABOUT THE PRESIDENT, THERES' LOTS OF COOL ARTISTS ON HERE AND VIDEOS, PEOPLE ON TWITTER SHARE MY PICS AND SEND ME GOOD LINKS. AT WORK YOU CAN'T CLICK IT OFF IF SOMEONE TELLS YOU THEY DONT' LIKE WHAT YOUR DOING AND ONLINE ITS EASY
You can purchase Da Share Z0ne's game, "The Devil's Level," via Kickstarter.