DaBaby Allegedly Used Megan Thee Stallion Lookalike in New Music Video
After causing a bit of an uproar with a particular lyric from his new track "Boogeyman" last week, DaBaby has once again alleged a sexual relationship with Megan Thee Stallion—this time, fans believe, in the music video.
On Friday, DaBaby, whose real name is Jonathan Lyndale Kirk, released his new album, Baby on Baby 2, and in the opening lines of the third track, he alleges that he slept with the "Savage" rapper, Megan Thee Stallion, 27, multiple times in the days before she was allegedly shot by Tory Lanez, 30.
"The day before she said that Tory Lanez shot her, I was f****** on Megan Thee Stallion," DaBaby rapped. "Waited to say that s**t on my next album. Hit it the day before too."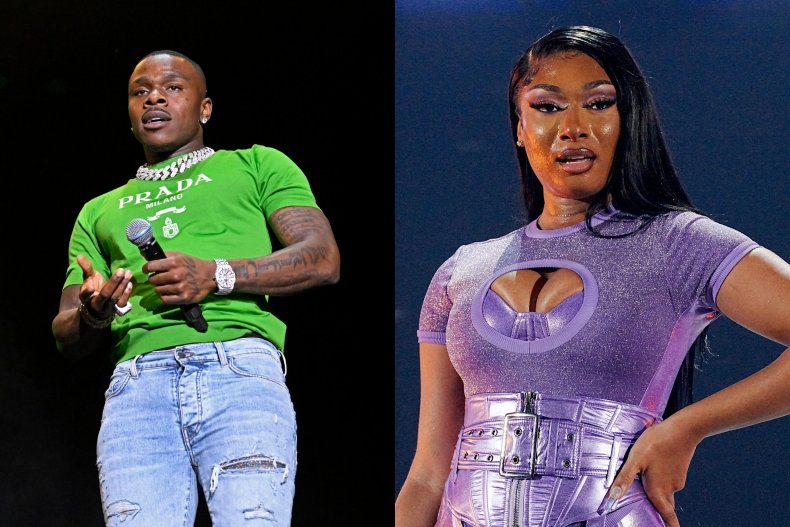 Lanez is awaiting a criminal trial after Megan claimed he shot her in the foot in Hollywood Hills, California, in 2020. He was charged that year and pleaded guilty, and his criminal trial was set to start in September 2022 but was pushed back to later this year.
On Monday, the rapper released the music video for "Boogeyman," where fans found another potential hint at Megan Thee Stallion. In the video, fans noticed that there appeared to be a Megan lookalike, to whom DaBaby raps the particular line.
One user on Twitter wrote, "dababy really had a megan lookalike in the video...."
And Power 106, a Hip Hop radio station in Los Angeles, posted a short clip of the music video, writing, "Fans are saying a Megan Thee Stallion lookalike was used in the video. THOUGHTS?!"
"Yo this dude music video do not be making sense to me🤣 then he taking this Megan Thee Stallion situation outta hand," another user tweeted.
Megan and DaBaby have previously worked together on her early hit "Cash S**t" and "Cry Baby," and she also featured on his song "Nasty."
While Megan Thee Stallion has not directly commented on the lyric, some fans have speculated that a speech she made on stage on Sunday could be in reference to it.
At the iHeartRadio Music Festival in Las Vegas, Megan gave a powerful statement in the intro to her hit, "Body," saying, "I don't know about y'all, but I love my body. do what I want to with my body, when I want to with my body, with who I want to with my body...'cause it's who? My body!"
After people began to speculate that the speech was about DaBaby, Megan tweeted to refute the claims.
"I feel like a lot of these blogs don't post me until it's something they know majority of their audience can dog pile on me for associating with some kind of negative narrative... bc why is the way I start my performance to BODY damn near every show news NOW..." she tweeted.
Megan has never shied away from standing up for herself and has also spoken about standing up for other Black women. In 2020, the rapper wrote an op-ed with the New York Times, which she wrote shortly after the incident with Lanez.
"When women choose to capitalize on our sexuality, to reclaim our own power, like I have, we are vilified and disrespected," she wrote at the time. "In every industry, women are pitted against one another, but especially in hip-hop, where it seems as if the male-dominated ecosystem can handle only one female rapper at a time."
"Wouldn't it be nice if Black girls weren't inundated with negative, sexist comments about Black women? If they were told instead of the many important things that we've achieved?" she said.
Newsweek reached out to representatives for DaBaby and Megan Thee Stallion for additional comment.