DaBaby is facing backlash today after he was embroiled in a heated argument with the mother of his child, DaniLeigh on Instagram Live.
The rapper—whose real name is Jonathan Lyndale Kirk—appeared on Instagram Live on Sunday night where he recorded DaniLeigh, a 26-year-old singer, feeding their three-month-old baby while he asked her to leave his property.
The two exchanged harsh words and have both taken to Instagram live to share the situation with the public as well as both releasing statements.
In one of DaniLeigh's Lives, the police appear to arrive at the property after she was asked to leave by the rapper during the night.
According to Hot 97, authorities asked DaniLeigh to vacate the apartment she was staying at with DaBaby.
The couple reportedly has an on-and-off relationship and welcomed their child in August.
DaBaby released a lengthy statement after the exchange, telling fans: "Based on my reputation, with multiple threats of setting up an internet scheme & a person refusing to not let me go. Me and somebody else here knew to record her. I don't beat on and yelled at and chased around like one of them fatal love attraction type girls."
The 29-year-old added that he wanted to "swiftly remove himself from any of the hostile behavior put on display."
He said that he didn't want to press charges "just want(ed) her peacefully removed."
Following DaBaby's statement, DaniLeigh released one of her own telling her side of the story.
She said that the rapper was annoyed at her for having emergency contraception sent to his home.
"Since Baby want put up a "statement" with his cap a*s, I'll put mine up ... so we have been living with each other for the past three months since our baby been born. Tonight he wanna come in the room talking bout 'I need to go' don't matter where I go...mind u...I have a newborn child," she wrote.
"This man is mad because I had a plan B sent to his condo."
The statements were all posted on Instagram Stories and can be read on The Shade Room's Instagram.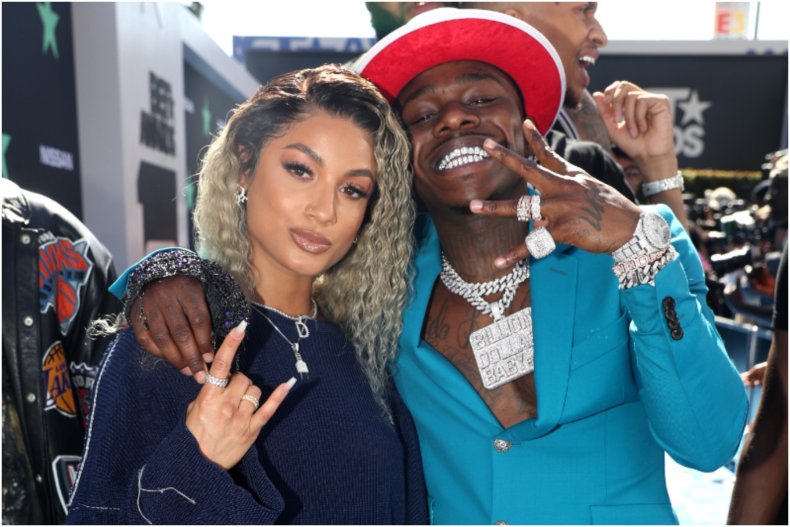 Newsweek has reached out to representatives for DaBaby for comment.
The public nature of the heated argument between the pair has seen the rapper criticized for calling the cops on and kicking out DaniLeigh while she was feeding their baby.
"Who kicks out the mother of their child and baby onto the street like that bro," reads one comment on one of the rapper's latest Instagram posts.
While on Twitter, one post with more than 2,000 likes reads: "I am not the biggest Dani Leigh fan but how DaBaby did her was ABSOLUTELY FOUL! You putting a woman out the house WITH A NEWBORN BABY in the middle of the night. I really truly hope the worst for him. Sending prayers for Dani mental and emotional well being."
Another person tweeted: "I don't care for Danileigh but DaBaby antagonizing her on IG Live while she's feeding her child is crazy. He's so mean spirited that it's disgusting."
DaBaby previously faced extreme backlash earlier this year amid the fallout of his homophobic comment controversy.